Yappn Corp. (YPPN) has been stirring arguments among penny stock investors because for the last couple of days rumors about the company falling in the net of a pump and dump scheme have galvanized the OTC society. For the last two days the trading activity around YPPN stock has increased significantly and at the same time market players have been seeing increased volatility in the stock.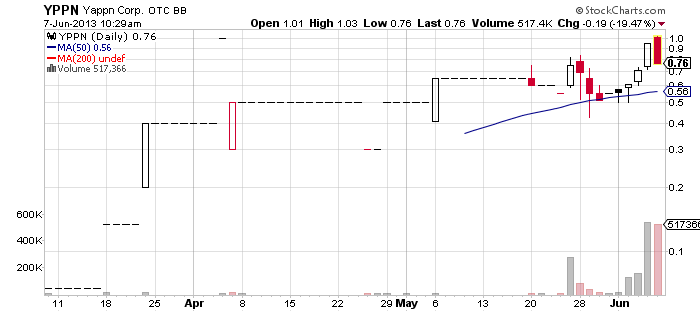 Thus, yesterday YPPN soared 33% to $0.95 per share on a volume exceeding 500 thousand which is approximately 20 times higher than the 3-month average. In the first minutes of today's session the stock gapped up at $1.01 but subsequently slipped 15% down to $0.76 per share. At the same time within the first hour of the trading session more than 500 thousand shared changed hands, so apparently YPPN is going to face even higher trading activity than yesterday.
While YPPN is playing with investors' emotion, online message boards have been flooded with speculations about what stands behind this unusual activity around the company's stock. In this regard, several members at iHub stated that they have received hard mailers promoting the company.
One iHub user also provided a printed copy of the hard mailer which showed that it was issued by a promoter called The Profit Desk. The latter had set a target price for YPPN stock at $4.60 and went on eulogizing YPPN.
The disclaimer of the newsletter showed that the promoter was part of Catalina Advertising Corporation (CAC), which planned to spend up to $2,150,000 for the advertising campaign of YPPN. Moreover, CAC declared that it held 6,335,000 of YPPN common stock and "reserved the right to buy more or sell these shares without prior notice".
On the other hand, some analyzers suggested this was a fake pump and dump campaign and that shareholders in YPPN may have compiled a fake newsletter and pretended that the promotion had cost "big Money" and then leaked the news on popular message boards. To support this alternative point of view the analyzers point that the newsletter doesn't seem very professionally made and that CAC didn't claim it had spent $2.15 million but "planned to spend" that much.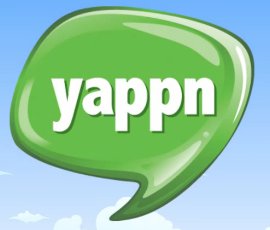 Regardless of all the speculations about YPPN that are spreading around, the last 8-K report filed by the company may shed more light about any probable conflict of interest between common shareholders and third parties. The report disclosed that the company had recently executed several transactions with its common stock at a purchase price way below the market price.
For example, on May 31, 2013, YPPN sold 3,700,000 units at $0.10 per unit. Each unit consisted of one share of a convertible preferred stock and a warrant to purchase one share of YPPN common stock at an exercise price of $0.10. In addition, on March 29, 1013, the company sold another 4,010,000 units at $0.10 per unit. All of these units were sold to "certain accredited investors".
The current market price of YPPN shares is $0.76 and just 3 hours ago it was $1.01 per share. This fact means that not only are the mentioned units deep "into the money", but it also means that the market value of the company has reached $108 million. On the opposite side of this market capitalization we have a company with no revenues yet, which is planning to launch a social media platform known as Yappn later this summer 2013.
This Monday YPPN announced that the development platform of Yappn was ready to present its online corporate presence. In other words YPPN provided a first look at some of the features of the social media platform. However, the announcement didn't produce much hype on the market as on the same day only 10 thousand shares of the company's common stock changed hands in a total of 11 trades.
In summary, at this stage the company looks somewhat overvalued with a market cap of over $100 million. Therefore, YPPN may be in for a good deal of correction, especially if the company's flagship social platform falls short of investors' expectations.