Top Promoted Penny Stocks: OMVS, NHLI, FDMF
The finale of the last trading session on Friday was neither cold, nor warm, as investors were once again left without any clue about Fed's intentions regarding its monetary easing policy. Additionally, on Friday it was announced that the Unemployment Rate in August was 7.3%, while the market expected 7.4%.
This catalyst sent the US stock markets on a volatile journey up and down the charts on Friday and eventually the benchmark US indexes finished flat. However, things were quite different on the penny stock arena, as the OTC Markets enjoyed a lot of buying pressure on the same day.
Thus, the OTCM ADR Index climbed 9.34 points, or 0.66 percent, to 1,434.88 during the trading session on Friday. Today, there are no significant fundamental news, which can sway the market, so investors' focus is directed towards tomorrow's briefing of the US President Barak Obama concerning the military intervention in Syria. Speculations about Fed's monetary easing policy also keep influencing the US markets.
On the other hand, the OTC Markets will also be influenced by the initiated stock promotion programs, so below we are going to examine the biggest market awareness campaigns for today Aug 09:

On The Move Systems Corp. (OMVS) – Only two weeks have passed since the last promotion of OMVS and the company is once again crowning the titles of stock promoting newsletters. Yesterday afternoon, investors' in-boxes were showered by a series of paid promo letters.
Penny stock speculators can spot some popular names in the list of promoting websites leading the current campaign on OMVS, among which are Microcap Digest, Penny Stock Parlay, Hole in One Stocks, HSP Team and others.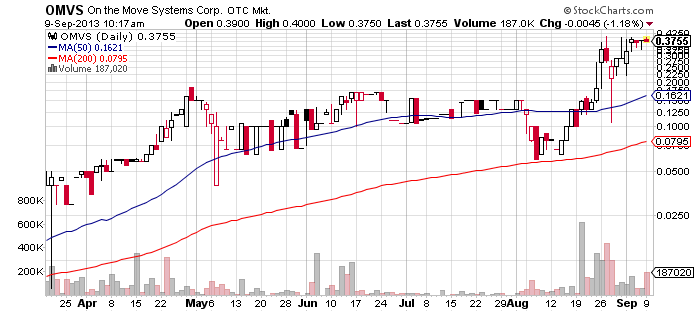 According to online databases, the campaign had cost $42,500. Only two of the promoters, FPP Elite and OTCBB Journal, disclosed the source of their compensation, which was a third party called Equities Awareness Group.
Two weeks ago, when the previous promotion of OMVS took place, the company's stock price soared 83% to $0.33 per share on a higher than average volume. What followed next, was a two-day correction which brought the share value of OMVS stock down to $0.25.
Since then OMVS has been rallying, to the extent that yesterday the stock hit a new 52-week high at $0.38 after surging 3% during the trading session. All these movements in OMVS share value have been happening without any fundamental support, as the last press release issued by OMVS came out two days ago.
On that day investors were seemingly impressed by the corporate update which announced that OMVS was preparing its online transportation portal for launch, but the higher the market valuation of the company goes, the harder it will be for promoters to spread fairy dust on OMVS stock.
Nouveau Holdings, Ltd. (NHLI) – A last minute promotion has launched NHLI stock into the skies in the first trading hour of today's session. The campaign was started just at the opening bell today and so far has managed to produce a 140% jump in NHLI share price on a higher than average volume of 3 million.
The campaign is led by a group of promoting websites which includes Liquid Tycoon, Penny Stock Money Train, Super-Hot Penny Stocks and others. According to online databases, the promoters had been compensated $75,000 by a third party called Florence Consulting.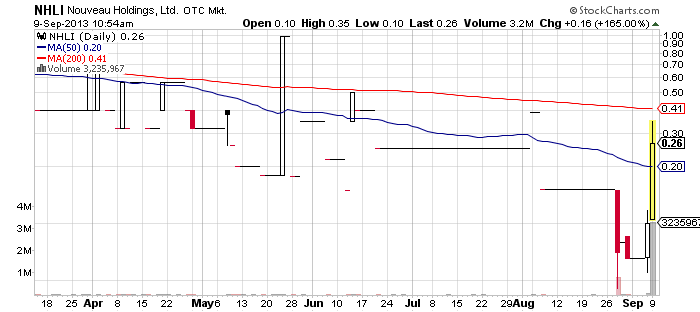 This is the first time NHLI gets promoted, so this is one of the probable reasons why the campaign had such a strong effect today. However, two weeks ago when NHLI announced the launch of its premier game, Play31.net, the company's stock value fell 54% on a higher than average volume of 766 thousand.
NHLI is traded on the Pink Sheets market where it has an unrealistically low market cap of $70 thousand. This depicts the highly speculative nature of pink sheets stocks, as such kind of market valuation suggests that there could have been some mistake in the unofficial reports of the company.

Freedom Energy Holdings, Inc. (FDMF) – Today, FDMF can boast with a market awareness campaign that has involved the highest number of stock promoters. So far online databases have registered more than 20 promoting websites touting the company.
The same websites have received a total compensation of $27,475 by third parties, most of which have remained anonymous. Only a couple of promoters disclosed that they have received compensation from a third party called Red Tie Financial, Inc.
FDMF is also a pink sheets company which should prompt investors to be extra careful when they open positions in this stock. FDMF is a company which specializes in the identification and development of technologies with commercial applications. The company has a market cap of $6.2million and a 52-week trading range of 0.06 – 0.0008.