Yesterday the OTCM ADR Index finished 0.23% higher unlike other major US indexes, which slipped down after US trade deficit data turned out better than expected and produced an episode of profit taking on the market. Today we have spotted and provide an overview of a couple of news releases and promotions on the OTC Markets which may keep the high spirits of trading on the small cap segment:

Novus Acquisition & Development Corp. (NDEV) – Promoters stubbornly continue pumping NDEV even though the first promotion of the company which took place approximately one month ago was a complete disaster for those who held long positions in the stock.
Nevertheless, this Monday, when NDEV received another batch of promotional coverage, it managed to break the resistance at $0.1 and finished 25% higher at $0.125 on a volume of 1.4 million shares which is more than four times higher than the 3-month average.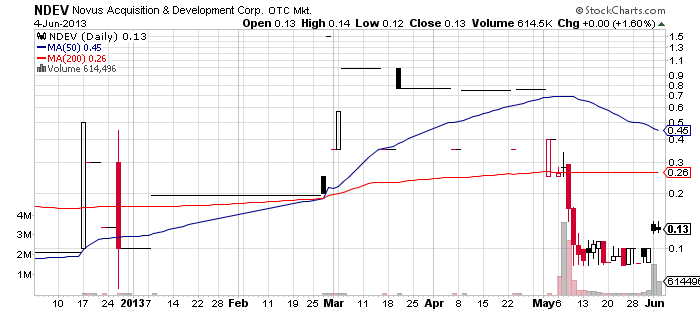 Today the promotion of NDEV continues as a couple of stock promoting websites sponsored by Stock Mister sent out trade alerts on NDEV after the end of the last trading session. The promoters, whose names are Stock Market Quote, 1-2-3 Stock Alerts, Penny Stock Circle, Penny Stock Pros, Penny Stock Players and Penny Stock Scout, had been compensated $35,000 by Stock Mister for a two-day campaign on NDEV.
On Monday, when the promoting efforts finally managed to generate some buying pressure on the stock, NDEV announced a 7% dividend of one of Novus' portfolio companies Baroma Inc. Today it is possible that the company issues another corporate update to support its marketing awareness campaign but so far we haven't detected any new releases. In this case, it is also possible that NDEV may fall short of its promoters' expectations.
The company is currently valued at $20 million and as of May 31, 2013, it held 162 million shares issued and outstanding out of 200 million authorized and a public float of 8,880,000.

Hemp, Inc. (HEMP) – Today HEMP, which became a popular penny stock company after the explosion in the medical marijuana sector in February this year, announced that it had signed a contract with the Yasheng Group to cultivate and process hemp crop in China.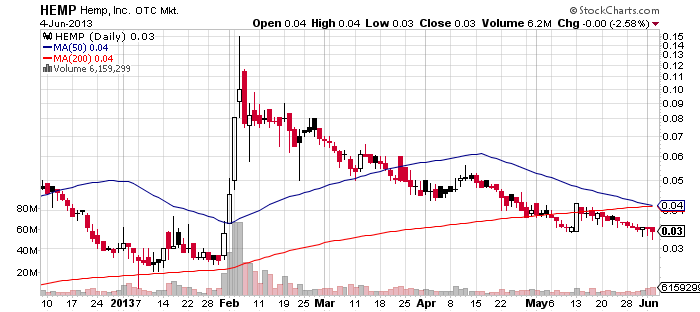 Although the medical marijuana hype has already subsided, HEMP still generates significant trading activity. HEMP stock has been steadily sliding in a downtrend since February and is currently approaching its pre-hype resistance at $0.3.
At present the company has a market cap of $44 million and has 1.3 billion shares issued and outstanding out of 3 billion authorized. As of Mar. 31, 2013 there were 559 million shares in the public float.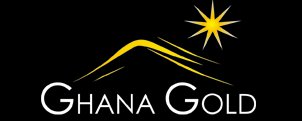 Ghana Gold Corp. (GGCO) – GGCO has been featured in a multitude of paid newsletters since the start of the week. Today the promotional coverage continues and the total compensation for the new promo letters, issued after the last closing bell, sums up to $14,500.
Some of the promoters, such as Whisper from Wall Street, Penny Stock Pulse and OTC Stock Exchange disclosed they were paid by Microcap Innovation. The rest of the promoters didn't reveal their sponsor.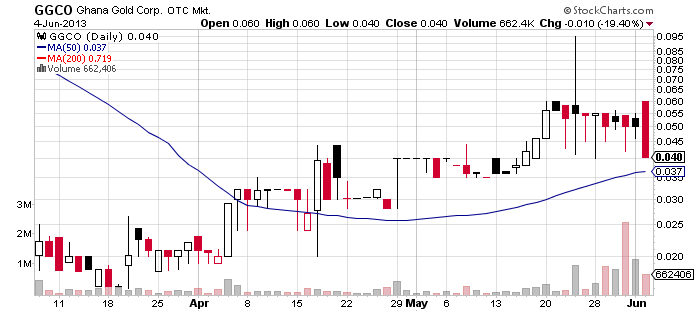 During the last trading session GGCO stock fell 19% to $0.04 per share. At this point the stock touches the 50-MA which will act as a short term support for the stock. If GGCO penetrates below this moving average, the market will likely interpret it as a bearish signal which can correct some of the gains achieved by GGCO in the last couple of months.
In a positive scenario GGCO will give a bullish signal if it bounces at the 50-MA. In this respect the next two important levels for GGCO stock to watch are at $.05 and $0.12 where the stock had previously established points of support.

Terra Tech Corp. (TRTC) – Market speculators may also want to monitor TRTC as it has been promoted by four paid newsletters for the total amount of $11,500.
The company also announced it had begun construction on their hydroponic production facility in Belvedre, New Jersey. TRTC is a company which is specialized in controlled environment agricultural technologies. Its stock is traded on the OTCQB market where it holds a market cap of $10.8 million.