Top Promoted OTC Markets Securities: AFRS, ITNS
Yesterday the OTC Markets, along with the US benchmark indexes, stepped down under the pressure of profit taking impulses. This interrupted the up move of the US stock markets which lasted for five consecutive sessions.
Thus, the OTCM ADR index closed the last trading session 0.99% lower at 1,555.40 points. Today investors expect several economic news of medium importance, such as Initial Jobless Claims and Trade Balance data. In fact, the numbers for these two indicators came one hour before the opening bell and it turned out they were slightly worse than market's expectations.
However, underperforming indicators can also mean that the Fed will maintain its monetary easing program at least until the end of the year, which stimulates investor's risk appetite.
Besides the economic events today, penny stock traders will also have to keep an eye on the major promotional campaigns, which have been initiated since the last closing bell. For this reason, below we provide an overview of the most promoted penny stock companies for Thursday, Oct 24: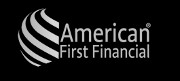 American First Financial, Inc. (AFRS) – The promotion on AFRS is one of the most expensive ones for today. The stock promoters who are currently touting the company had been compensated a total of $70,000 for their services.
Since the last closing bell online databases have registered twelve different promoters who are leading the campaign on AFRS, among which are OTC Tip Reporters, Equity Trading Alert, Penny Stock Scholar, David Cohen and others. Disclaimers have also revealed the following third parties, which have sponsored the promotion – Penny Stocks Investment Group LLC, RTF Inc, RDI LLC and Bonjour Capital LLC.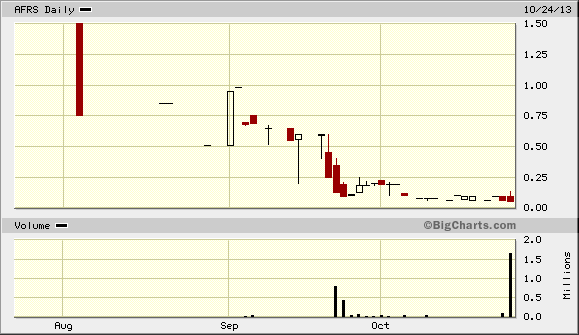 AFRS was previously promoted on Sept 23. That campaign managed to generate higher trading volume than usual for AFRS but this didn't prevent the stock from crashing down. On that day AFRS lost 48% of its stock value on a higher than average volume of 806 thousand.
At the beginning of this month AFRS stock entered into consolidation phase with a price channel between $0.10 and $0.05. During this period there hasn't been any significant movements in the share price of AFRS stock which was mostly due to the lack of any corporate updates or stock promotions.
Today, however, market speculators may witnessed a more intensive trading with AFRS stock due to the massive promotional campaign. In addition to the paid newsletters, the interest towards AFRS may also be provoked by a press release which was issued by the company earlier today.
The contents of the corporate update didn't contain any substantial news and was obviously compiled to support the promotion of AFRS stock. In short, AFRS announced that it was "successfully executing its business plan in Q4 2013".
Finally, AFRS may indeed see a higher share turnover today but there is no guarantee whether market players will be able to profit from this situation, as the stock has already burnt a lot of investors in a similar promotional campaign not so long ago.

ITonis, Inc. (ITNS) – ITNS is one of the most intensively pumped penny stocks today as online databases have registered more than twenty different promoters touting the company.
The websites which are leading the campaign on ITNS compile a long list which includes Damn Good Penny Picks, 007 Stock Chat, Penny Stock Spy, USA Market News and so on. Most of the third parties behind this promotion have remained anonymous except for Free Super Stocks which have compensated some of the promoters. Disclaimers also show that the total cost of the campaign sums up to $39,500.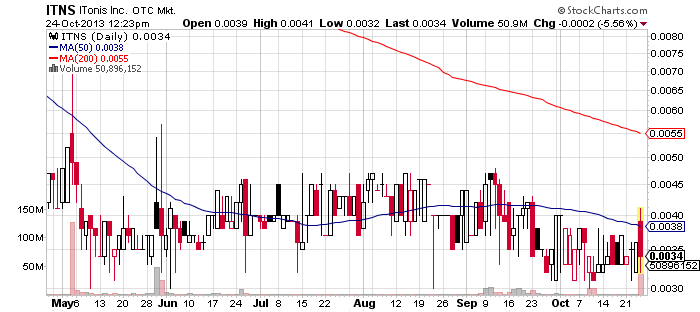 ITNS have a long history of stock promotions, yet over the last couple of years its stock has depreciated significantly. The stock halted its free fall at the beginning of this summer and since then it has been consolidating in a neutral trading channel between $0.003 and $0.005. During this period ITNS has maintained a market cap at around $3 million.
Penny stock companies often issue press releases when their stock is being promoted in order to support the expensive market awareness efforts. ITNS did not break this rule, so earlier today the company announced that it had applied to the USPTO to trademark its Emesyl brand for its homeopathic pharmaceutical nausea relief remedy.
Since ITNS has appeared in so many paid newsletters since the last closing bell, penny stock trader may witness an intensive trading activity with ITNS stock today. However, it is obvious that stock promotions have not been beneficial to the long term value of ITNS stock, so profits may become elusive for those who speculate with this stock while it is under the effect of paid pump campaigns.