US stock markets are rebounding today after the US secretary of State, John Kerry, declared that there won't be a war in Syria even if the Congress approves some form of punishment against Bashar Assad's regime.
The announcement mitigated investors' fears of possible negative backfire from a military conflict under the already troubled fiscal conditions in the USA. In light of this, the US stock markets are heading up, with the OTC Markets leading the climb.
Currently the OTCM ADR index is up 14.20 points, or 0.99 percent, at 1,449.08. The notable thing today is that  we have a couple of pink sheets stocks among the market movers on the OTC Markets.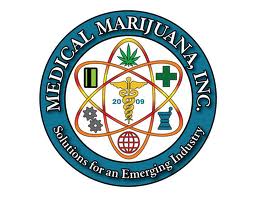 Medical Marijuana, Inc. (MJNA) – MJNA leads the list of top penny stock market movers today after the company's stock received considerable fundamental support in the form of several press releases in the last couple of days.
First, on Saturday the Hartford Courant announced that Connecticut's Department of Consumer Protection had begun accepting applications for growers and sellers of medical marijuana. However, it was also announced that only three to five dispensaries would be awarded with licenses.
Today, two press releases concerning the medical marijuana industry have been released. First, it was announced that ML Capital Group (OTCQB:MLCG) had signed a letter of intent to acquire 51% ownership of Zenetek, LLC. a mobile applications development firm in California in order to develop social media apps for the medical marijuana industry.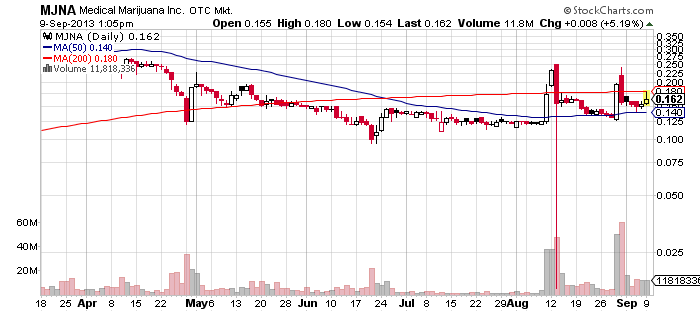 Second, a couple of hours ago a press release informed that Endexx Corporation (OTCPink: EDXC) had executed due diligence in regards to the previously announced partnership with CEN Biotech, which showed that all laws regarding the growing of medical marijuana were being executed in full compliance with the associated jurisdiction.
Although the press releases, published on MJNA's news section, were not directly connected with the company's development, they managed to attract enough attention to the stock, so as to generate a trade value of over $2 million in the first half of the trading session.
Currently, MJNA is trading 5% higher at $1.6 per share on a higher than average volume of 12.3 million. MJNA started the session slightly above the previous close and shortly shot up to an intraday high at $0.18 per share.
With a market cap of over $145 million, MJNA still seems strong enough to maintain the support at $0.16. However, MJNA has been making lower highs and, with lows staying flat, it seems bound to make descending triangle pattern, which is a sign that the stock is losing steam. Yet, it is too early to say whether MJNA will consolidate this pattern, so the short term direction of the stock cannot be absolutely predicted.
Nouveau Holdings, Ltd. (NHLI) – NHLI which is today's most expensive promotion is also in the top lists of the most actively traded OTC Markets securities. The company, for some strange reason, is indicated on the OTC Markets website as having a market cap of only $20 thousand.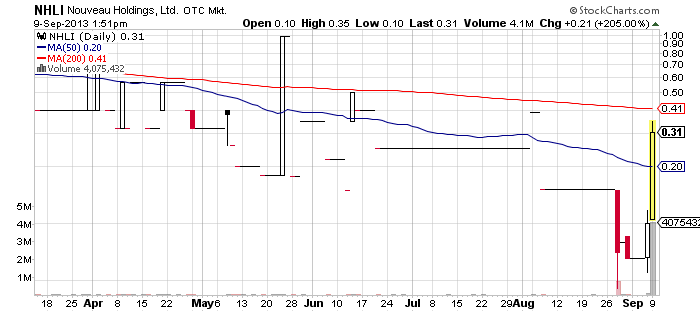 This might have misled some of the penny stock traders, who have done research on the company, as a market cap of such caliber is rather unrealistic for any publicly traded company and is probably due to some reporting error.
Apart from that, NHLI was imposed on penny stock investing circles today by a group of promoters, who have been compensated a total of $75,000 for a market awareness campaign on the company.
Thanks to the promotion the demand for NHLI stock skyrocketed today, to the extent that in the first half of the trading session NHLI generated a trade value of $1.1 million. Currently shares of NHLI stock are trading 205% higher at $0.305 per share on a higher than average volume of 4 million.

Cellceutix Corp. (CTIX) – The top penny stock market mover on the OTCQB Market today is CTIX. The stock is heading up after the company announced the completion of an acquisition.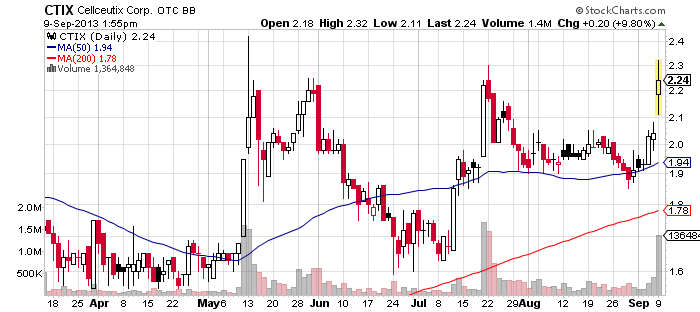 A press release, published through the Marketwired system, announced that CTIX had acquired all of the assets of the company formerly known as PolyMedix Inc., a clinical stage biotechnology company which developed small-molecule drugs for the treatment of infectious diseases and innate immunity disorders.
Thanks to this announcement CTIX is enjoying a lot of trading interest today with buying orders dominating the transactions. At the moment shares of CTIX stock are trading 10% higher at $2.24 per share on a higher than average trading volume of 1.4 million. CTIX has also generated one of the highest trade values on the OTCQB market today – $3.1 million.