Top Promoted Stocks: AXXU, PSON, NDEV
Fears that Fed might curtail the quantitative easing policy induced a sale-out on the major US stock markets yesterday. Negative mood was also prevalent on the OTCM ADR index as it fell down 1.63% to 1,391.29 points in the last trading session. Nevertheless, today the OTC Markets are buzzing with events, as numerous penny stock promotions have been initiated since the last closing bell, so we are going to take a look at today's top promo campaigns :

Axxess Unlimited Inc. (AXXU) – AXXU is one of today's top promoted stocks as the money invested in this campaign exceeds $40,000. The promotion is led by Penny Stock Pulse, Premiere Stock Alerts, and The Green Baron, who had been sponsored by Micro-Cap Consultants.
Furthermore, the company issued a press released earlier today, which may attract more trading interest in to the stock. In short, AXXU announced it had initiated a snack category growth plan for retailers at Piggy Wiggly supermarkets in Charleston, South Carolina.
Yesterday, AXXU stock surged 9% at $0.35 per share on a volume of 72 thousand, which is three times higher than the monthly average. The increased trading activity with AXXU stock started after the company announced that Walmart would add the "Better For You" Axxess Brands product to store shelves nationwide.
AXXU is a company which provides next generation business intelligence. Its stock is traded on the OTC Pink Current Information markets where it currently holds a market capitalization of $21 million.

Petrosonic Energy, Inc. (PSON) – PSON fell sharply in the last two trading sessions, which wiped out a significant part of the company's market capitalization. That is why it is not surprising to see that PSON has resolved to an alternative method in order to get back part of the lost value.
In other words, PSON has ordered a promotion of its stock which has been registered in all online promotional databases. The campaign is led by a promoter called The Stock Junction, who issued a newsletter touting the company two hours before the opening bell today.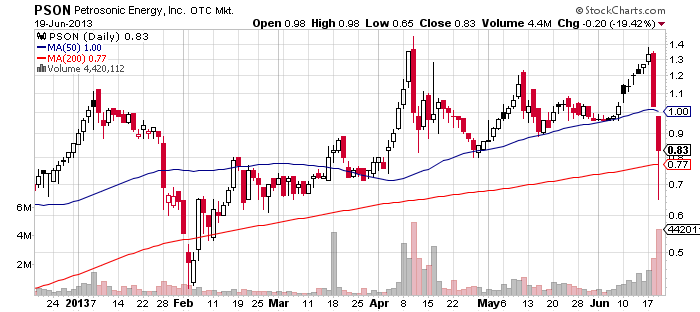 The disclaimer of the newsletter revealed that The Stock Junction had been paid a total of $38,020 by a third party on behalf of PSON. In exchange for this compensation the promoter had provided an extensive analysis on PSON stock which had been written by Tobin Smith.
The company hasn't issued any press releases since June 10, which is one of the reasons the company couldn't contain investors' interest and, eventually,the stock fell victim to an overwhelming selling pressure. Thus, in the course of the last two trading sessions PSON fell from $1.35 to $0.83 per share on a heavy trading volume.
PSON is currently positioned at its 200-MA which may provide some support for the stock in the short term. The company is currently valued at $65 million and has a 52-week range of 1.46 -0.42.

Novus Acquisition & Development Corp. (NDEV) –NDEV seems like pining for more attention as today we have detected a promo and corporate news combo. The company is indeed getting promoted today as online promotional databases have recorded several newsletters issued by Wall Street Report since the last closing bell.
According to disclaimers, the promoter had received a compensation of $10,000. Apparently, this was stimulating enough for Wall Street Report to claim that NDEV is a "big bottom bouncer".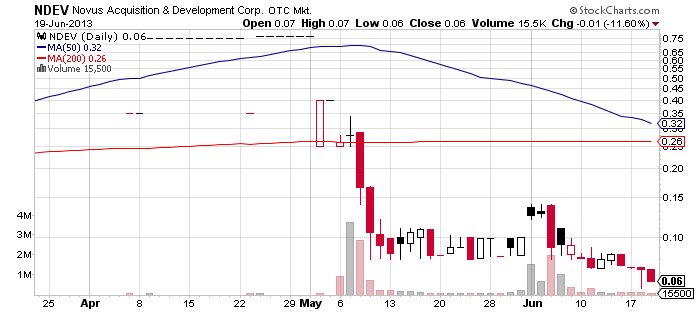 Earlier today the company also issued a corporate update saying that one of its subsidiaries, Baroma Inc, continued to gather interest and grow and was already serving 14% of Americans. So with this combo NDEV will try to increase the demand for its stock today but so far the effect is not very substantial as the stock has moved up 7% to $0.069 per share on a volume of only 150 thousand or two times below the monthly average.
NDEV is a company traded on the OTC Pink Current Information Market which is focused on mergers and acquisitions, where it assists newly acquired companies with their strategic planning. NDEV is currently valued at $10.3 million and has a 52-week range of 1.50-0.06.