InVivo Therapeutics Holdings Corp (NVIV) – NVIV is heading today's OTC Markets most active lists as a recent corporate update has spurred a major sale out of the stock pushing the trading volume to record highs.
Currently shares of NVIV stock are trading 20% lower at $4.09 per share on a five times higher than average volume of 2.2 million. The trade value generated by the stock so far has exceeded $9 million.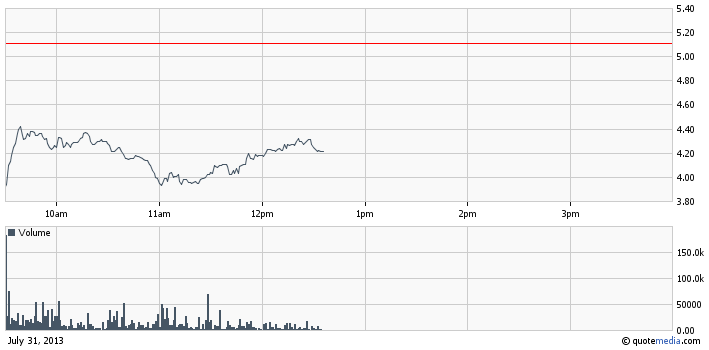 NVIV stock, which managed to rise from pennies to over $6 per share over the course of five months, is currently plagued by a selling pressure that was produced by an 8-K filing which became publicly available yesterday.
The 8-K announced that the process to up-list NVIV common stock to a national securities exchange had been postponed indefinitely due to issues related to corporate governance.
This announcement was a big disappointment for NVIV shareholders and as a result the stock opened with a huge gap down today and is currently trading below the 50-MA. Just two weeks ago NVIV hit a new 52-week high at $6.20 per share but recently the stock has been struggling with the corrective forces of the market.

Affymax, Inc. (AFFY) – Today, AFFY has been oscillating around its previous close as its stock has been left without any substantial fundamental support for the last couple of days.
It seems that currently AFFY is consolidating after the recent break out which has pushed the stock value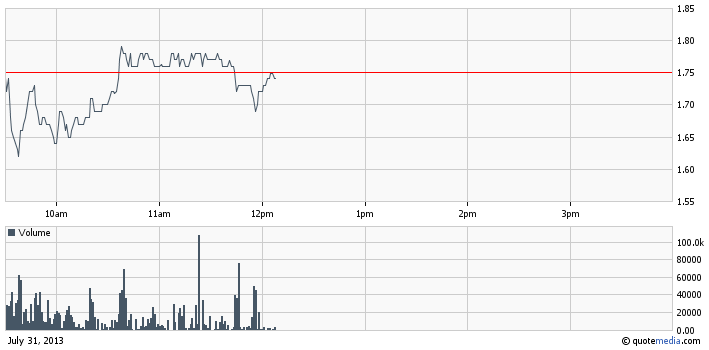 from $1.20 to $1.75 per share. Currently shares of AFFY stock are trading flat at $1.75 on a below average volume of 2.2 million. AFFY has also generated a trade value of $3.9 million which helped it climb on the OTC Markets most active lists.
Today, the stock opened the trading session with a gap down at $1.72 and shortly plunged to an intraday low at $1.62. One hour after the opening bell, however, AFFY surged above the previous close reaching an intraday high at $1.80 per share.
This wavering movement of AFFY will likely continue throughout the day as there have been no significant catalysts to effect a sharper move in the stock.

Soul and Vibe Interactive Inc. (SOUL) – Today is a hectic day for SOUL investors. The stock has moved sharply on a heavy trading volume following a press release which came out earlier today.
Currently shares of SOUL stock are trading 2% higher at $1.42 per share on a higher than average volume of 2.2 million. The trade value achieved by the stock today exceeded $3.4 million.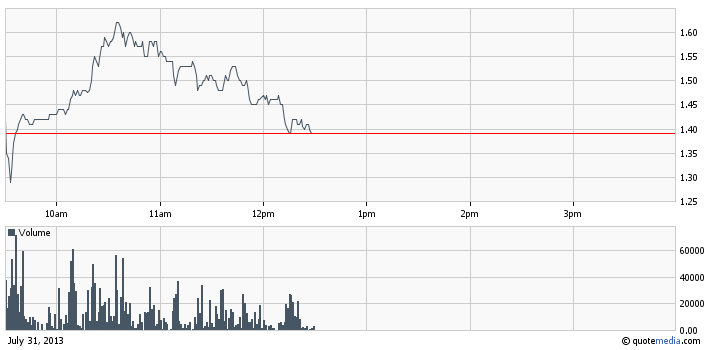 Earlier during the trading session, penny stock speculators could witness a sharp upward spike of SOUL stock which hit an intraday and a new 52-week high at $1.63 per share. The buying pressure was produced by a press release published via Marked Wired which announced that SOUL had signed an agreement with Larva Game Studios to develop two new video game properties carrying the Soul and Vibe label.
Apparently the news was met with excitement among potential investors but the stock cooled out quickly and dropped near the previous close.

Xumanii International Holdings Corp (XUII) – Today XUII is once again tanking under selling pressure due to the lack of fundamental support. Currently shares of XUII stock are trading 6% lower at $0.37 per share on a lower than average volume of 6 million.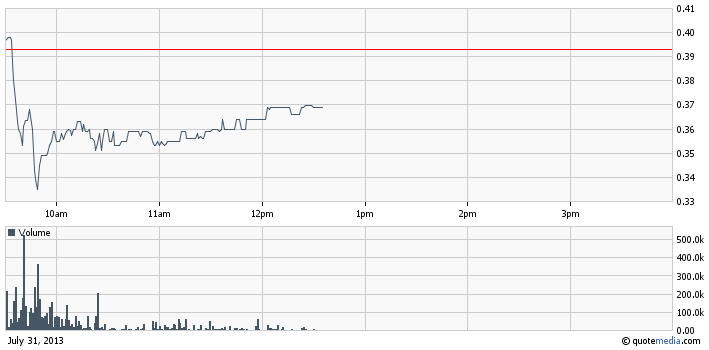 XUII opened the trading session above the previous close but shortly plunged down to an intraday low at $0.33 per share. In the last couple of hours the stock has regained some ground but is still trading below the previous close.
So far XUII has generated a trade value of $2.17 million which was enough to put the stock once again in the OTC Markets most active lists. However, this time XUII is not the leading penny stock on the OTCQB exchange as it used to be in the last couple of weeks.

Vuzix Corp (VUZI) – Shareholders of VUZI are most likely biting their nails today after the stock crashed down dramatically following the announcement of a public offering of common stock and warrants.
Currently shares of VUZI stock are trading 56% lower at $1.88 per share on a volume of 1 million which is almost a hundred times higher than the monthly average.
VUZI has been plagued by a huge selling pressure today after a press release announced the pricing of the company's public offering of 3.5 million shares of common stock and warrants to purchase an aggregate of 3.5 million shares of common stock at a public offering price of $2.00 per share.
VUZI stock has also been haunted by a couple of dilutive filings including two S-1 forms on July 29 and 31, a Form D filed on July 19 and today's Notice of Effectiveness concerning the S-1 forms.