Arch Therapeutics, Inc. (ARTH) – ARTH is one of the top traded penny stocks today. The heavy trading interest towards this stock has been provoked by a last minute promotional campaign on the company.
Fifty minutes before the opening bell two paid newsletters issued by Five Star Equities and Paragon Report hit the market. The campaign is generously sponsored by Advantage Media Corp who had spent $200,000 for a one-month advertising contract to build investor awareness for ARTH.
Two hours before the trading session a separate newsletter on ARTH was issued by The Stock Junction, a website of Market Authority Inc. According to the newsletter's disclaimer Market Authority had been paid $25,000 by a third party called Advantage Media Group for this particular advertisement. In addition, Ian Cooper, the author of the newsletter, had been paid $10,000 by Advantage Media Group for "endorsing this product".
The disclaimer goes on saying that the third party had paid $390,000 and was expected to pay an additional $400,000 to Full Service Media LLC for the effort to build investor awareness of ARTH. Furthermore, Advantage Media Corp disclosed it owned 2.5 million shares of ARTH restricted stock but declared that it would not sell, pledge, hypothecate or dispose of its position in ARTH for 90 days following the promotion.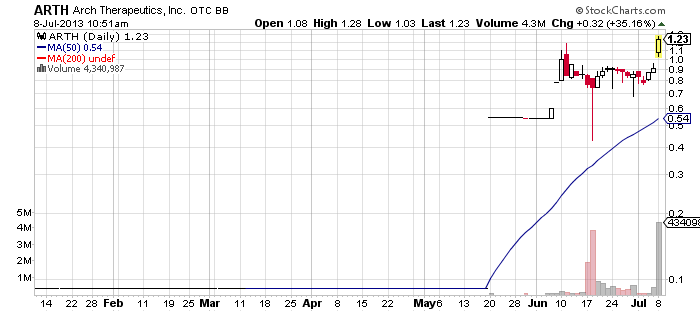 As we see ARTH is currently the object of a very expensive pump which has already showed results as the stock has occupied the top ten most actively traded stocks list on the OTC Markets.
Currently shares of ARTH stock are trading 39% higher at $1.26 per share on a volume of 2.5 million which is five times higher than the monthly average. The total trade value generated by ARTH during the first half an hour of trading is nearing $3 million.
Apart from the promotion, today the company has also stirred the penny stock market by a press release which announced that ARTH had appointed two new management team members, namely Mr. Alan Barber as CFO and Mr. William Cotter as COO.
ARTH is a medical device company offering an innovative therapeutic approach to "stasis and barrier Applications". The company has a market cap of $60 million and a 52-week trading range of 1.18 – 0.01.

Xumanii (XUII) – Despite being dethroned today as the most heavily traded penny stock by ARTH, XUII continues to be in the focus of penny stock traders. Thus, one hour after the opening bell XUII had already generated a trade value of $1.2 million.
Currently shares of XUII stock are trading 13% higher at $0.344 per share on a below average volume of 3.6 million. With this up-move the stock has solidified its rally from last week and has further extended the distance from the 50-MA. At the current level the stock is also facing a minor resistance which was established at the end of May.
The increased demand for XUII stock today has been produced by a press release which was published earlier via MarketWired. The press release announced that XUII had signed an exclusive one-year live broadcast deal with Ms. Teyana Taylor, also known as "The First Lady of G.O.O.D Music".

ImageWare Systems, Inc. (IWSY) – IWSY stock is rallying today afterbeing swept by a two-day correction phase last week. Apparently, last week investors decided to take back some profits as IWSY hit another 52-week high on Tuesday at $2.85 per share.
Currently shares of IWSY stock are trading 8% higher at $2.59 per share on a higher than average volume of 337 thousand. The trade value generated by IWSY in the first trading hour today is $870 thousand, which is markedly lower than the above mentioned penny stock market movers, XUII and ARTH.

ImageWare Systems, Inc. (NTEK) – After a short dip in the first half hour of trading, NTEK stock is currently giving joy to long investors as the stock has surged above the previous close. Currently shares of NTEK are trading 7% higher at $0.131 per share on a higher than average volume of 11.2 million.
So far NTEK has generated a trade value of $1.4 million which makes it the most actively traded penny stock on the Pink Sheets Market. The stock continues to climb up despite the lack of recent news and filings. Given the lack of such informational support, it is possible for the stock to slip into a correction and this way to shorten the distance from its 50-MA.