Xumanii International Holdings Corp (XUII) – Today, investors are punishing XUII stock which is currently tanking under heavy selling pressure. XUII has practically crashed today wiping one third of the company's stock value in a matter of minutes.
The sharp decline of XUII has happened despite the fact that it was profiled by OTC Daily Alert after the last closing bell. On one hand the stock is experiencing the strong bearish mood which reins on all US stock exchanges today. On the other hand, it was apparent that XUII was an artificially inflated by stock promotions and it was only a matter of time before the market starts bringing it to its real value.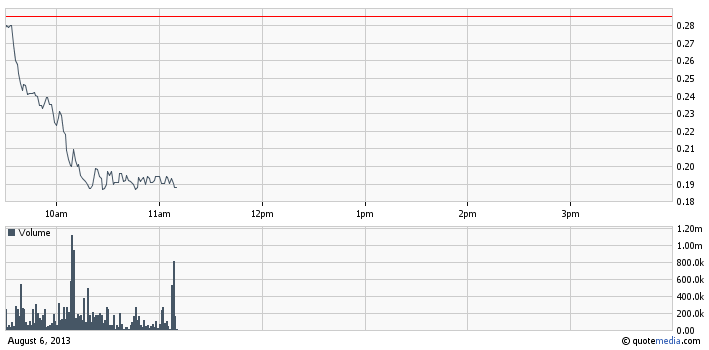 Two weeks ago when XUII hit a 52-week high at $0.75 per share the company reached a market capitalization of $255 million. This valuation was rather speculative in nature as the company didn't have enough fundamental base to support it.
Yesterday. XUII declined 11% to $0.285 per share on a volume of 17 million, sinking below the 50-MA. Today, within the first two trading hours XUII almost touched the 200-MA dipping to an intraday low at $0.18 per share.
Currently shares of XUII stock are trading 33% lower at $0.187 per share on a below average volume of 13.2 million. This means that XUII's market cap has dropped down to $64 million, and with such valuation at hand, it is clear that there is much more room for XUII stock to depreciate.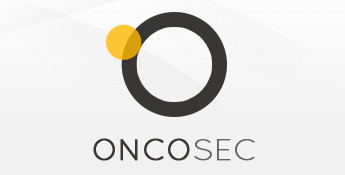 OncoSec Medical Incorporated (ONCS) – ONCS stock is one bullish ray of light the bearish storm that is currently rampaging on all US stock markets. The rise of ONCS stock in the present market conditions seems rather perplexing because it is happening without any fundamental support at hand.
In fact, ONCS has entered a momentum phase since the end of last week when it started surging on a heavy trading volume. Thus on Wednesday ONCS registered an increase of 11% at $0.30 per share on a three times higher than average volume of 3.8 million.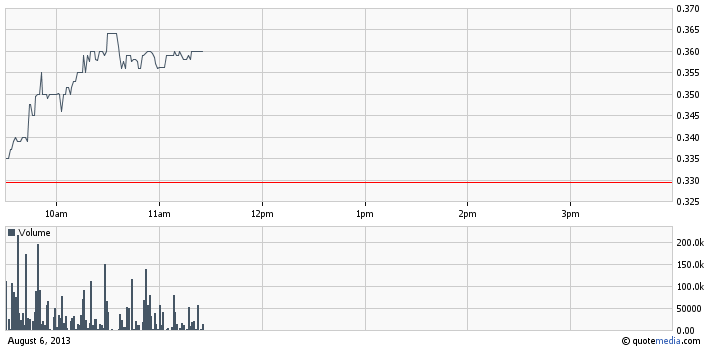 ONCS continued surging this week and today the stock is registering another upward spike, opening the trading session above the previous close and climbing up to an intraday high at $0.364 per share. Currently shares of ONCS stock are trading 9% higher at $0.36 per share on above average volume of 3.6 million.
This surge looks all the more speculative given the strong bearish mood on the US stock markets, especially given the fact that ONCS has not received any fundamental support since Jul 22, when the company announced positive immune response data from phase II study concerning the treatment with DNA IL-12.
There haven't been any promotions covering ONCS stock since the beginning of May this year. Therefore, as the stock seems to have hit another 52-week high today without any official catalyst for the surge, penny stock traders will have to estimate for themselves whether it is worth the risk to invest in the company's common stock.

InterActive Leisure Systems, Inc. (IALS) – Now let's shift our focus on the Pink Sheets market where one of today's most heavily promoted penny stock company has gone ballistic since the opening bell.
The company in focus is IALS and, as we wrote earlier, it is one of today's biggest stock promotions. So far online databases have registered more than 18 paid newsletters covering IALS stock, while the total compensation for the current advertising effort on the company has reached $65,000.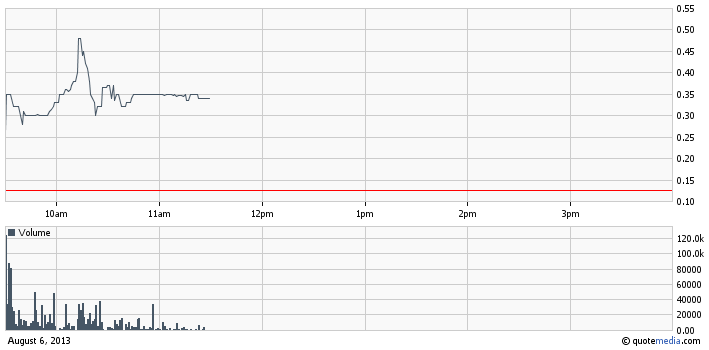 The "front-man" of the current market awareness campaign on IALS is the Stock Mister who had been sponsored by a third party called M and M Asset Management Group. In addition, IALS also stirred the penny stock market by issuing a press release earlier today announcing an agreement to acquire Travel Time Technologies Inc.
With all this catalysts at hand, IALS has gone ballistic today, opening the trading session way above the previous close and dashing straight up to an intraday high of $0.50 per share which is an increase of 300% as compared with the last close.
Subsequently IALS stock went slightly down the chart, so currently shares of IALS stock are trading 172% higher at $0.34 per share on a nearly ten times higher than average volume of 1.4 million.