While penny stock investors are waiting for the opening bell on Thursday, May 23rd, Penny Stock Genius invites you for a walk through the major premarket events that are posing to influence the forthcoming session on the OTC Markets. So let's take a look at today's events and promotions which are likely to attract the interest of market speculators:
Crown Marketing (CWNM) – This company is the highest paid promotion for today. CWNM is featured as a pick in a newsletter from Research Driven Investor who expects "an easy 15% potential run" of the stock.
However in the fine print at the bottom of the newsletter we can see that the promoter had received $50,000 from Fortune Inc., a non-related third party for a one-day investor relations campaign. This generous compensation, however, is a factor which can distort the promoter's objectivity about the stock.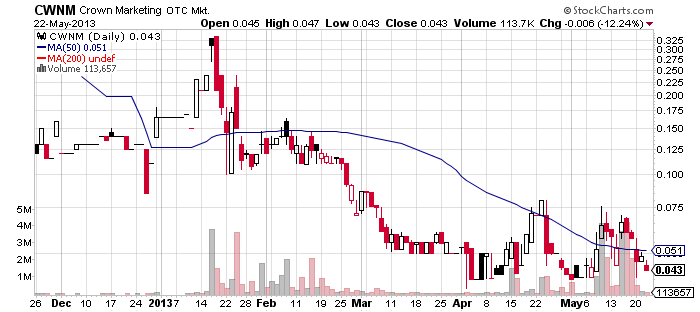 In fact, CWNM has just formed a double-top pattern on the chart which is considered a bearish signal. Simply put, CWNM stock failed to overcome the resistance at $0.07 twice this month,even though the two assault efforts on the resistance were supported by a previous promotion on the company which started on May 9th.
With these two failed bullish attempts at hand, there is a high probability that more and more investors have become nervous about their long positions in CWNM stock. Therefore it will not be surprising if CWNM falls short of its promoter's expectations.
CWNM is a pharmaceutical company traded on the OTCQB market which provides solution for Controlled Drug Delivery. Yesterday, CWNM stock closed at $0.043 per share after slipping down 12% on a volume of 113 thousand shares. On the whole this week the trading volume  of CWNM stock  is several times lower than it was while the company was under the effect of its previous promotion.
Petrotech Oil & Gas, Inc. (PTOG) – PTOG is under heavy promotion today. The pumping foray started yesterday after the closing bell and since then our radars have detected around 13 paid newsletters.
The numerous stock promoters, who are chanting that "PTOG is on High Alert for Thursday" in the headlines of their newsletters, have disclosed several different compensations which sum up to $37,500, the bulk of which was provided by PTOG.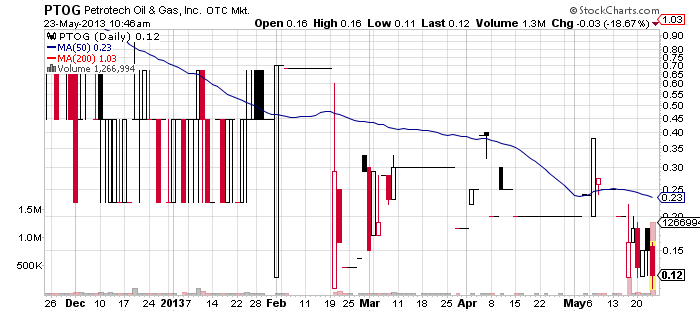 PTOG has a market cap of only $5 million and in general companies with low market cap usually do better at promotions. However, this not a fresh promotion of the company as it was already pumped on May 16th. Then PTGO achieved a trading volume almost twenty times higher than the average while its share price closed 20% lower than the previous close.
Yet, on that day PROG opened at $0.12 and reached an intraday high at $0.22 which provided some opportunity for profit for the few investors who were able to exploit this range.
PTOG is a company traded on the OTC Pink Current Information market which operates and develops the innovative EOR method within qualified oil reservoirs in the United States. In general PTOG doesn't generate much trading volume, yet due to the initiated promotional campaign the trading activity with this stock is likely to be higher than average in the next couple of days. Yesterday 17,400 shares of the company's common stock changed hands and its stock closed at $0.15 per share.
In the last couple of minutes PTOG issued a press release announcing that the company had entered into an agreement to purchase equipment for waste management solutions connected with oil and gas drilling.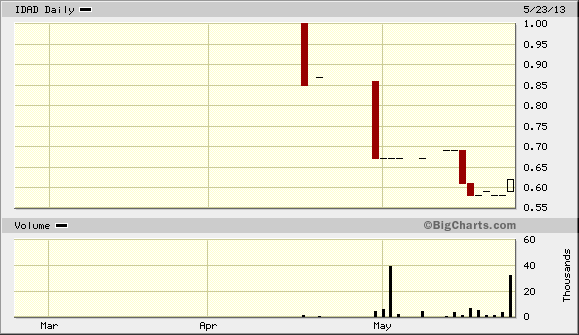 International Display Advertising, Inc. (IDAD) – IDAD is another company which was promoted after yesterday's session. The promotion includes only one single newsletter issued by Penny Stock Chief, who doesn't seem to be a very active promoter. Therefore, even though the campaign had cost $25,000 it may not cause an explosion of IDAD stock.
IDAD is a digital media company traded on the OTC Pink Current Information markets which aims to engage customers in venues like restaurants, hotels, bars and so on. IDAD closed the last trading session at $0.58 per share. It has a market cap of $25 million which may seem too inflated for a company which as of the date of its last financial report had:
Zero assets
Zero revenues
$3,7 million accumulated deficit
Generex Biotechnology Corp. (GNBT) – GNBT, which is a popular bio tech penny stock company, announced yesterday that it was going to make three presentations about the AE37 breast cancer vaccine at the annual meeting of the American Society of Clinical Oncology to be held from May 31 through June 4, 2013.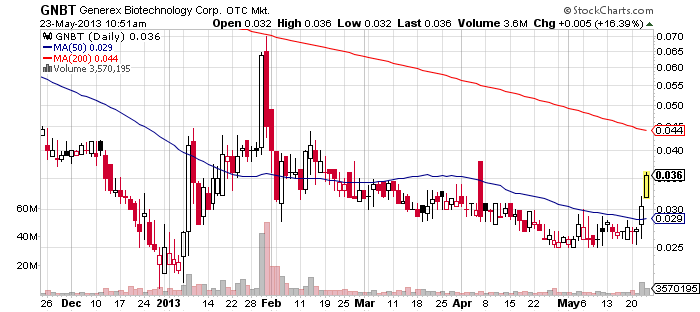 GNBT stock is in a break out mode as in the last two days it made two significant price jumps and broke the resistance at $0.03 on a higher-than-average volume. In January this year GNBT went through a turbulent bullish episode which sent the stock price from $0.02 to $0.07 per share after a couple of corporate updates about two of its products.
This surge was, however, dramatically corrected after a sharp selling pressure sent the stock flying down to $0.03 which acted as a support line for the stock over the next couple of months. At that time some analyzers predicted that "GNBT may move between extremes as estimates for marketing success become optimistic or pessimistic" which still seems to be valid as regards GNBT stock activity.