Top Promoted Stocks: KBLB, SHMN
Last week the US stock indexes climbed to new record highs, with the S&P 500 closing above 1700 for the first times in its history. This week, however, profit taking attitudes are reigning on the major US stock markets, sending them into a consolidation phase, which has been additionally underlined by speculations that the Fed may exit the quantitative easing policy earlier than it was planned.
Thus, the major US stock markets kept declining on the last trading session, followed by the OTC Markets. Yesterday, the OTCM ADR Index fell 0.37% to 1,440.94 due to the general bearish mood of penny stock investors.
The consolidation phase of the markets may continue for some while due to the thinning trading activity during the peak of the summer. Nevertheless, the low trading activity on the markets has not repelled all penny stock promoters, so random campaigns keep sprouting every now and then. In this regard, below we are going to examine the most significant promotions which have been initiated since the last closing bell:

Kraig Biocraft Laboratories, Inc. (KBLB) – KBLB is lining up on the front line of today's biggest promotions. Thus, five months after its last promotion, KBLB is once again the object of an expensive market awareness campaign.
KBLB was previously promoted on March 08 by a promoter, who is no longer existent. Yet, a couple of weeks after the market awareness campaign KBLB stock value exploded from $0.07 to a 52-week high of $0.136 per share, which was hit at the beginning of April.
In the following months, however, KBLB retracted down to its pre-promotional levels. On the last trading session KBLB declined 6% to $0.08 per share on above average volume of 1.5 million. Another important thing worth noticing is that over the last five trading sessions there has been a gradual increase in the trading interest towards KBLB which happened without any significant recent announcements about the company.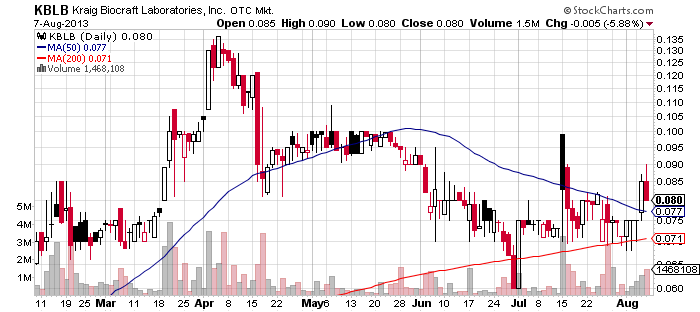 This mysterious phenomenon could have been provoked by some insider activity, or more specifically a front-loading activity. The current campaign on KBLB has been initiated by a penny stock promoter called the Penny Stock Picks. The latter started spreading out a newsletter titled: "KBLB is on the Move – Get in now".
According to the newsletter's disclaimer, Penny Stock Picks had been compensated $100,000 for this particular advertisement.
Last Friday, a press release came out on the OTC Disclosure and News Service, which announced that OTC Daily Alert had issued a trade alert on KBLB. However, the effect of this trade alert on the market on that day was insignificant as KBLB share price remained flat closing at $0.068 per share, while the trading volume couldn't exceed the monthly average.
KBLB posted a significant movement on Tuesday this week, when the share price of the company's common stock jumped 13% to $0.85 per share on a two times higher than average volume of 1.1 million. By this movement KBLB breached the resistance delineated by its 50-MA. The sudden spike was only short lived though, as the next day a significant part of the stock surge was corrected after KBLB declined 6%.
KBLB is a biotechnology company which aims to develop high performance polymers. For the last couple of years the company has been trying to create a buzz around its product-under-development called artificial spider silk. The company's commons stock is traded on the OTCQB market where KBLB is currently valued at $48 million.

SOHM, Inc. (SHMN) – SHMN is another heavily promoted company ready to assualt today's trading session. The campaign was initiated as soon as the last closing bell was rung, by numerous penny stock promoters, among which Psycho Penny Stocks, Breaking Bulls, First Penny Picks and many others.
The campaign had been supported by two third parties, Micro-Cap Consultants and EAG Inc., which had provided a compensation of $16,500 for the advertising effort on SHMN.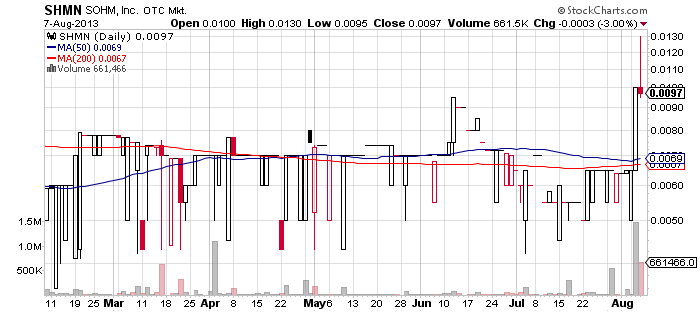 The peculiar thing in this case is that the company has not provided any significant corporate updates in the last couple of months excluding its last unofficial financial report, which was issued in early June. This informational eclipse, didn't prevent the stock from exploding two days ago when it skyrocketed 54% to $0.01 per share on a higher than average volume of 1.4 million.
Peculiar behavior is common for pink sheets stock, but this is what makes them extremely risky as well. Therefore, it is up to penny stock traders to decide how much risk they can bear if they decide to gamble with the current promotion on SHMN.