Xumanii International Holdings Corp (XUII) – It looks like the caveat emptor sign is finally taking its toll on XUII stock as it broke below the support formed by the 50-MA today.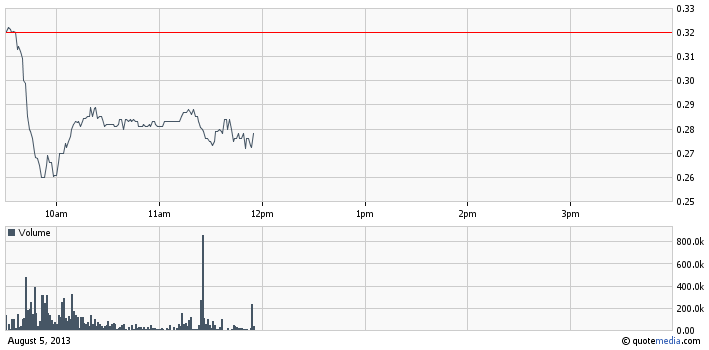 On one hand, the stock is losing ground today due to the lack of fundamental support and, on the other hand, due to the blow it received when XUII was marked with a skull and cross bones several weeks ago. Moreover, it is no secret that the stock had been heavily pumped since May this year and it is finally starting to experience the negative results of the prolonged campaign.
At the moment shares of XUII stock are trading 14% lower at $0.28 per share on a below average volume of 10.6 million. In addition, XUII is chasing a trade value of over $3 million which makes it once again the top daily market mover on the OTCQB market.

Sanborn Resources, Ltd. (SANB) – As we wrote earlier, SANB has become more and more speculative as of late. The stock is the second most active penny stock on the OTCQB market after XUII. In fact, SANB has been figuring in OTC Markets top lists since last week when it got covered by David Cohen's newsletter.
According to online databases, SANB had been featured in a new promotional campaign over the weekend. This time, however, third parties did not save on their advertising efforts because the sum invested in the current promotion on SANB is a whopping $3 million.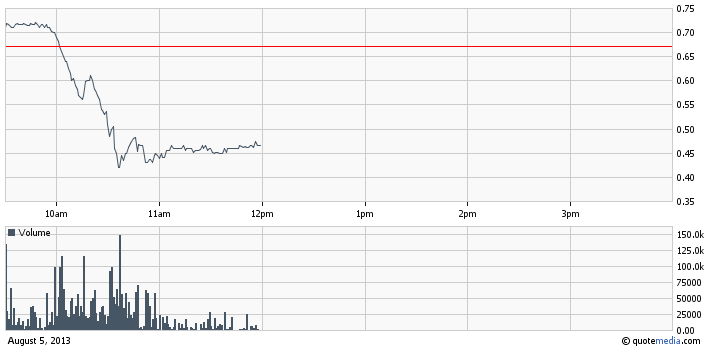 Truth be told, costly promotions of this kind are always a red flag because third parties who order such campaigns do not do it out of charitable inclinations, but most likely they expect returns in excess of the distributed compensation.
To put it point blank, SANB has obviously become a victim of a pump and dump scheme as it is currently getting pummeled by a huge selling pressure. Thus, due to the high amount of supply on the open market SANB is currently trading 30% lower at $0.465 per share on a volume of 5.6 million. Meanwhile, the trade value generated by the stock so far has exceeded $2 million.
In short, today SANB has exhibited its highly speculative nature which was visible in the fact that the stock had been appreciating strongly through out last week without any fundamental support at hand.

Liquidmetal Technologies, Inc. (LQMT) – LQMT continues to feel, on a lesser scale, the bullish impulse which it received on Friday after announcing a conference call concerning second quarter 2013 earnings results.
At the moment shares of LQMT stock are trading 2% higher at $0.19 per share on a higher than average volume of 8.2 million. LQMT is also chasing a trade value of over $1.6 million which makes it one of the top penny stock market movers on the OTCQB market today.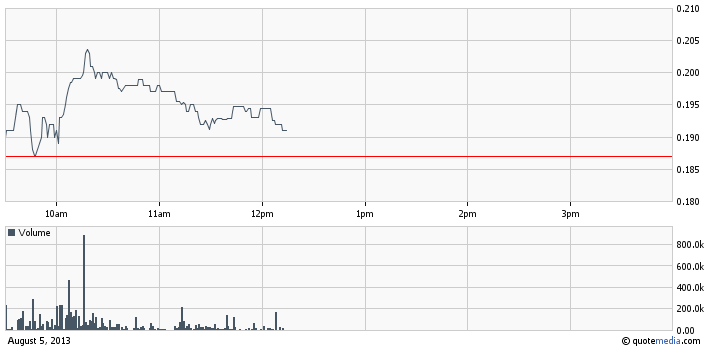 A couple of weeks ago, LQMT exploded on news concerning Apple Inc.'s prospects of increasing its dependence on LQMT's liquidmetal. On the third session after the announcement LQMT hit a 52-week high at $0.23 per share and since then it has been acting volatilely.
From a technical point of view, a bullish cross looks like about to form between the 50 and 100-MA. At the same time, with the trading volume waning it can be argued whether the stock will have enough strength to retest the recent 52-week top.

Amanasu Technologies Corp. (ANSU) – ANSU is one mysterious rising star on the penny stock horizon today. Since the start of the year, ANSU has been active only in the last two trading sessions during which the stock value tripled.
On Friday, ANSU opened the trading session at $0.028 and closed at $0.30. Today the stock is experiencing another round of heavy demand which has made the stock go ballistic on the chart.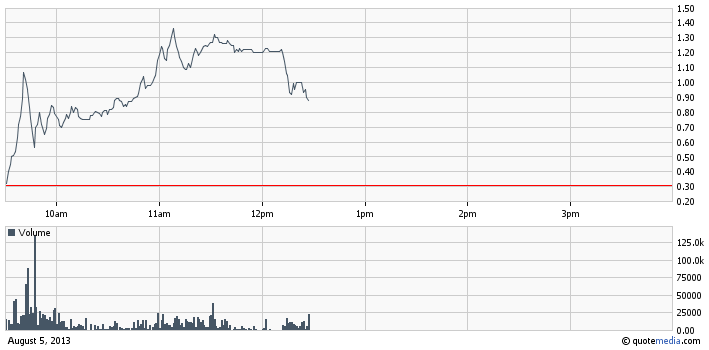 Currently shares of ANSU stock are trading 210% higher at $0.95 per share on a higher than average volume of 1.8 million. The stock has also generated a trade value of $1.6 million which is the reason why we see it in today's OTC Markets most active lists.
The stock, however, is seemingly surging out of the blue since there hasn't been any recent announcements by the company and the last official filing dates back to May 2013. This fact makes the stock rather speculative in nature which will likely attract the risk tolerant investors, but will repel the inexperienced penny stock trader.