Top Promoted Stocks: SANB, SLTZ, DPHS
Last Friday, the major US stock markets closed with a modest increase after a volatile trading session. Investors' risk appetite was rekindled due to the fact that last week the Federal Reserve confirmed its ongoing monetary easing policy.
Thus, the US stock markets registered new historic highs at the end of last week, including the OTCM ADR index which finished 0.57% higher at 1,451.17. As regards the performance of the stocks included in the OTCQB and Pinks sheets markets, small cap investors will need to scrutinize the market for any significant promotional activity which can boost or distort the trading of any penny stock equity.
This is why we have compiled an overview of the most important promotional campaigns for the first day of the new trading week:

Sanborn Resources, Ltd. (SANB) – SANB is becoming more and more speculative after making a blast last week without any fundamental support at hand. Over the course of the week SANB stock managed to surge form $0.35 to $0.75 per share without the help of any corporate update or filing.
The speculative nature of last week's performance of SANB was emphasized by several paid newsletters issued by David Cohen for a compensation of $15,000. So by the looks of it, SANB exploded predominantly due to its promotion which, by the way, started on Monday last week.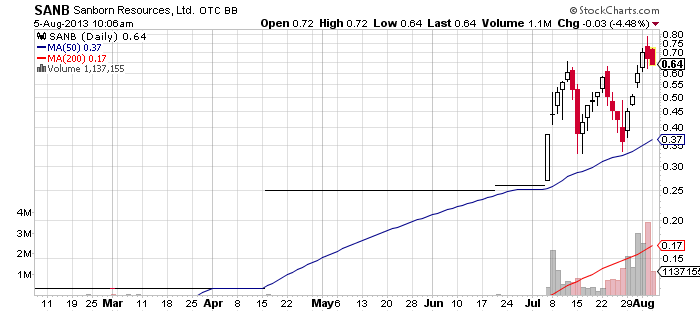 This week the intrigue around SANB stock will become even more piquant, after the market gets hit by the new promotion on SANB which had cost a six-digit sum.
Today, online databases show that three hours before the opening bell SANB got covered by a penny stock promoter called Billionaire Stocks. According to the disclaimer of the newsletter spread by the promoter "a three million dollar investor relations budget is being managed by Central A Marketing" which had been hired by MaxMind Marketing to advertise SANB.
The fine print of the newsletter revealed that this compensation should be considered a "direct conflict of interest". Investors will have to bear this in mind when they get enticed to risk their money on SANB stock as it is visible that the promoter, third parties and other affiliated parties are likely to have an agenda of their own as regards SANB.
Until the opening bell today, the company hadn't issued any press releases to provide fundamental support for its share price. This makes SANB stock look like being artificially inflated and the moment when this balloon bursts into pieces  may become heartbreaking.
As of the last close, SANB had a market valuation of $27 million, a number which can hardly be supported by the company's financial "status quo" as revealed by the last quarterly report. So to cut a long story short, penny stock traders should invest in this stock very carefully and should employ as many investment defensive mechanisms as possible.

Solar Thin Films, Inc. (SLTZ) – SLTZ looks like another highly speculative play for Monday. The company has been featured in an expensive promotional campaign which has been supported by a total of eight promoters.
According to online databases, the total compensation invested in this campaign sums up to $62,500, which has been distributed between Elite Penny Stock, Awesome Stock Pick, Leading Stock Alerts and VIP Stock Reports. Yet, not a single third party was revealed in the fine print of disclaimers.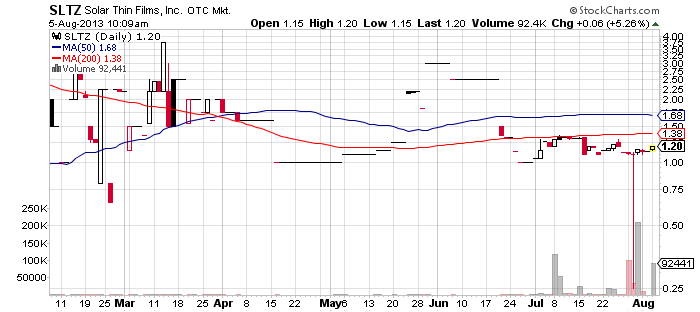 Apart from the promotion SLTZ stock will also be influenced by the recently released news update which said that the company had signed an agreement-in-principle to design, supply and construct a modular school and clinic in Uganda, Africa.
SLTZ is a company which strives to advance in the following business areas:
Developing and manufacturing shipping containers using patented technology
Building housing using patented technology
Developing waste to energy and solar energy projects.
The company has a market capitalization of $54 million and a 52-week range of 3.00 – 0.25.
Dephasium Corp. (DPHS) – DPHS has been building a modest momentum as of late. Having been consolidating for about a month now, the stock started surging two weeks ago and eventually broke out through the resistance on Tuesday last week.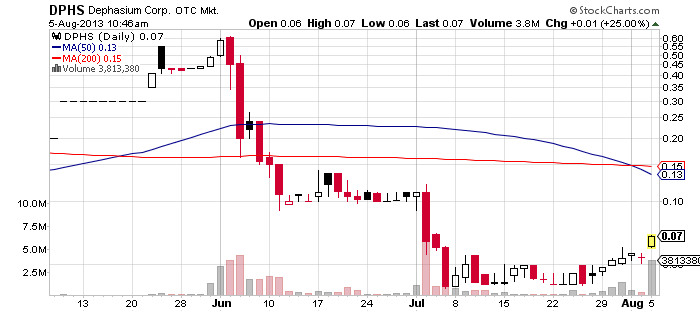 This stock movement has been happening without any fundamental or promotional support, which makes it look rather speculative in nature. Apparently, investors have noticed the technical consolidation of DPHS stock after it fell sharply a couple of months ago and have decided to open positions with hopes to see a bottom-bounce.
It looks like, it was not only investors who have been attracted by the recent technical set-up of DPHS stock. Penny stock promoters have also joined the fledgling momentum of DPHS and during the weekend have initiated a large scale promotion which had involved more than 15 promoting websites.
The total compensation for the forthcoming campaign on DPHS has reached $48,000 which have been provided by two third parties, Mic Innovations and one 22 Media LLC. There were a couple of promoters, though, who didn't reveal their sponsors.