As the new trading week is just looming on the horizon, the OTC Markets are seething with the usual intrigue around the question which companies will occupy the top lists of the small cap segment in the next couple of days. In an effort to predict the answer to this question, Penny Stock Genius invites you to take a look at today's hot news updates and stock promotions which are likely influence the forthcoming session: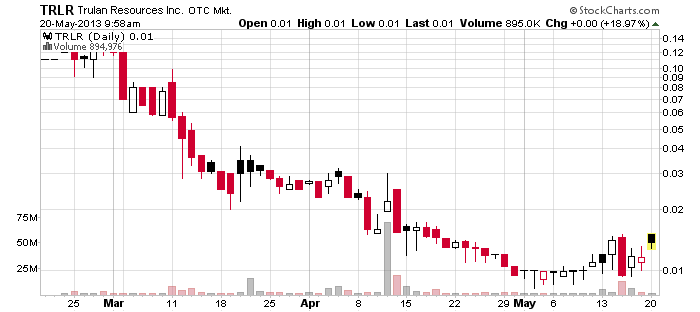 Trulan Resources Inc. (TRLR) – TRLR will most likely continue to generate trading interest as the company has just issued a press release and in the mean time stock promoters continue spreading fairy dust around the stock with another onslaught of newsletters.
TRLR announced in a freshly issued press release that Robert Rosner, the company's CEO, had organized a visit to the company's iron-gold-platinum (IGP) project in Chile for a certain private equity group as part of a due diligence process which had begun in March this year.
The news was already announced yesterday in several promotional newsletters which were commissioned by Winning Media for $25,000. The promoters also insisted that investors keep TRLR in their watch lists today.
The continuing promotion and press release combo are likely to keep the number of traded shares higher than usual. However, there is much uncertainty about the way TRLR share price will react to this situation, mostly because the promo campaign was started on Wednesday last week and there are already signs that its effect is getting exhausted.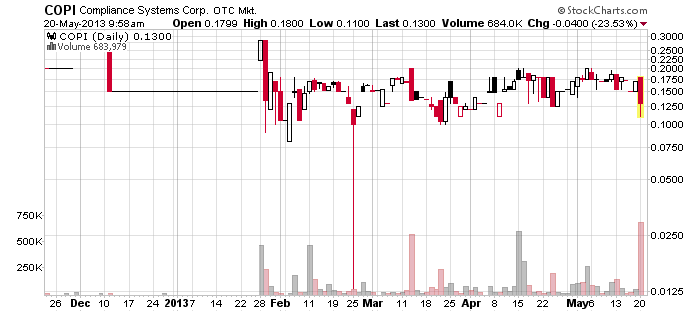 Compliance Systems Corp. (COPI) – COPI is another pretender for the interest of penny stock traders today as it is one of the most heavily promoted companies for Monday.
Since yesterday our radars have detected more than 24 promo letters dedicated to COPI and given the fact that the company hasn't been promoted for the last 30 days, the stock stands a good chance to generate a higher-than-average trading activity today.
In addition COPI has just announced that its online sports and casino betting website would start its web based marketing and advertising campaign in the next 24 hours.
However, investors must note that COPI seems to face a strong resistance at 0.2 which the stock has been unable to breach for the last four months. The previous promotion of COPI, which took place in April, also failed to push the stock above this critical line. That is why this play will remain risky for long positions as the stock currently trades at $0.17 per share.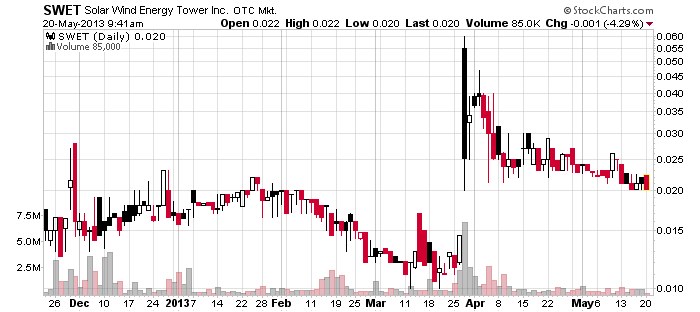 Solar Wind Energy Tower, Inc. (SWET) – SWET is a company whose goal is to commercialize several technologies and constructions systems into a Solar Wind Drawft Tower structure that produces energy.
SWET is today's pick of Quality Stocks which had been compensated $20,000 by the company for 120 days of advertising and investor relations services.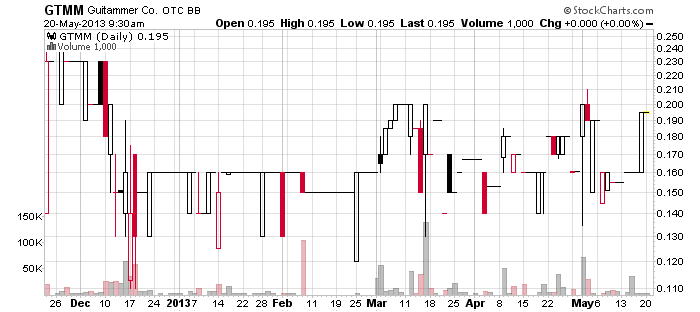 The Guitammer Company (GTMM) – GTMM is another company which has initiated a fresh market awareness campaign. According to online promotional databases the company had paid $36,500 to an affiliate of Dream Team Group for 120 days of advertising, investor relations and other services.
GTMM is a company specialized in low frequency sound products and technologies which is traded on the OTCQB market.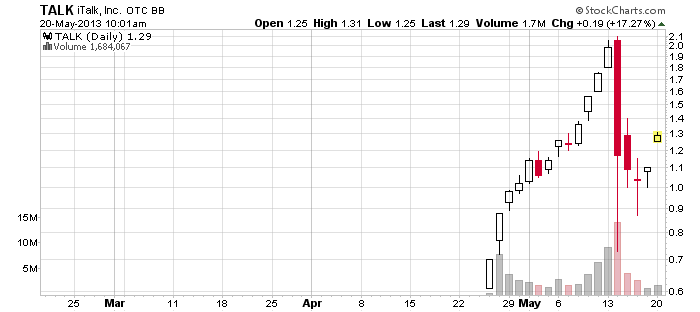 iTalk Inc. (TALK) – Two weeks ago we issued a coverage on TALK and its widespread promotional campaign. During this time the stock soared almost 100% to $2.1 per share only to crash down hard on May 14, when it bid farewell to 41% of its value. At present TALK stock trades around its pre-promotional levels.
Despite the turbulence, which stock promoters inflicted on the stock, the flood of newsletters doesn't seem to stop soon as our radars have detected more than dozen new ones issued since yesterday. According to online promotional databases the total compensation for this campaign sums up to $40,000.
Other promotions:
Plandai Biotechnology, Inc. (PLPL) – compensation: $5,500
Great American Energy Inc. (SRBL) – compensation: $10,00
Xumanii (XUII) – compensation: $10,200
Cloud Star Corporation (CLDS) – compensation: $10,000
PTA Holdings, Inc. (PTAH) – compensation: $4,000
Nuvilex, Inc. (NVLX) – compensation: $3,000
Inscor, Inc. Corporation (IOGA) – compensation: $1,500
Pitooey!, Inc. (PTOO) – compensation: $600