Promoted Stocks: LUVE, DOMK, RJDG, TALK
Last week, the OTCM ADR Index finished 0.94% lower at 1385.72, copying the decline of the major US benchmark indexes. Today, it seems that the OTC Markets are prepped for a lot of speculative activities as numerous new stock promotions have been started over the weekend. Below are the major promotional events that will influence the forthcoming session on the OTC Markets:

Prince Mexico S.A, Inc. (LUVE) – Today's highest paid promotion is on LUVE. The campaign is led by two groups of promoting websites:
The first one includes Stock Market Quote, 1-2-3 Stock Alerts, Penny Stock Circle, Penny Stock Players, Penny Stock Pro and The Stock Scout. This group had been compensated $35,000 by a third party called Stock Appeal LLC.
The second group includes Hero Stocks, Liquid Pennies, VIP Stock Alerts and Stock Hunter. This group had been compensated $100,000 by an unknown third party.
Online promotional databases do not show any previous promotions on LUVE. In fact, the company was approved to trade on the OTCQB Market three months ago, on March 18th. Shortly after its initiation on the OTC Markets LUVE stock peaked at $1.00 per share, then in the course of only one week the stock crashed down to $0.30 per share, after which the trading activity around the stock subsided and for the last two months LUVE stock was generating very weak trades.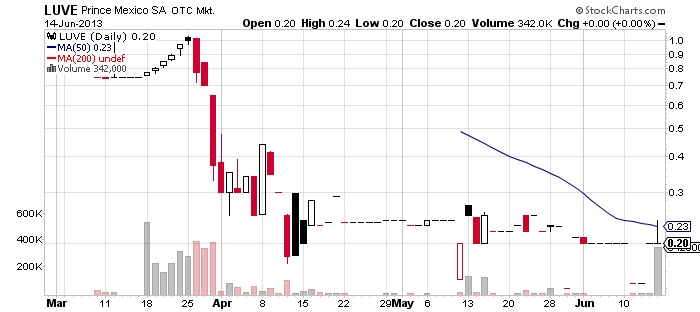 However, last Friday the activity around LUVE stock increased unexpectedly without any obvious reason. Thus, the trading volume generated by LUVE on Friday was four times higher than the monthly average as 342 thousand shares changed hands during the day. At the same time LUVE stock retained its value from the previous close of $0.20 per share.
Now that it is indisputable that LUVE has got a serious promotional coverage, the increased trading activity on Friday looks like front-loading, which isn't a good omen for common investors. On the other hand, there can be some ephemeral upside to LUVE stock as it currently trades close to its 52-week low of $0.14 per share.
The current market capitalization of LUVE is estimated at $8.6 million, which is not much but, truth be told, we have seen a lot of penny stock companies valued lower. Moreover, last month the company filed a notification of late filing to postpone it financial report, so market speculators haven't had a chance to estimate the financial health of the company and see whether it can justify its market valuation.
LUVE is a sports distribution company focused on delivering industry-leading sporting products to the Mexican markets, which is marked as a Limited Information company on the Pink Sheets Markets.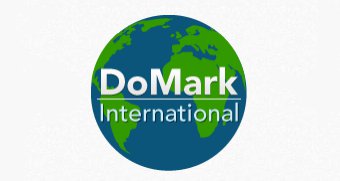 DoMark International, Inc. (DOMK) – As we already mentioned earlier this month, DOMK has been constantly promoted for the last couple of months. Today, penny stock traders are going to be attacked again by promoters of the company. But this time, the sum invested in the campaign is conspicuously higher than before.
Yesterday, DOMK was featured in two newsletters issued by Quality Stocks and OTC Magic. The former promoter disclosed he was going to receive $96,190 for a 90-day campaign by an undisclosed third party, while the latter disclosed a compensation of $20,000 by one22 Media LLC.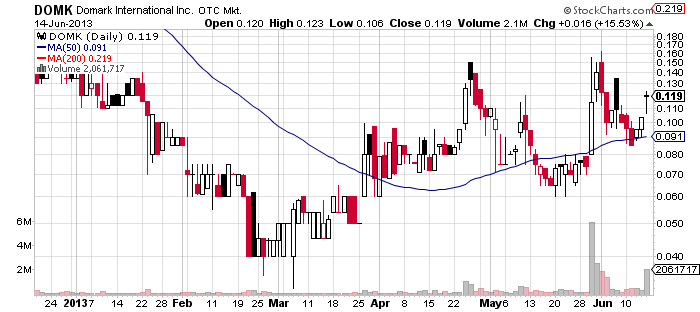 The last promotion of the company took place last Tuesday when DOMK lost more than 11% of its value on a higher than average volume. This may suggest that market players are getting more and more resistant to the pumping efforts on the stock. Nevertheless, DOMK registered three consecutive increases after the promotion and finished the trading week at $0.119 per share.
DOMK has a huge working capital deficit, low cash reserves, and a net loss of $5.7 million for the last reported quarter ended Feb 28, 2013. This financial situation may hinder the company's business plan objective, which is "to revolutionize the efficiency and capabilities of a new generation of mobile devices."
Despite this fact and mostly thanks to the constant promotions of the company, DOMK stock has been trading above the 50-MA for the last two months and a half. The efforts to keep DOMK on bearish ground have been aided by a press release, which was published today vie BusinessWire, announcing that DOMK had received 158 thousand orders for its IRCharger case for Apple iPhones and Samsung Galaxy SIII and S4 prior to its August, 2013 global launch date.

RJD Green Inc. (RJDG) – After crashing down from $0.24 to $0.08 during a period of heavy promotions, which we already branded as a sheer "pump-and dump" scheme, market players might have thought that the game has ended and third parties and speculators have milked all the profits they could form the stock. Alas, it seems that there is still more cash in the cow called RJDG stock as the pumping efforts have been renewed and been set to full steam this weekend.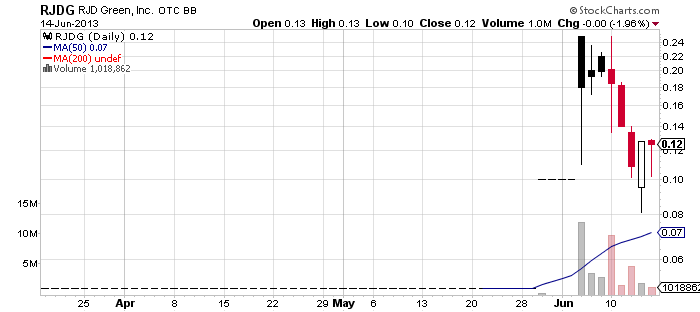 According to online promotional databases, since the last closing bell more than thirteen paid newsletters featuring RJDG have been issued and the industry involved in the production of this campaign has engulfed another $93,200.
However, despite the arduous efforts of promoters, the trading interest towards RJDG has been declining along with its declining share price. Thus, on the last trading session RJDG wend down 1.96% to $0.125 per share on a volume of 1 million.

iTalk Inc. (TALK) – TALK stock, which must have caused a lot of heart attacks among common stock traders after the artificially inflated stock burst into pieces in mid-May, is once again on the spotlight of the micro cap market as a new wave of promoting letters hit investors' inboxes this weekend.
The new campaign is led by five promoters who have disclosed a compensation of $40,000 which was provided by Crystal Financial LLC. The full names of the websites promoting TALK are as follows: Traders Insight, Investors Alliance, National Traders Association, and Dividend Seeker.
We covered this stock on the eve of its pumping stage, but the dramatic scenario was performed by which TALK was beyond expectations. In short the hype, which was produced around this stock last month, managed to launch TALK share price from $0.6 to $2.1 over the course of two weeks. Then in a matter of a single nail-biting trading session the stock crashed down dramatically to $1.20 after hitting an intraday low of $0.73.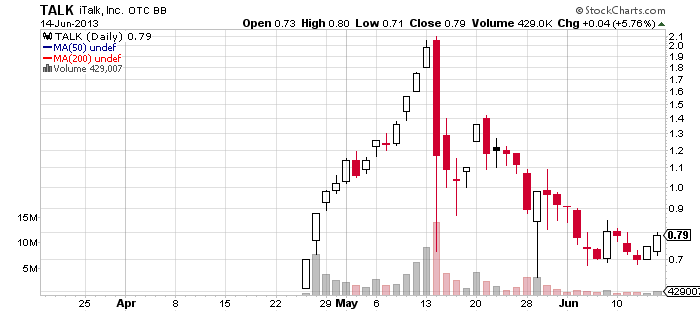 Since then TALK stock has declined to its pre-promotion level and has been consolidating within $0.70 and $0.80 per share. On the last trading session TALK went up 6% to $0.79 per share on a volume of 429 thousand.
Today, the company announced that it had initiated design of a new iTalk iPod Sleeve for 5th generation iPods. However, as many investors were recently severely burnt by the stock it is likely that the market will react more reservedly to the news and promotions than before.