Yesterday the OTCM ADR index went up 0.10% to 1,402.13, which hinted that the mood on the small cap markets was neither bullish, nor bearish. The situation was the same with Dow Jones and S&P 500 which registered slight declines at the end of the session, while Nasdaq closed the session 0.13% higher. Today the intrigue on the OTC Markets will continue with its usual dose of promotions and corporate updates, so here are the events which are likely to be in the focus of penny stock investors in the forthcoming session:
Vital Products, Inc. (VTPI) – After almost a two-week break, the promotional campaign of VTPI has been renewed. The last promotion of VTPI took place on May 29 which managed to launch the stock 113% higher on a record high volume of 232 thousand shares.
The current promotion is led by Penny Stock Explosion, 24-7 Stock Alert and Easy Penny Plays, who had been compensated $2,000 for a two-day investor awareness campaign on VTPI by a third party PSG LLC. Jet Life and Damn Best Penny Stocks are also participants in the campaign but they had not disclosed any third party. Jet Life only mentioned he expected to receive up to $3,000 for the campaign on VTPI.
VTPI is not a regularly traded stock which has a 52-week range between $0.30 and $0.03. It also has a low average trading volume of only 42 thousand shares which explains why the last fresh promotion of the company managed to produce such a strong buying pressure on the stock.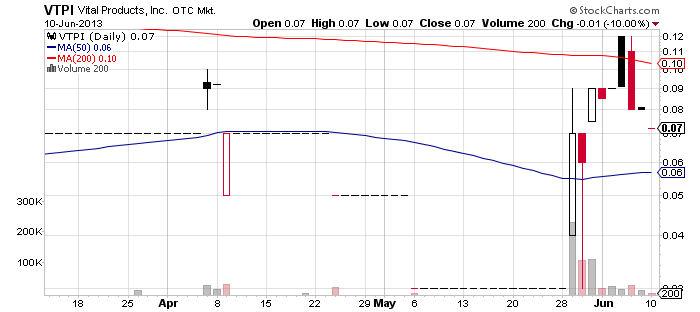 However, VTPI seems overvalued with a market cap of $41 million, compared with its significant net losses, working capital and accumulated deficits.
Today, the promotion of VTPI is accompanied by a press release which was issued by the company via PRNewswire a couple of hours ago. It mentioned that VTPI had increased sales more than 17% and reduced operating expenses over 35% during the previous quarter.
Currently VTPI trades at $0.072 per share or almost where it closed at the end of its last promotion. So it is uncertain whether investors will decide to support another upward move of VTPI stock and a higher market value of the company.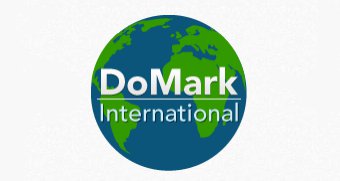 DoMark International, Inc. (DOMK) – DOMK is another company which is going to be hit by a promotional wave today. In fact the company has been regularly promoted for the last couple of months, so it will not be surprising if penny stock traders have become immune to the smoke and mirrors produced by DOMK promoters.
According to online promotional databases, the first promotion of DOMK this year took place on April 24th and on that day the stock had provided some opportunities for profits to common investors. However, this effect seems to diminish after every other promotional wave.
For example, the last promotion of DOMK took place on June 06th and 7th and on this dates DOMK stock went up only 0.93% and then fell down 8% respectively.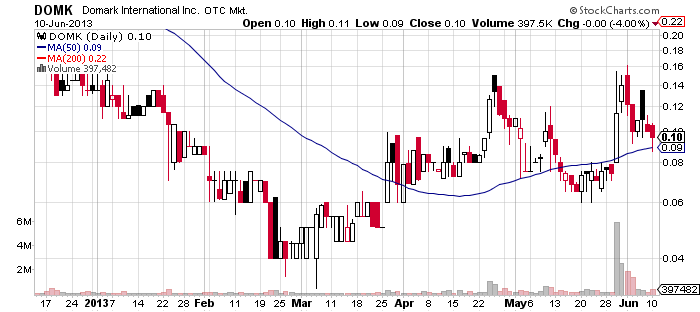 Stock promotions are typically accompanied by corporate press releases, so last week DOMK announced that it had engaged a luxury products designer to develop new range of high end products for the Apple and iPad accessories market. Today, we haven't detected any press releases by the company but we will not be surprised if a corporate update by DOMK pops up later during the day.
DOMK is a company which, through its wholly owned subsidiary, SolaWerks Inc, aims to revolutionize the efficiency and capabilities of new generation of mobile devices. DOMK has a market cap of $3.8 million and an average trading volume of 360 thousand shares. Its 52-week range is between $1.66 and $0.03. Currently DOMK stock is traded at $0.96 per share.

Dragon Capital Group Corp. (DRGV) – Yesterday we reported about the promotional campaign of DRGV. The company was featured in a campaign which had cost at least $80,000, according to online promotional databases.
The campaign both worked and didn't work as DRGV share price soared 30% higher to an intraday high at $0.005 and eventually close at $0.0038 which is the same level as the previous close. However, the stock gapped up at the start at $0.005 as well, which means that common investors didn't have a chance to make a profit. During the day more than 17 million shares changed hands which is more than 36 times higher than the 3-month average.
Despite the controversial results of the promotion, DRGV was featured in another paid newsletter today. It was issued by Penny Dreamers who disclosed a compensation of $1,500 by a third party whose name was not revealed.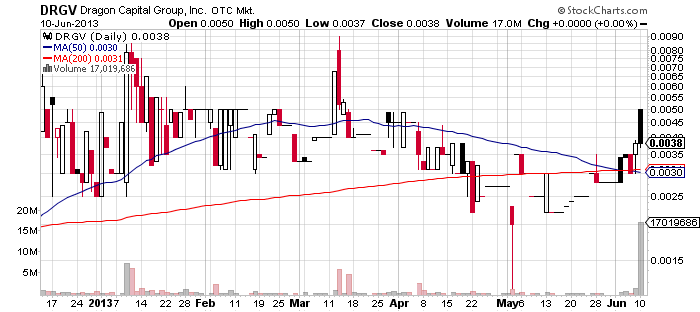 Actually, Penny Dreamers had issued the newsletter in order to cancel its alert on DRGV for today. According to the promoter, several penny stock traders had signaled that DRGV stock ticker had not been available to trade at few brokerages.
Nevertheless, the promoting parties which initiated the campaign on DRGV yesterday keep touting the stock. So DRGV may see another intensive trading session today, but it is impossible to predict where the campaign will send the price of DRGV stock.