Top Promoted Stocks: VMGI, LUVE, PGVI, SCXN
Yesterday the OTCM ADR Index scored another positive session, rising up 0.58% to 1,414.37 points, which was in tune with the bullish mode of the major US benchmark indexes. Today, our radars have detected several market awareness campaigns, which are likely to create more activity around the promoted stocks on the OTC Markets:

Verde Media Group, Inc. (VMGI) – Yesterday, VMGI received its first promotion for the year as three stock promoters started spreading trade alerts on the stock after the last closing bell.
The participants in this campaign are called Premier Equity Reports, Investor News Source and Trade These Picks. One of the promoter also disclosed ALG Financial LLC as a third party but the rest didn't reveal their sponsors. The total amount spent on the campaign is $25,000, according to promotional online databases.
The last promotion of VGMI was three years ago, in Dec 2013, so the current campaign can be considered a fresh one and as such it might exert a strong influence on the stock. At the same time VGMI is valued at only $1.3 million and has been consolidating since March this year, which are facts that may additionally help the pumping efforts on VGMI.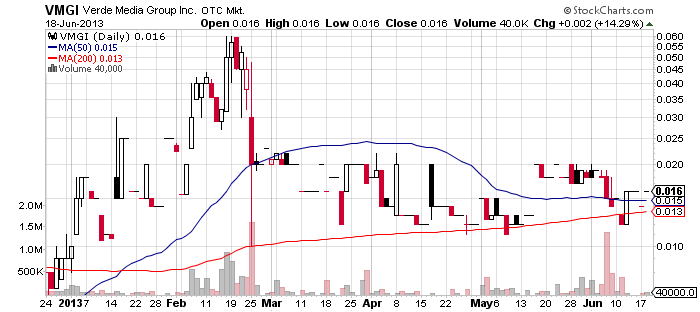 Last week VGMI announced a new documentary in its project of the Northeastern University Rugby team. On the same day the stock rose 7% to $0.15 on a below average volume of 66 thousand.
In the last couple of sessions VGMI stock kept finishing above the 50-MA and if it manages to penetrate the resistance at $0.02 today, penny stock traders will have even more opportunities to speculate with this stock.
VGMI is a company which operates a managed media company with production, distribution and development functions for film and television. As of March 2013, the company had 83 million shares issued and outstanding out of 500 million authorized, of which 43 million comprised VMGI's public float.

Prince Mexico S.A, Inc. (LUVE) – The pump of LUVE stock continues at full speed today. In fact LUVE is the most heavily promoted stock this week as the cost of its campaign has already exceeded $400,000.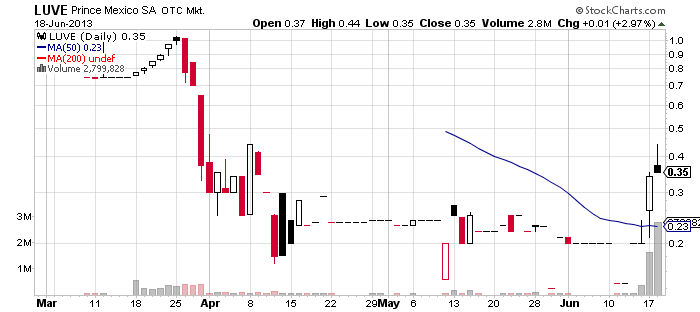 Yesterday, third parties squandered $350,000 on paid promotions of the company which produced a 3% increase in LUVE stock value and a trading volume twenty times higher than the monthly average. The company was also promoted on Monday when it soared 70% on a volume ten times higher than the monthly average.
Today, according to promotional online databases the company has been featured in 21 newsletters and the total sum invested in the current campaign is $85,000. LUVE also supported the pumping efforts by issuing a press release a couple of hours ago, which announced that it planned to increase its sales staff in a targeted effort creating brand awareness throughout Mexico.

Promithian Global Ventures, Inc. (PGVI) – PGVI received another bunch of newsletters today, which makes it clear the promoters are not going to give up pumping the stock soon. All of the newly issued promo letters announced that PGVI had outlined a strategic plan for its Warburton bulk sampling project.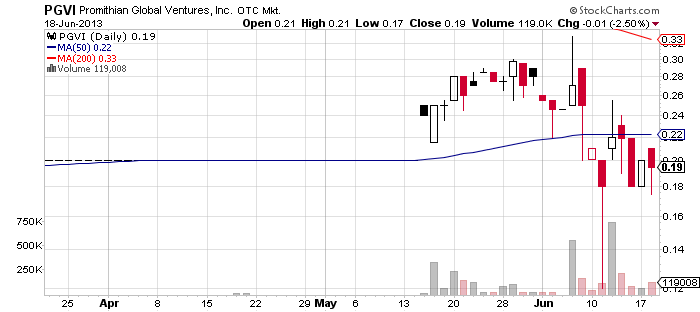 However, the same announcement was already published in a press release last month, so it seems that promoting parties are running out of ideas for bringing more attention to the stock. Thus, yesterday despite the fact that PGVI was once again promoted, the stock lost 2.5% of its value at $0.195 per share on a below average volume of 119 thousand.
Still, PGVI managed to close the last trading session above its support at $0.18 but the stock may soon cross this level if the influence of promotions continues to diminish.

Scout Exploration, Inc. (SCXN) – SCXN stock is getting promoted today as newsletters issued by Email Stock Picks, Free Super Stocks and Best Buy Stock Picks have been flooding investors' inboxes since the last closing bell. The compensation for today's promotion is $25,000 which was provided by Access Crane Ltd.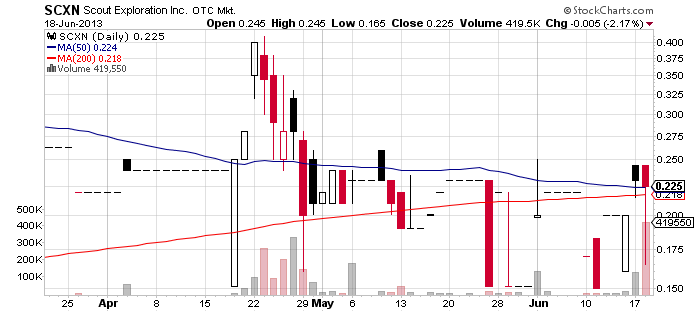 Thanks to the promotions, this week the stock attracted a higher than average trading activity. On Monday, SCXN stock rose 15% on a volume of 123 thousand, which is two times higher than the monthly average. Yesterday, however, the stock slipped down as it closed 2% lower at $0.22 per share on a volume of 420 thousand.
SCXN is a company which is focused on the development of innovative solutions to the challenges of offshore, shoreline and inland spill incidents for the oil and gas exploration, production and transportation sectors. Its stock is traded on the OTCQB Markets where it holds a market capitalization of $3.7 million.