Stocks to Watch: PGVI, PMEA, VTMB
Yesterday, the lack of major fundamental news sparked a correction impulse on all major US indexes, which have recently reached all time highs. The OTCM ADR Index also reflected the correction phase of US stock markets, as it slipped down 1.32% to 1.383.64. Today, the mood on the OTC Markets will be highly speculative as there has been a markedly higher promotional activity since the last closing bell. So, here are the most intensively promoted companies for today:

Promithian Global Ventures, Inc. (PGVI) – This week, PGVI stock broke below the resistance at 0.24 and it seems that the stock has succumbed to a significant selling pressure, which is most likely produced by third parties who led the previous promotional campaigns of the company.
On Thursday last week, we reported that PGVI was going to trade under heavy promotional influence. We also warned that PGVI may become an object of a selling pressure as the history of its promoter showed that his previously promoted stocks had suffered a serious loss of value. In fact, this happens with almost all promoted stocks.
Yesterday, PGVI provided for an emotionally intensive session as it slipped down to an intraday low of $0.12 after opening at $0.2 which is a 40% difference. Eventually the stock regained some ground and closed at $0.18 per share on a volume close to the monthly average.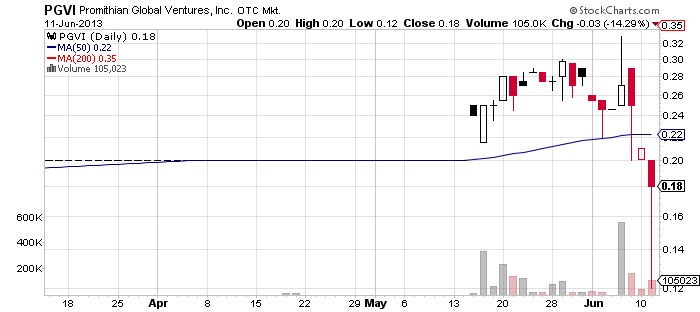 Yesterday after the closing bell, a new promotional campaign on PGVI was initiated by a third party called Legacy Global Markets. The promotion is channeled through a group of websites which include Penny Stock Circle, Penny Stock Pros, The Stock Scout, 1-2-3 Stock Alerts, Stock Market Quote and Penny Stock Players. The promoters had been compensated $56,000 for a two-day marketing campaign on PGVI.
The attempt to attract more attention to PGVI stock was also aided by a press release, which was published via PRNewswire a couple of hours ago. The press release contained an economic analysis "of potential customers for PGVI's potential "Direct Shipping Silver/Copper Ore" international refinery and smelter comparison".
I'm not sure whether this complex report will impress investors, but what I am sure of is that since the last promotion of PGVI the company has lost $8 million of its market capitalization and is now valued at $23 million.

PM&E, Inc. (PMEA) – Today, a lot of penny stock investors are going to wake up with their in-boxes flooded with trade alerts on PMEA. Third parties, most of whom remained anonymous, have ordered a campaign on the company which has involved a huge number of stock promoters.
A couple of promoters disclosed that their sponsor was Miscrocap Innovation, but most of the promoters did not reveal the source of their compensation. In this regard, online databases show that the total sum invested in the current campaign adds up to $31,500.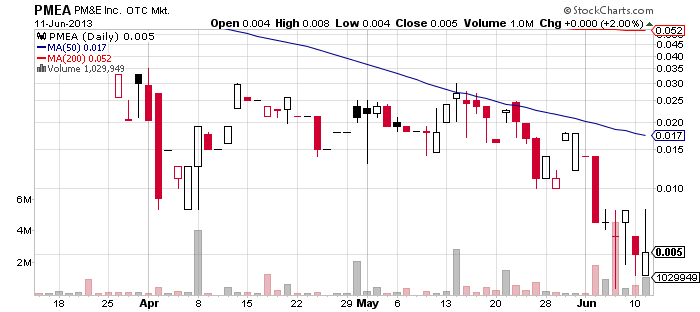 The interesting thing about PMEA is its market cap of only $571,000 and public float of 112 million shares. However, this information is not reliable as PMEA is a Limited Information company and it doesn't make any official filings with the SEC.
PMEA is an alternative energy company which is engaged in research and development of concentrated modular photovoltaic systems (MPVS). PMEA's wholly owned subsidiary, Suncetix Inc, claims to have developed and patented an MPVS with increased system efficiency and stabilized output.
This week PMEA registered a new 52-week low after its stock value tumbled down 37% to $0.005 per share on Monday. Yesterday, the stock finished 2% higher than the previous close on a volume two times higher than the average.

Vitamin Blue Inc. (VTMB) – Today, VTMB may attract more trading activity than usual as the company issued a news release and was featured in numerous paid newsletters after the last closing bell.
Yesterday, the company announced in a press release that it had received a purchase order from California based All Nations Apparel Inc. for the amount of $277,430. The previous day VTMB also announced that it had decided to enter the marijuana market via hemp/organic clothing line and that it had formed new partnerships with various hemp/organic suppliers.
Penny stock traders may also have noticed the large scale promotion of the company. The campaign is led by Damn Good Penny Picks, Prepump Stocks and Penny Stock Newsletters, who had been compensated $25,000 by an unknown third party.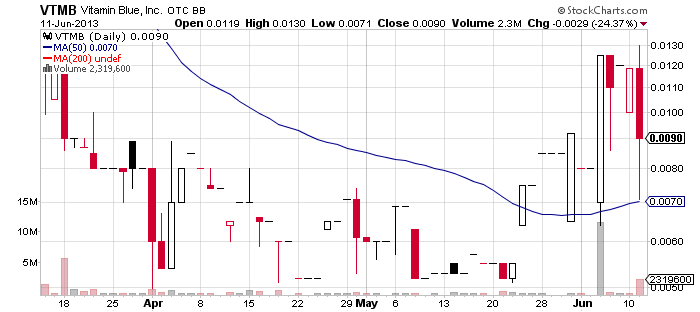 Yesterday, VTMB stock was crushed by a strong selling pressure which wiped out 24% of the stock value on a volume 5 times higher than the monthly average. VTMB closed at $0.009 per share which set the company's market cap at $5.6 million.
The company had 628 million shares issued and outstanding as of May 20, 2013, of which 45 million comprised the company's public float. VTMB is company which designs, manufactures and distributes water board sports clothing and accessories.