Yesterday the OTCM ADR Index registered a decline of 2.06% reflecting the bearish mood of the other major US indexes. Today the OTC Market will be marked by numerous stock promotions which will provide a leitmotif for speculators on the small cap segment of the market:

Promithian Global Ventures, Inc. (PGVI) – PGVI was promoted yesterday after the closing bell by a promoter called OTCMagic. The latter disclosed a compensation of $25,000 which was provided by One22 Media LLC.
Historical data shows that OTCMagic has previously promoted three other penny stocks since the start of the year – VVIT, CGLD and PMCM. All of these stocks are currently trading way below their pre-promotional levels, while CGLD and PMCM have practically crashed after the campaign.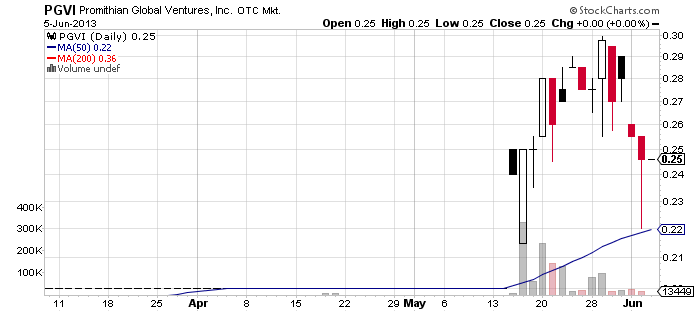 In this respect, market players who are planning to speculate with this promoted stock will have to be extremely careful and react quickly, once signs of dumping start to appear.
The first trading activity with PGVI stock was registered around mid-May. At that time the company, which was previously called Midex Gold Corp (MXGD), announced its new name and trading symbol. Since then PGVI has been traded in a range between $0.22 and $0.3. Yesterday the stock closed at $0.246 per shares after losing 3.53% of its value on a volume of only 13,000 shares.
PGVI is a silver and copper exploration company focused on a silver copper vein property in southern Yukon, Canada. As of June 05, 2013, the company held a market cap of $31 million.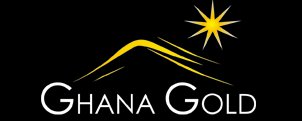 Ghana Gold Corp. (GGCO) – At this stage GGCO is the highest paid promotion for today. While yesterday third parties spent $14,000 on GGCO's campaign, today the sum has bulged up to $40,000.
In the current promotion Stock Mister, who continues touting the company, disclosed a compensation of $25,000 which was provided by Micro-Cap Innovations.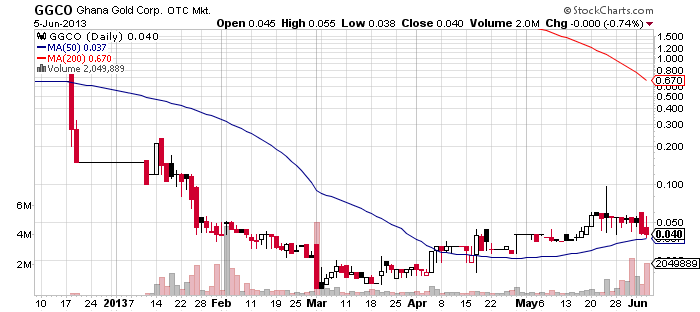 However, despite the promoting efforts, GGCO slipped down in the last two trading sessions. Yesterday the stock closed 0.74% lower than the previous close at $0.04 per share on a volume of 2 million.
This way, GGCO keeps approaching the 50-MA, which at this stage acts as support. However, the chances that GGCO will bounce up at this important level are decreasing, because once the stock loses the artificial support of promotions, it will face additional selling pressure which may put the stock in a down trend for a while.
Meanwhile, two days ago GGCO announced its plans to change its corporate name to Brightrock African Mining Corporation.

Novus Acquisition & Development Corp. (NDEV) – It is not a big news that NDEV is getting promoted today as the company has been constantly in the headlines of promotional newsletters since the beginning of May.
Today the campaign on NDEV is led by Whisper from Wall Street and OTC Stock Exchange, which were compensated $5,000 by Stock Mister, and Penny Stock Locks, Stock Bomb, and Stock Rock and Roll, which were compensated $15,000 by Micro-Cap Consultants.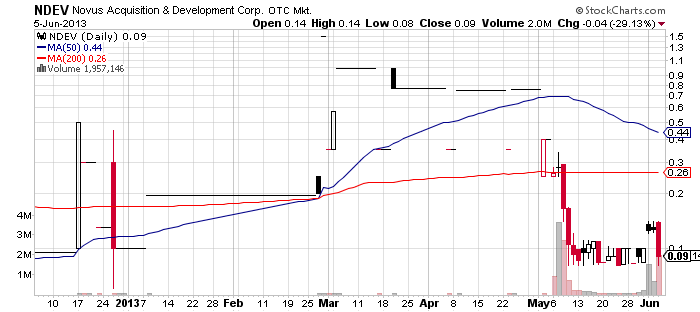 Yesterday NDEV succumbed to a strong selling pressure which drove the stock back below its previous resistance. In other words, the stock lost 30% of its value on a volume of nearly 2 million shares and closed the session at $0.09 per share.
This set the current market cap of the company at $14 million. Apparently promoters are facing difficulties convincing investors that NDEV is undervalued at this share price, or it is also possible that someone has been steadily unloading shares while newsletters have been trying to pump NDEV share price.

Ecosphere Technologies, Inc. (ESPH) – ESPH got featured in a newsletter by Buzz Stocks after the end of the trading session yesterday. According to the disclaimer of the newsletter Buzz Stocks had not been compensated for the service.
ESPH has been maintaining investors' interest by a regular stream of press releases. Today the company announced that its Board of Directors had approved a 5% common stock dividend to all common shareholders of record as of June 15, 2013.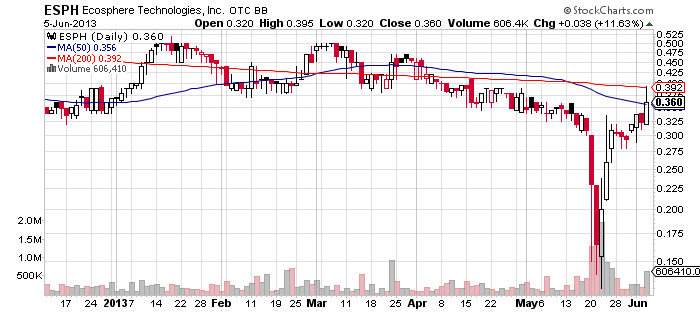 Yesterday ESPH stock soared 11% to $0.36 per share on a volume of 600 thousand. Thus the market cap of the company reached $56 million. In addition the stock finished slightly above the 50-MA and during the intraday session it touched the 200-MA so market speculators will have to watch whether ESPH will issue more bullish signals in the forthcoming sessions.
ESPH is a water engineering, technology licensing and manufacturing company which develops environmental water treatment solutions for industrial markets around the world.