Top Promoted Stocks: FVSTA, NAMG, ARTH
Last Friday the OTCM ADR Index suffered a loss after a weak trading session on which many investors decided to take back their profits generated throughout the generally bullish week. Thus, the index measuring the American depositary receipts traded on the OTC Markets declined 0.60% to 1,405.39.
As the new trading week is about to start on the OTC Markets, it is not surprising to see that there is an increased promotional activity on the horizon. That is why today we are going to focus on the biggest penny stock promotions that are set to unfold in the forthcoming trading session: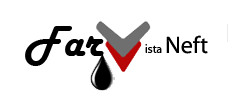 Far Vista Petroleum Corp. (FVSTA) – FVSTA has been intensively promoted since yesterday and so far it looks like this is the company with the highest number of newsletters. Online promotional databases have detected as much as ten different promoters touting FVSTA.
The host of promoters which have been involved in this campaign includes names such as Prepump Stocks, Penny Stock Newsletters, Damn Good Penny Picks, Hot Stock ace Publisher, and so on. However, not a single promoter have disclosed the source of their compensation, which has reached a cumulative $55,000.
Seasoned penny stock traders will find it interesting to know that the previous campaign on FVSTA took place on Jul 2nd and was led by The Stock Mister who had been compensated $14,000 by a third party called Red Tie Financial for a one-day marketing program regarding FVSTA.
On the same day, FVSTA stock hit a record high trading volume of 2 million which is ten times higher than the monthly average but the share price of the company's common stock fell down 10% to $0.036. The decline was very conspicuous as it happened several days after FVSTA announced a Board resolution for the acquisition of CJSC Chedty Neft.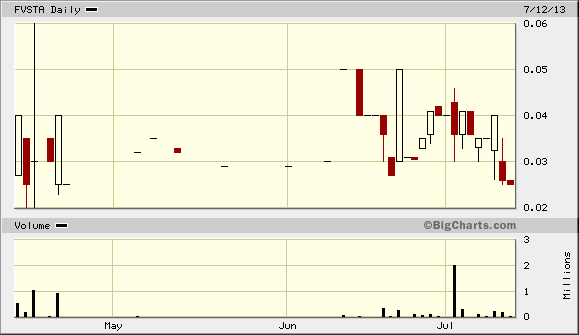 Last Wednesday, FVSTA sent out another press release announcing that the company had restructured its oil operations and nominated a new Board of Directors. The news was interpreted well by the market as the same day FVSTA stock added 14% to its value and closed the session at $0.04 per share on above average volume.
However, the next day the stock was inflicted by a strong selling pressure which wiped a significant chunk of FVSTA stock value. The company's stock kept loosing value on the last trading session as well, so the stock closed 4% lower at $0.025 per share on a below average volume of 76 thousand.
FVSTA is a company involved in the business of establishing a strong, vertically integrated petroleum company based on opportunities available ing the Russian Federation. Its stock is traded on the OTC Pink Current Infromation market where the company holds a market valuation of $11.7 million and a 52-week range of 0.08 – 0.0005.
North American Oil & Gas Corp. (NAMG) –NAMG was featured in a paid campaign ordered by Lake Group Media. Yesterday, the company's symbol popped up in four newsletters issued by Penny Stock Players, The Stock Scout, Penny Stock Pros and Penny Stock Circle.
According to disclaimers, the promoters had received $35,000 for the service which boiled down to a two-day marketing and promotional effort on NAMG. What is notable here, is that this appears to be the first time the company has been involved in a promotional campaign.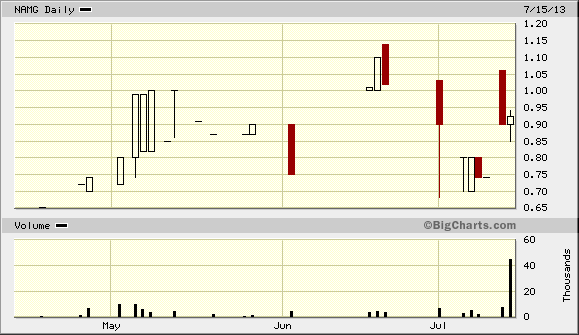 The company, however, hasn't issued any press releases lately which can potentially repel investors but given that NAMG has become an object of a paid promotion it is very likely that the company issues some corporate update to back up the ongoing marketing awareness efforts.
NAMG is a an oil and gas company focused on the San Joaquin Basin, onshore California, with existing foundation assets targeting exploration objects in the southern part of the basin. NAMG is publicly quoted on the OTCQB Market where it holds a market cap of $54 million and has a 52-week range of 1.14 – 0.25.

Arch Therapeutics, Inc. (ARTH) – Today, penny stock traders will get hit by another promotional wave of ARTH. The company is currently listed in online promotional databases with a campaign that had cost $37,500 and had involved four stock promoters.
The current promotional wave consists of both some of ARTH's previous promoters and a couple of new ones. The new entities that have taken part in the campaign are Super Stock Plays and Buy Penny Stock, who have disclosed a compensation of $12,500 and $25,000 respectively.