Top Promoted Stocks: PTOG, OOIL, FEEL
Yesterday, the major US stock indexes were dyed in green after optimistic production activity data increased market players' hunger for risk. The same atmosphere was present on the OTC Markets as the OTCM ADR Index climbed 0.69% at 1,365.69. On this background, several penny stock symbols are going to trade under promotional influence in the forthcoming session, so let's take a look at today's biggest market awareness campaigns: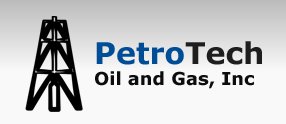 Petrotech Oil & Gas, Inc. (PTOG) – PTOG has received one of the heaviest promotions today. The first newsletters touting PTOG appeared last night after the closing bell and so far a total of nine different promoters involved in this campaign have been registered in online databases.
The campaign has been ordered by RTF Inc. for a compensation of $36,000 and is led by the following promoters: Hot Stock Ace Publisher, Marquee Penny Stocks, Breaking Bulls, Psycho Penny Stocks and so on.
PTOG underwent another large-scale promotion on June 14th, which didn't help the stock move up on the chart at all. In fact, on the same day PTOG rolled down 19% to $0.08 per share on a volume of 2.7 million, which is more than ten times higher than the monthly average.
What is worse is that the stock has plunged even deeper after its previous promotion and two weeks ago it hit a 52-week low at $0.035 per share. Last week PTOG rallied a little bit but for the last couple of trading sessions it has been facing a resistance at $0.045.
Yesterday, PTGO fell 1.5% to $0.0443 on a below average volume of 104 thousand. There has been no corporate update from the company since June 14th, when PTOG announced it had entered into a contract with American Eagle Ltd to purchase eight producing wells in Navarro County Texas. This lack of news aggravated the selling pressure which was produced by the "dump" phase of the promotion which is why the stock fell sharply in such a short period of time.
According to the last unofficial financial report of PTOG, as of Mar 31. 2013 the company had:
Zero cash
$1.2 million working capital deficit and $5.4 million accumulated deficit
Zero revenues and a net loss of $73 thousand
PTOG is a company which initiates operates and develops Enhanced Oil Recovery (EOR) opportunities within qualifying oil reservoirs in the US. The company is traded on the OTC Pink Current Information Market where it has a public float of $3.8 million. PTOG has a market capitalization of $1.5 million and a 52-week range of 8.039 – 0.036.
In January this year the company executed a 1 for 2233 reverse stock split which seems to have opened more room for the stock to devaluate.

OriginOil, Inc. (OOIL) – After the failure of yesterday's promotion on OOIL, the OTC Markets are going to be hit by another marketing awareness campaign dedicated to the company today.
As we already reported, OOIL was promoted for $21 thousand yesterday which increased the trading activity with OOIL stock two times but the supply of shares exceeded the demand as OOIL stock price fell 2.5% to $0.307 per share.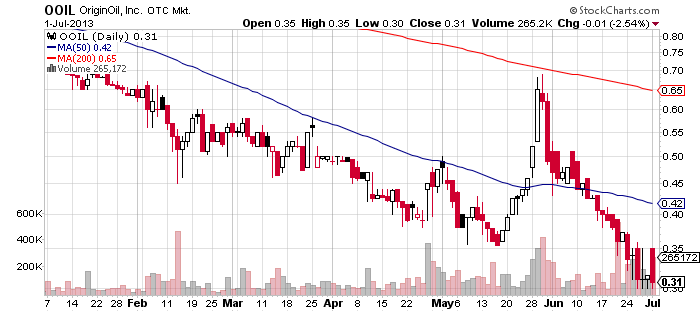 Since the last closing bell, eight newsletters touting OOIL have been issued by websites such as VIP Penny Stocks, Quality OTC, Elite OTC, Penny Stock Chief, OTC Equity, Explosive OTC, Fat Cat and Best Top Stocks. According to online promotional databases, the campaign had been ordered by Cream Consulting for the total amount of $22,500.
Today the company also issued a press release to announce that AlgEternal Technologies LLC would incorporate OOIL's electro water separation technology to harvest algae as a key component of AlgEternal's proprietary algal production system.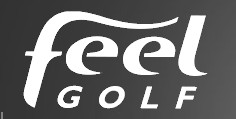 Feel Golf Co., Inc. (FEEL) – Penny stock traders are going to "feel" the promotional touch of FEEL stock in the forthcoming session as the company has become an object of a new market awareness campaign.
The campaign on feel is led by Premiere Alerts, MBSA, Micro Cap Digest, Penny Stock Parlay, Phd Trading, HSP Team, Penny Stock General, Trade These Picks, Investor News Source, and Hole in One Stocks. In short ten promoters have been involved in the promotion on FEEL. Disclaimers show that the campaign had cost $15,000 but not a single third party was disclosed.
FEEL stock has been consolidating for the last month and a half, after it plunged sharply in mid-May from $0.025 to $0.0013 per share. Yesterday, the stock closed 17% higher at $0.0027 per share after more than 1.7 million shares changed hands.
At this level FEEL is facing a short term resistance so in the next couple of days it will show if it can gain enough support from market players in order to overcome this technical level. Presently the stock is trading below the 50 and 100-MA.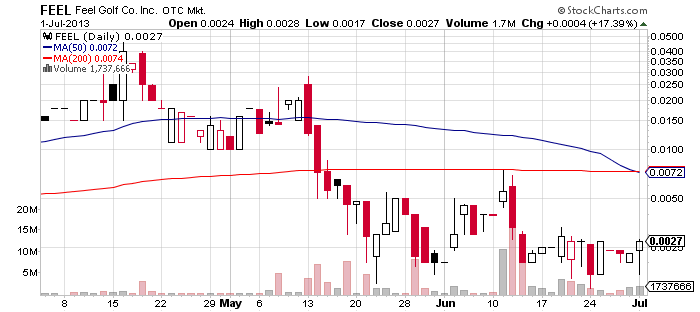 FEEL hasn't issued any press releases recently, excluding an S-8 form filed on June 10th which registered 60 million shares of FEEL common stock to be issued under the company's consulting agreement with Jeffrey Maller.
The last promotion of FEEL took place on June 12th when the stock declined 40% on a volume of 16.8 million. As FEEL has demonstrated its volatile reaction to promotional campaigns, it is obvious that common penny stock traders will find it rather risky to speculate with the stock at this stage.
FEEL is a development stage company focused on the age management and wellness markets. Its stock is traded on the OTCQB Markets where it is currently valued at $459 thousand. FEEL has established a 52-week range of 0.05 – 0.0001.