US Stock markets keep rolling downhill today after two influential Fed policymakers expressed their concerns about the US economy. According to Dennis Lockhart, the American economy has lost its impetus, while William Dudley said he expected more proofs for the recovery of the labor market.
These opinions have increased the uncertainty of market players who preferred to avoid risks today. Thus, at the moment the US benchmark indexes are tanking, followed by the OTC Markets. Currently the OTCM ADR Index is down 0.21% at 1,515.09 points.
Yet, there are several penny stock market movers today that provide opportunities for long investors:

Nutranomics, Inc. (NNRX) – Nutranomics Inc started trading on the OTCQB market with its new stock symbol, NNRX, last Friday. On that day, the stock opened and closed the trading session at $0.75 per share on a trading volume of only 5,000.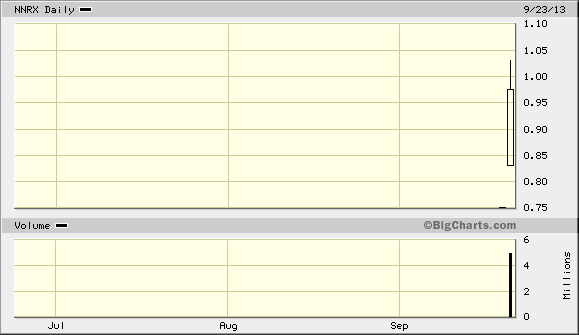 Today, however, there is a lot of trading activity stirring around the stock, which has become one of the top traded penny stocks on the OTCQB market.
Currently shares of NNRX stock are trading 30% higher at $0.975 per share on a trading volume of more than 5 million. The trade value exchanged in transactions with NNRX stock since the opening bell has reached $4.6 million.
NNRX attracted the attention of penny stock speculators this Saturday when it announced the completion of the acquisition of Health Education Corporation dba Nutranomics.
Today, market players found another press release issued by the company, which announced that NNRX had appointed a new vice president of sales for South East Asia, Mr. Amar Chandnani. As a result of the recent fundamental support provided by the company, today NNRX stock faces a lot of buying pressure which is a good start for the new stock symbol.

Globalstar, Inc. (GSAT) – A second day of correction for GSAT stock. The company's share value is facing profit taking impulses after it has just a hit a 52-week high at $1.10 per share.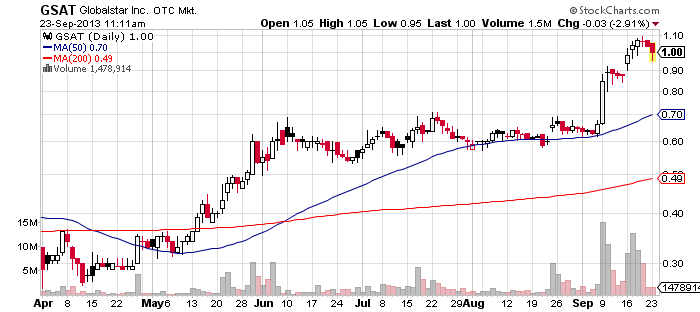 GSAT hit the record high value on Thursday last week and since then has been correcting. The correction phase was very much expected, as from a technical point of view GSAT stock price had deviated sharply from its 50-day moving average. In addition, the company's market cap has been seriously inflated to $420 million.
Now that the general market has been in a bearish mode for the last couple of days and also due to the lack of any significant fundamental support, GSAT has expectedly started to lose ground. At the moment shares of GSAT stock are trading 3% lower at $0.95 per share on a lower than average volume of 1.5 million.

Pacific Clean Water Technologies, Inc. (PCWT) – PCWT has been stubbornly defying the black mark it received form the OTC Markets on the second day of its trading history. The company was labeled caveat emptor by the OTC Markets after it got pumped by a $500,000 promotional campaign.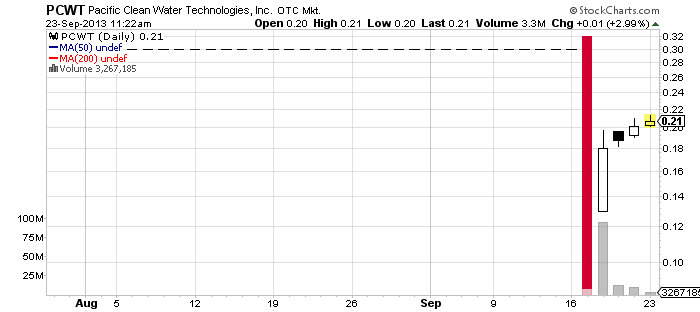 Today, we have not detected any paid newsletters touting the company, yet the stock received support from another side. Earlier today, the company provided a fundamental helping hand to its stock by issuing a press release which announced that Mr. Darrin Ocasio, a partner at Sichenzia Ross Friedman LLP, would be presenting the corporation as General Counsel to provide legal support.
Whether thanks to the issued press release or not, the stock is currently trading 3% higher at $0.207 per share on a higher than average volume of 3.2 million. Meanwhile PCWT has generated a trade value of $676 thousand for the day which has once again placed it on the OTC Markets' most actively traded list.
Elite Pharmaceuticals, Inc. (ELTP) – ELTP entered into correction today. Currently shares of ELTP stock are trading 12% lower at $0.14 per share on a higher than average volume of 5 million. ELTP has also generated a trade value of $760 thousand which is one of the highest on the OTCQB markets today.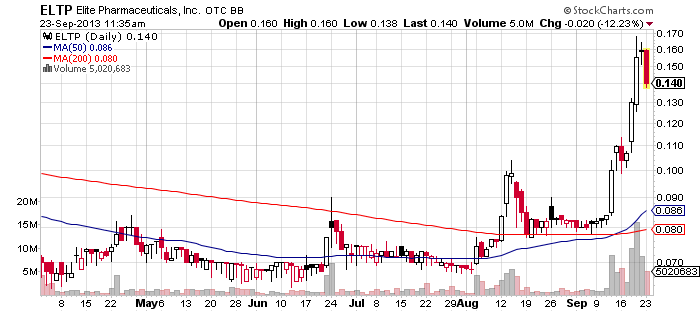 Despite the downward spike, ELTP still remains above the 50-day moving average. A couple of days ago ELTP broke out and skyrocketed to a new 52-week high at $0.17 per share after it announced the initial shipment of naltrexone hydrochloride 50 mg tablets.
At the same time, we also reported a noticeable insider activity in the last couple of days. Part of this activity was due to the conversion of series E convertible preferred stock into 65 million shares of common stock by Epic Investment.