US stock markets are tentative during the first half of today's trading session. While the OTC Markets and S&P 500 are on the neutral border between buyers and sellers, the Dow Jones is soaring in contrast to the declining Nasdaq.
Investors feel insecure about the future, as on one hand the outcome of the Syrian crisis is still vague, and on the other hand there have been no significant economic news these days to help form a trend.
Penny stock traders are also affected by this lack of definiteness, which is reflected in today's wavering movement of the OTCM ADR Index. The latter opened the trading session with a gap down and was trading below the previous close during the first trading hours but several minutes ago a wave of buying pressure pushed the index higher, so it is now up 0.08% at 1,474.71 points.
Today, most of the penny stock market movers on the OTC Markets are OTCQB listed stocks, whereas the pink sheet listed penny stocks are lagging behind:

Globalstar, Inc. (GSAT) – GSAT is the most heavily traded penny stock on the OTC Markets today, as traders have already exchanged, in more than 670 transactions with GSAT stock, a dollar volume equal to $2.2 million.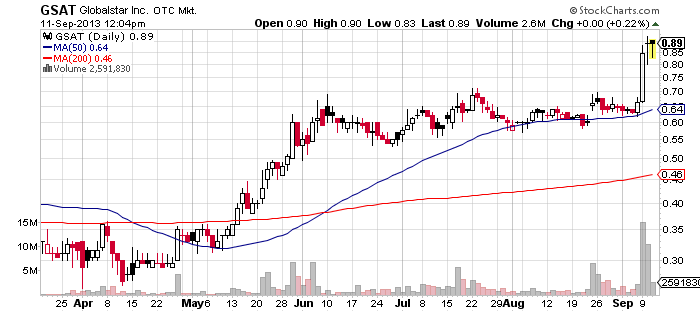 So far GSAT has managed to maintain the significant gains which were registered on Monday when the company announced that the Federal Communications Commission had placed GSAT's notice of proposed rulemaking on circulation. On the same day GSAT shot up 28% and on the following day the stock hit a 52-week high at $0.92 per share.
The bullish episode of GSAT stock was not left unnoticed by market awareness companies, as yesterday one such company called Growing Stock Report included GSAT stock to its watch lists.
Today GSAT has been resisting any profit taking impulses and is still trading slightly above the previous close. At the moment shares of GSAT stock are trading 0.22% higher at $0.892 per share on a higher than average volume of 2.6 million.

Alkaline Water Company Inc. (WTER) – WTER stock has been receiving consistent fundamental support by the company in the last couple of months. As a result WTER switched its mode into an up-trend and since the start of August it has managed to surge from $0.40 to $1.00 per share. Overall, the stock is up 18% for the day.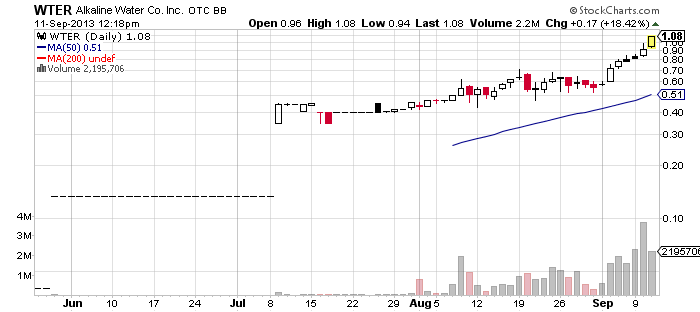 In fact, today WTER has scored a new 52-week high at $1.08 per share which is where the stock trades at the moment on a higher than average volume of 2.1 million. Penny stock traders have exchanged $2.2 million in dollar volume in a total of 1000 trades with WTER stock.
Today the up-move of WTER is supported by a press release which announced that Ms. Brande Roderick had agreed to join the Company's Advisory Board and would undertake an active role in upcoming public relations and awareness campaigns.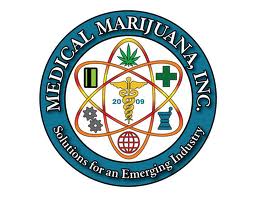 Medical Marijuana, Inc. (MJNA) – MJNA, which is one of penny stock speculators' most favorite pink sheet stocks, is once again on the list of most actively traded stocks on the OTC Markets.
Yesterday the stock movement was spotted by a market awareness company called Growing Stock Report, which issued a trade alert on MJNA . As a result MJNA surged 7% to $0.17 per share on a higher than average volume of 20 million.
However, today the stock is tanking and at the moment it trades 7% lower at $0.16 per share on a slightly lower than average volume of 6.7 million. The trade value generated by MJNA today has already exceeded $1.1 million.
Thus MJNA failed to break above the resistance of its 200-MA and returned to its trading channel delineated between the 50 and 200-day moving averages. The stock could not be bolstered by the two press releases concerning other companies from the medical marijuana industry.
First, a press release announced that Kalico Fortycal had released his new single "To The T.O.P.". Mr. Fotycal runs a series of Medical Marijuana Doctors' offices in California. The second press release announced that Endxexx Corporation's M3Hun Platform was the robust "seed to sale" tracking solution and that M3Hub fully supported the DOJ and state marijuana initiatives.