Top Promoted Penny Stocks: CACL, ABBY, GLBH
Yesterday the major US stock indexes registered a very strong trading session after it was announced that the number of applications for unemployment compensation has risen by 16,000 to a two-month high of 360,000. This is a bad news for the unemployment market, but a good one for investors as it makes it less possible for the Fed to exit the monetary easing policy in the near future.
Our index in focus, OTCM ADR, registered the highest gain of all benchmark stock indexes yesterday, as it closed 2.66% higher at 1,413.84. Today it looks like the index will feel much less influence by penny stock promotions as online promotional databases have registered only three lesser campaigns since the last closing bell:

Crown Alliance Capital Limited (CACL) – The only big promotion today is the campaign on CACL, which has been going on since Tuesday this week. On that day CACL rose 6% to $0.72 per share on almost ten times higher than average volume of 265 thousand.
Every single day since Tuesday there was a new wave of promotional letters that kept hitting the penny stock market. Today there is a new issue of paid newsletters along with the ones which have already hit the market earlier this week. The new promoters of the company are called Damn Good Penny Picks and Penny Stock Newsletters who disclosed that they had been compensated $25,000 by an unaffiliated third party.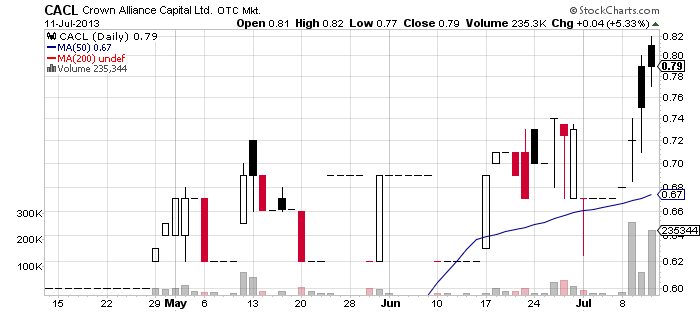 On Wednesday the company issued its first press release since May, which announced that a recent report done by the London School of Business, Coventry confirmed the benefits for both policy owners and investors of the new secondary market for life Insurance Policies, testifying the validity of CACL's basic business model in the Life Settlement Market. This news gave some spark to the stock so it finished 4% up on a two times higher than average volume.
Yesterday, CACL went through another episode of intensive trading as it once again generated a trading volume ten times higher than the average with more than 235 thousand shares changing hands during the day. At the same time CACL stock price increased 5% to a close of $0.79 per share.
Thus yesterday, the stock hit a new 52-week high at $0.82 per share which rendered the company's market cap at $166 million.
Abby, Inc.(ABBY) – After pushing up the volume during the last trading session, ABBY is going to try to keep the increased trading activity around its stock by means of a market awareness campaign which was initiated after yesterday's close.
The promotion is led by 24-7 Stock Alert who had been compensated $2,000 for the service by a third party called Awareness Consulting Group. In fact this is the first time the company gets promoted since Dec 2012.
Yesterday, ABBY announced that T1O Events and Promotions were working on their 2014 business plan for Southern California's first Adult themed mobile food truck tour, which brought more attention to the company's stock. Thus, ABBY finished the last trading session 55% higher at $0.07 per share on a volume of 466 thousand which is more than 20 times higher than the monthly average.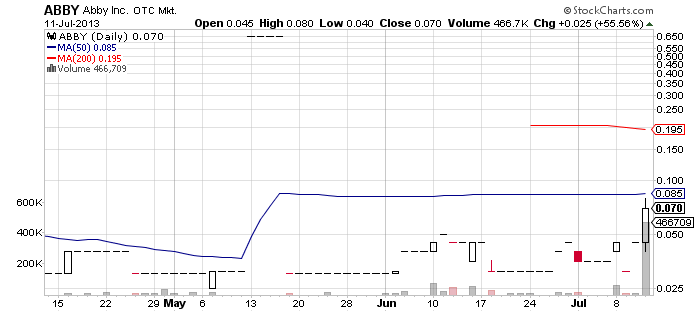 Today, the company unleashed another press release on the market saying that it planned to enter the $250 million obstacle race course industry. Combined with the started promotion the news may produce an even higher trading activity today.
ABBY is currently valued at $7.5 million, which cannot be substantiated by the company's financial state as it has reported the following financials as of Feb 2013:
Zero cash and assets
$28 thousand debt and $1.9 million accumulated deficit
Zero revenue and $1.8 million net loss.
Yet if ABBY manages to create a base of speculations by means of promotions and press releases, it is possible to maintain this market cap for some while.

Globaltech Holdings, Inc. (GLBH) – The last two trading sessions of GLBH were marked by a significant volume spike, which was most likely produced by the market awareness campaign which was initiated on Wednesday by a couple of stock promoters.
The effect of the promotion was a six-fold increase in the trading volume of the company which hit 1.2 million shares in the previous two trading sessions. The reaction of GLBH share price to the promotion was volatile as it surged up 12% on Wednesday but the next day it fell down 20% to $0.045.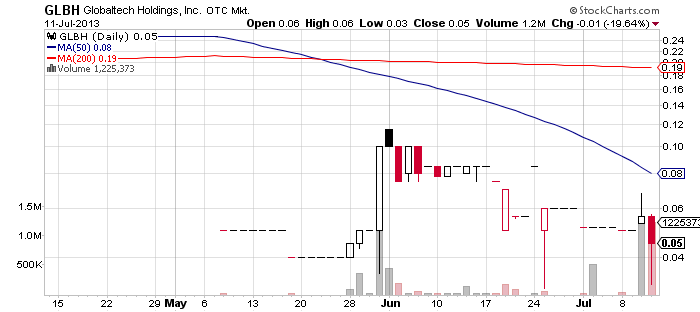 Today's promotion on GLBH is led by Penny Play of the Day and MBSA who had received $1,500 for the service by an undisclosed third party.
GLBH is an insurance brokerage firm which provides turnkey solutions to protect their client's financial interests. Its stock is traded on the Pink Sheet Current Information Market where it is valued at $28 million.