Soul and Vibe Interactive Inc. (SOUL) – Today SOUL is still consolidating near the recent 52-week high. Yesterday, following the announcement that SOUL had signed an agreement with Larva Game Studios to develop new video game properties, the company's stock value declined 7% to $1.29 per share on a ten times higher than average volume of 6 million.
Today, an investment service called BuyIns.net issued a squeeze trigger report on SOUL saying that the total aggregate number of shares shorted since Jan 2013 was approximately 14.73 million shares, or 28% of the daily trading volume.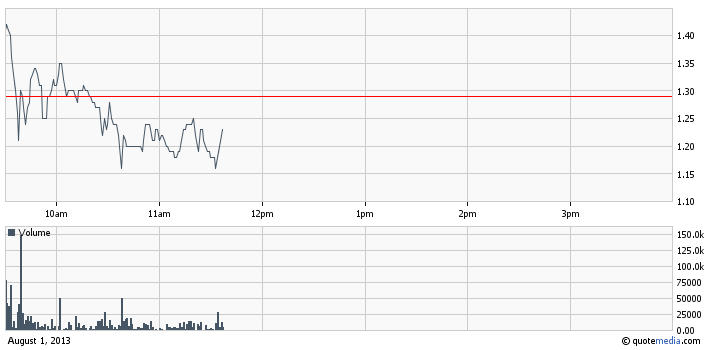 Moreover, the report stated that a short squeeze had begun as the stock is currently trading above the $0.99 squeeze trigger price.
Despite this announcement, SOUL share price continues to decline today and at the moment shares of SOUL stock are trading 7% lower at $1.2 per share on a higher than average volume of 1.4 million. The trade value generated by SOUL so far has reached $1.85 million.

Xumanii International Holdings Corp (XUII) – XUII has been experiencing a turbulent trading session today. After starting with a huge gap up, it took XUII stock only half an hour to plunge back below the previous close, but later XUII once again managed to surge up giving a clear sign that today the stock is going to produce nothing less than an intriguing trading session.
Earlier during the day, XUII announced the results of the recently announced live streaming performance. By means of a press release published through the MarketWired system, the company stated that the viewership numbers of last night's presentation of the "Space Migration Tour" starring Mac Miller demonstrated a significant increase. According to the announcement, a total of 123,436 viewers had tuned in to the exclusive live broadcast.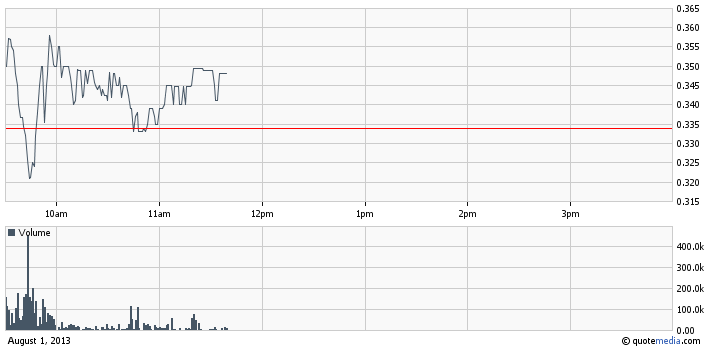 The news release apparently excited penny stock players who rushed the stock at the opening bell causing it to open with a gap up at $0.34 and then hit an intraday high at $0.45. Half an hour later XUII plunged down to an intraday low at $0.32 per share but later managed to surge back above the previous close.
Currently shares of XUII stock are trading 4% higher at $0.348 per share on a below average volume of 4.5 million. At the same time the trade value generated by XUII has reached $1.5 million.
Apparently, today the tug of war between buyers and sellers of XUII stock is ferocious, so shareholders of the company will have to monitor their positions closely and take actions on the run as XUII stock price meanders between intraday extremes.

Affymax, Inc. (AFFY) – With no recent fundamental support at hand shares of AFFY stock are currently failing to overcome the resistance at $1.75. Over the last two weeks AFFY registered a significant increase in its share value jumping 60% from $1.12 to $1.80 per share.
However, today AFFY is grappling with markets' corrective forces and at the moment shares of AFFY stock are trading 8% lower at $1.59 per share on a below average volume of 1.3 million.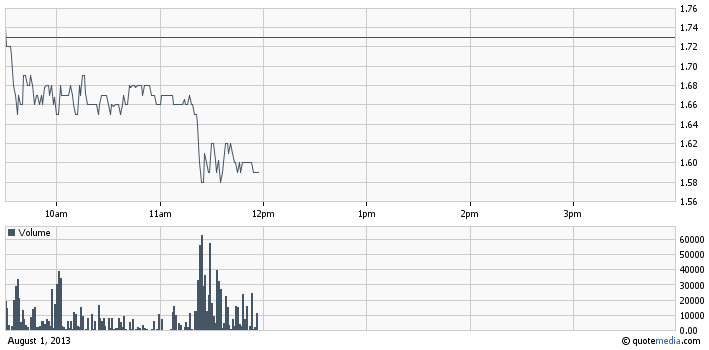 There has been no significant filings or press releases since AFFY announced its official delisting from Nasdaq at the beginning of July. Since then the stock has been free floating, driven mostly by technical factors.
At present the market capitalization of AFFY is $64.8 million and it is important for penny stock speculators to estimate whether this valuation will make the company be perceived as over or under valued by the general market.

Sanborn Resources, Ltd. (SANB) – Today, SANB has surprisingly claimed a place on the OTC Markets most active list. On the surface there doesn't seem to be any objective reason for SANB to be attracting such a high trading interest as the company hasn't issued any recent press releases or filings to give fundamental support for its stock.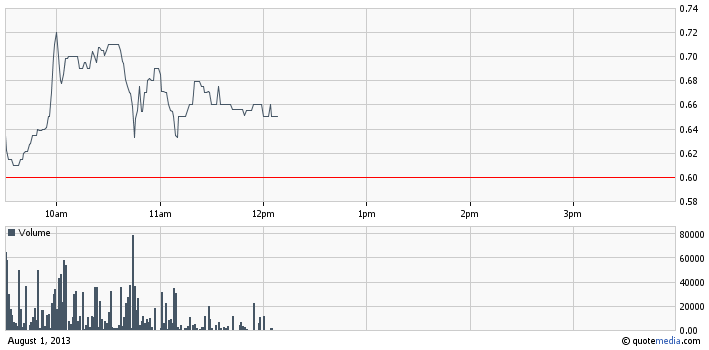 On the other hand, the OTC News and Disclosure Service shows that SANB has been featured in a trade alert by OTC Daily Alert on July 26. In fact, it is since this day that SANB has posted a significant surge in its stock value.
Thus, over the course of one week, SANB jumped from $0.39 to $0.72 per share on a heavy trading volume. Today the stock has hit a new 52-week high and is currently trading 8% higher at $0.65 per share on a higher than average volume of 1.8 million.
However, the surge of SANB stock seems rather speculative in nature as there has been no fundamental support to the described stock movement.