Top Promoted Penny Stocks: LVGI, NVLX, AXXE
Finally, yesterday the US markets took a breath of fresh air after a continuous series of nerve-racking declines. The bullish mood on the last trading session was boosted by positive fundamental news about the ISM Index and Construction Spending data, both of which rose at a rate exceeding market expectations.
This fact gave wings to the US stock markets which flew up during the trading session. The OTC Markets were strongly bullish during the day, as the OTCM ADR Index posted an increase of 1.54% at 1,415.10 points, bouncing back above the critical 1,400 level.
Today, investors on the US stock markets are going to keep a close eye on pending economic data, such as Fed's Beige Book and Trade Balance reports. In addition, the US Senate is expected to vote a resolution giving carte-blanche to a military intervention in Syria of up to 90 days.
These events are expected to give tone to the forthcoming trading session on the US stock markets. In addition, the OTC Markets are expecting their daily dose of penny stock promotions which will try to sway investors' attention to certain stocks below $1 per share.
Below we provide an overview of the major penny stock promotions on the OTC Markets for Wednesdays, Sept 04:
Limitless Venture Group Inc. (LVGI) – The early morning promotion records indicate LVGI as one of the most intensively promoted stocks for the day. In more details, the campaign on LVGI has been initiated by more than thirteen stock promoters who had been compensated $16,000 for the service.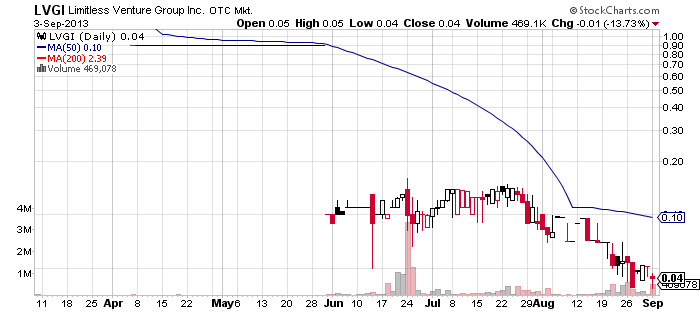 Online databases show that three third-parties have backed up the campaign, viz. Out Reach Holdings S.A., Flip Ventures LLC and Galaxy LLC. LVGI was previously promoted on Jun 24 but it is apparent that promoters' promises were not genuine because the stock fell sharply on a heavy trading volume on that day.
Moreover, LVGI stock value continued to decline after the promotion. The depreciation of LVGI stock was aggravated in August, when the share price fell from 10 cents to a 52-week low of 4 cents. Yesterday, LVGI closed the trading session 14% lower at $0.044 per share on a higher than average volume of 470 thousand.
LVGI is a development stage company dedicated to the production, distribution and marketing of unique, quality product lines. The company is publicly traded on the OTC Pink Current Information market where it is currently valued at $5.8 million.

Nuvilex, Inc. (NVLX) – NVLX has been one of the most frequent entries of online promotional databases in the last 30 days. Since the beginning of Aug NVLX has been regularly pumped by paid stock promoters.
Today the company has been touted in more than eight promo newsletters. Online records, show that today's promotional wave had been sponsored by Cream Consulting Group, which had provided a compensation of $15,000 for the various promoting websites which are leading the market awareness campaign on NVLX.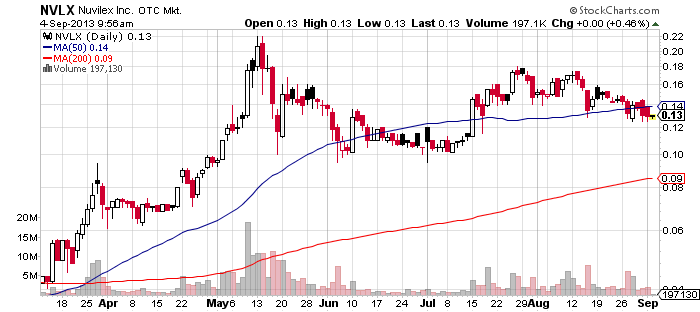 NVLX, on its part, has been actively participating in the effort to boost its stock. Today, for example, NVLX issued a press release focusing on a recent buyout of Onyx Pharmaceuticals Inc., a cancer treatment biotech, by a major pharmaceutical firm Amgen Inc. The press release was titled "Nuvilex, Inc.: Big Pharma Is in a Buying Mood".
The new promotional wave, however, will likely add more volatility to NVLX stock, as it has already started showing signs of exhaustion. Thus, since mid-Aug NVLX stock value has declined 22%, from $0.1699 per share to $0.131 per share.
Last week, the stock also broke below the 50-day moving average which tilted the scales towards bears. NVLX has also established a new support level at $0.13, so this will be the next sensitive technical point which market speculators are going to monitor in the short term.
Axxess Pharma, Inc. (AXXE) – It seems that this week AXXE is going to be heavily promoted as the campaign on the company's stock, which  started yesterday, continues at full speed today, as well.
Yesterday's campaign on AXXE was backed up by a third party called Ramm Venture Developments. According to online records, the latter had provided $50,000 as compensation for the various promoting websites leading the campaign.
In fact yesterday's campaign on AXXE was led by several popular penny stock promoters, among which Darth Trader and the Stock Psycho. Unfortunately, the pumping efforts sufficed only to throw AXXE stock value rolling down the hill. In other words, EXXE finished the last trading session 17% lower on a higher than average volume of 880 thousand.
Today's campaign on AXXE is led by Momentum OTC, Research OTC and Stock Roach. The latter disclosed a third party called Ramos & Ramos Investments Inc. The rest promoter kept their sponsors undisclosed. The cumulative compensation for today's advertising effort on AXXE sums up to $15,000.
The company has also took part in the effort to increase the market awareness of its stock. Earlier today, a press release came out of the company announcing the appointment of Dr. Fred Maese as the company's Senior Consultant.