Top Promoted Stocks: INOL, CGRA, NGMC
The US stock markets are opening the trading week today after yesterday's celebration of Labor Day. The US benchmark indexes finished the last trading session on Friday once again in a blue mood. The situation on the OTC Markets was even worse, as on Friday the OTCM ADR Index broke below the psychological 1,400 points and after falling down 0.83% during the day, it finished the trading session at 1,393.58 points.
Today, investors' decision on the US stock markets will be affected to a certain degree by the pending data about July's Construction Spending and August's ISM Index. Besides that, the OTC Markets will also be swayed by the stock promotion activity which is a trade mark of this stock exchange. In fact, today there are numerous market awareness campaigns fighting for the attention of penny stock speculators, which are lining up on the starting line of the trading session.
Following, we provide a brisk overview of the most important paid campaigns for today, Sept 03:

InoLife Technologies, Inc. (INOL) – Today's most intensively promoted company is INOL, which is a diversified service based healthcare and environmental product developer and marketer.
So far the campaign has involved more than 16 penny stock promoters, while the total sum provided by third parties adds up to $26,000. Most of the newsletters did not disclose the name of their sponsors, but several stock promoters have pointed out that they have been compensated by Microcap Innovations.
INOL was previously promoted on June 13 but that promotion was detrimental for the company's stock value as on the same day INOL fell down 53% to $0.07 per share on a trading volume eight times higher than the average.
Investors are not secured against the repetition of the same scenario today and, in fact, at the beginning of the trading session INOL is losing 23% of its stock value on a trading volume nearly thirty times higher than the average.
Currently shares of INOL stock are trading at $0.023 which is close to the recently registered all-time low of $0.01 per share. The 52-week high of the stock however is $125.00 per share which suggests the extremely volatile nature of the stock.
As of the last closing bell the market cap of the company was $5.4 million which is not a high one but historic data is full of penny stock companies that have fallen way below such valuations for one reason or another.

CGrowth Capital, Inc. (CGRA) – CGRA, a holding company for businesses and assets focused on all aspects of mining, is the next victim of penny stock promoters. The campaign is led by stock promoters, such as Breaking Bulls, Marquee Penny Stocks and Psycho Penny Stocks. According to disclaimers, these promoters have been compensated $15,000 by a third party called RTF Inc.
CGRA was previously promoted on Jul 29 and at that time the promotion managed to push the share price of CGRA stock higher. According to online records, on Jul 29 the share price of CGRA stock increased 41% to $0.072 per share on a trading volume fifteen times higher than the average.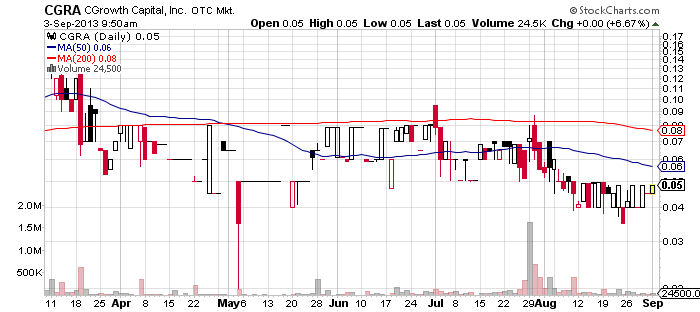 However, this gain was wiped out completely during the three trading sessions following the promotion. What is worse is that CGRA broke below its support at $0.05 per share at the beginning of August and established a trading channel with a new support at $0.04. In other words, CGRA value declined 75% since it was promoted at the end of July.
This scenario may repeat today, so investors will have to carefully estimate their risk tolerance before investing in this stock. Today, the company itself provided a helping hand for its stock value by issuing a press release which informed that CGRA had entered into a letter of intent for the purchase of an initial 2 thousand acres of Wyoming oil leases with 65 offset drilling locations.
Apparently, CGRA has received enough stimuli today to produce another jump in its share price, as shares of CGRA stock are currently trading 7% higher at $0.048 per share on a trading volume way below the monthly average.

Next Generation Energy Corp. (NGMC) – Stock promotion registers show that NGMC has become an object of stock promotions since the last closing bell. This campaign is sponsored by Actual Investments LLC which had spent $15,000 for the advertising and marketing services on NGMC.
The leaders of this campaigns are penny stock promoting websites, such as Stock Bomb, Stock Rock and Roll and Penny Stock Locks.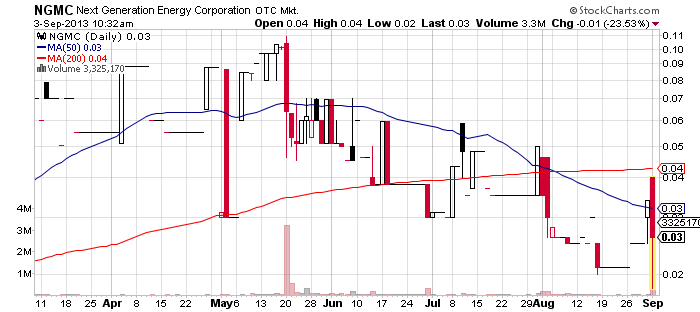 NMGC has not provided any substantial corporate updates recently which has facilitated the stock's decline over the last couple of months. Since the stock hit a 52-week high on May 20 this year, NGMC share price has fallen down to $0.02 per share.
In fact, it was on May 20 when the last promotion of the company took place and during this single day NGMC stock value fell nearly 50%.
So, as NGMC has a history of detrimental market awareness campaigns, there is a very high chance that the same scenario repeat today. Even more so, given the fact the compensation received by promoters had produced a "conflict of interests" issue.