Top Promoted Stocks: AGIN, STSC, AXLX
After a series of negative sessions, yesterday the OTCM ADR Index finally took a breath of fresh air and finished 0.98% higher at 1,330.20 thanks to the increased risk appetite on the major US stock exchanges, which was produced by good fundamental news. The positive finale of the last trading session on the OTC Markets, however, doesn't seem to have affected the activity of penny stock promoters as today there are much fewer promotions than usual, despite the increased risk appetite in the US.

American Graphite Technologies Inc. (AGIN) – The most notable promotion today is dedicated to AGIN. The campaign was started yesterday after the closing bell and included the following stock promoters: Wall Street Buzz, Too Nice Stocks, OTC Magic, Hero Stocks and Stock Hunter.
The promotion was sponsored by Cambridge Consultants and Creative Online Services who had spent a total of $142,000 for the campaign, according to online promotional databases.
AGIN was previously promoted on April 25th, when it surged 10% to $0.82 per share on a heavy trading volume. However, since then the stock has devaluated significantly and is currently trading at $0.58 per share.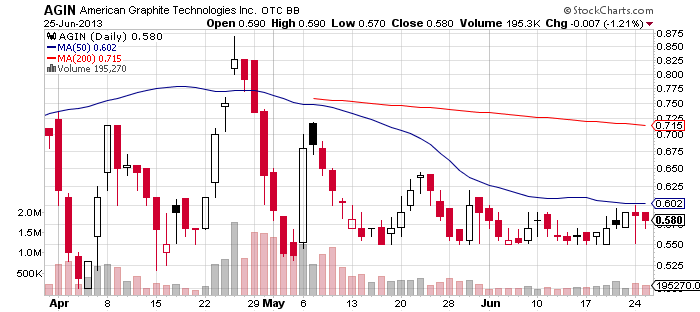 AGIN stock has maintained a support at $0.55 for the last three months but at the same time it has been making lower highs and has been sliding below the 50-MA. From a technical point of view this can be interpreted either as a bearish or as a break-out sign, so it is not surprising that AGIN received promotional support at this sensitive point.
Two days ago, AGIN announced that it had completed a recent funding totaling $145,000 and that its 3-D printing project should be finalized for all regulatory approvals soon. This news update didn't produce much effect on the market as on the same day AGIN stock made an insignificant price move on a below average volume.
AGIN is a development stage company intending to be engaged in the exploration of mineral properties and the development of related technologies. It is traded on the OTCQB Markets where it holds a market value of $45 million.

Start Scientific, Inc. (STSC) – The campaign on STSC, which was initiated yesterday after the end of the trading session, is not a very expensive one but it is the promotion with the highest number of issued newsletters today.
Thus, today penny stock traders are likely to find their inboxes flooded with trade alerts on STSC issued by On Time, HSP Team, Penny Stock Spy, 007 Stock Chat, Penny Stock General, Penny Dreamers, Stock Market Media Group and so on.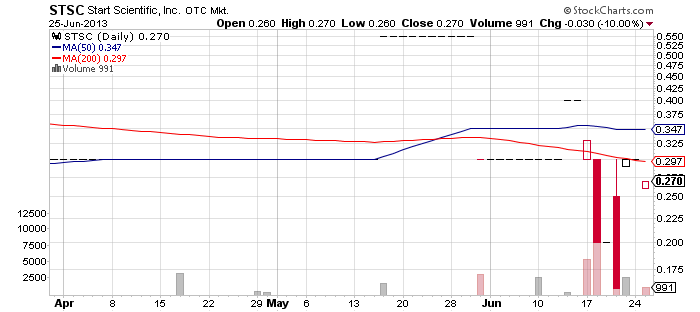 Except for Penny Stock General, who disclosed a third party called OTP as a sponsor, the rest of the promoters kept the sources of their compensation in secret. According to online promotional databases, the total amount spent for the campaign on STSC has reached $30,500.
STSC doesn't seem to be a regularly traded stock and in fact it looks like this is the first time the stock has been promoted. However, there has been some suspicious trading activity with STSC stock in the last couple of days which resulted in sharp up and down spikes on small trading volumes.
STSC is an oil exploration, drilling, extraction and delivery company specializing in sweet crude oil with assets in Romania and Mississippi, USA. It is traded on the OTCQB Markets where it has a 52-week range of 0.75-0.15 and a market cap of $29 million.

Axiologix, Inc. (AXLX) – AXLX has been slowly sliding back down to its six month low at $0.0005 per share in the last couple of months. Having generated an above average volume of 45 million, the company closed the last trading session without any change in its stock price hitting a trade value of $25 thousand.
AXLX generated a more significant trade value on June 18th, when it filed a notice announcing that the company had entered into a definitive agreement of merger with a newly incorporated wholly owned subsidiary Axiologix Sub, Inc, and Velocity Networks Inc. On the same day AXLX generated a trade value of $121 thousand after more than 217 million shares of the company's common stock changed hands while the value of AXLX stock surged 75% to $0.007 per share.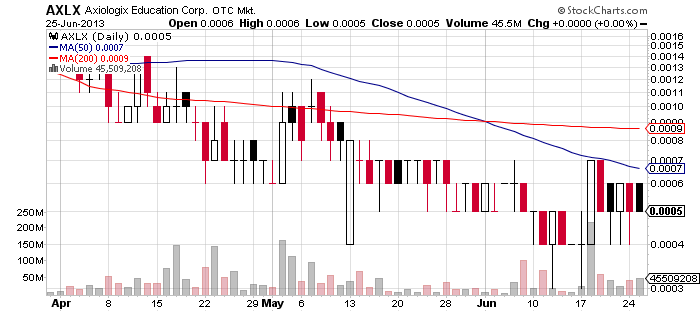 Today, AXLX stock is going to be affected by a new press release combined with a stock promotion. The campaign on AXLX was started last night by MBSA, who disclosed a compensation of $3,000 by an unknown third party. As to the press release, it announced that AXLX expected that annual EBITDA earnings would increase by approximately $1 million thanks to the acquisition on Velocity Networks, Inc.
AXLX is a company which provides voice, data and cloud services to US small and medium size businesses. It is traded on the OTC Pink Sheets Current Information Markets where it holds a market cap of $812 thousand and a 52-week range of 0.0068-0.0001.