Top Promoted Penny Stocks: ARTH, SNET, EXHI
Yesterday, the US stock markets registered significant declines after a series of weak fundamental news discouraged investors. Thus, the correction phase, which has been troubling the US stock markets since last week, was exacerbated on the last trading session sending Dow Jones below its 50-MA.
The OTC Markets were also struggling with a heavy selling pressure yesterday, which caused the OTCM ADR Index to tank down 0.84% to 1,450.94. Most of penny stock market movers on the OTC Markets yesterday were colored in red, as investors preferred to avoid risks given the current stock market conjecture.
Today, market players will watch closely important fundamental news concerning Housing Starts and Building Permits in the US, which are expected to come out at the beginning of the trading session and will have a certain influence over the stock markets performance.
A usual the OTC Markets are also expecting their daily dose of penny stock promotions. Market awareness activities concerning the OTC Market securities can significantly affect the trading activity of the promoted stocks, so below we are going to examine the most important campaigns which have been initiated after the last closing bell:

Arch Therapeutics, Inc. (ARTH) – Today, ARTH is the object of the most intensive promotion on the OTC Markets. The company has been featured in more than fourteen paid newsletters most of which had been sponsored by Microcap Innovations, one22 Media LLC and Mic Innovations.
According to online databases, the total sum invested in this campaign sums up to $64,000. Online records also show that ARTH has just undergone several other very expensive campaigns. For example, on Aug 13, ARTH was promoted by Full Service Media LLC for a total budget of $1.2 million. Then, on Jul 30 ARTH was promoted for a compensation of $200,000, which were provided by a third party called Advantage Media Corp.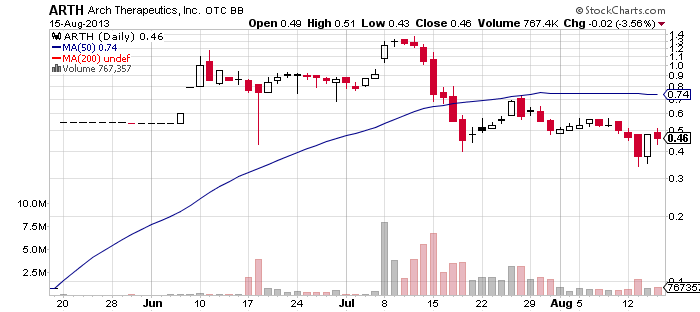 On Jul 30, ARTH stock declined 10% on a volume of 1.9 million shares. The next day, ARTH lost another 9% of its stock value and closed the session at $0.50 per share on a volume of 1.7 million. Regardless of the fact that, ARTH stock kept being promoted since the beginning of this month, the company's share price fell to $0.46 per share as of the last closing bell.
In fact, just before the release of ARTH's last financial report, its stock value had declined down to $0.38 per share. However, two days ago when ARTH filed its latest quarterly report the company's stock got bolstered, jumping up 26% during the day on a below average volume of 700 thousand.
The report, however, may not support ARTH stock for long as the only positive event presented there was the fact that the company had reported a working capital surplus of $50,000. However, ARTH had incurred a net loss of $514 thousand for the second quarter 2013, as compared with a net loss of $176 thousand for the same quarter a year ago.

SourcingLink.net, Inc. (SNET) – Yesterday, SNET surged on the most actively traded stocks list on the Pink Sheets markets after having received a massive promotional coverage. The campaign was led by Stock Mister and its entourage of promoting websites, who had received $100 thousand for the service.
Today, Stock Mister continues touting SNET stock but the campaign has also been bolstered by several new promoters such as Winning Penny Stock Picks, Marquee Penny Stocks, Super Hot Penny Stocks and others. The total compensation which the new promoting parties have received sums up to $28,000.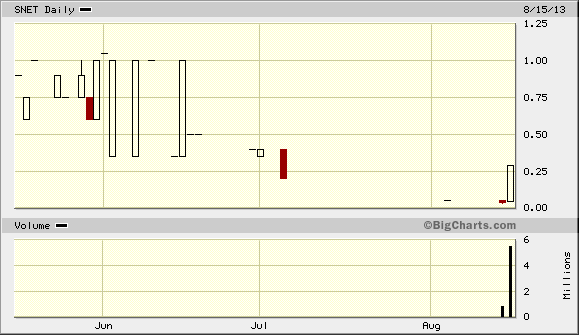 Apart from the promotional campaign, yesterday SNET issued two press releases as regards the company's plan to acquire Eldor Property Claims. The effect of the promotion and news combo made SNET share price explosive yesterday, so the stock finished 730% higher at $0.29 per share on a higher than average volume of 5.6 million.
After the ballistic jump of SNET stock value, the company's market capitalization exceeded $34.8 million. In this case, the chances for SNET to enter a correction phase are high, as the factors which have inflated the company's share price are rather speculative in nature.

Exlites Holdings International, Inc. (EXHI) – EXHI is once again on the promotional frontlines, even though yesterday it went through another failed promotional attempt.
Yesterday, the company was pumped by a whole host of promoting websites which were engaged by two third parties called Cambridge Consulting and Galaxy LLC. Indeed, the promotion attracted a lot of interest to the stock that resulted in a trading volume of over 14 million, which is seven times higher than the monthly average. However, the volume was predominated by sale orders which caused EXHI share price to drop down 34% to $0.021 per share.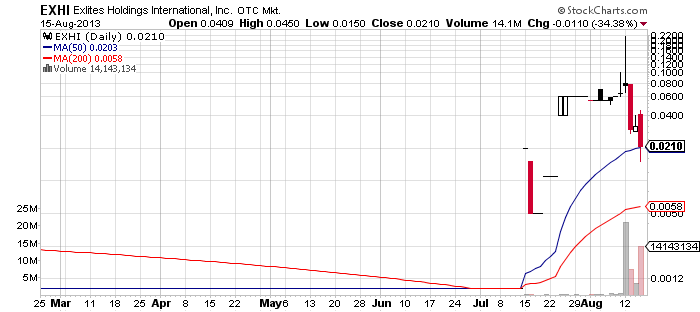 Several day ago, on Aug 13, EXHI experience an even more severe drop after its stock lost 61% of its value in the course of a single trading session. In short, for the last four trading sessions, during which EXHI was heavily promoted, the stock jumped as high as $0.22 per share on Monday and dropped as low as $0.015 per share on Thursday, which is an overall amplitude of 1366%.
Despite this severe volatility produced by the promotion of EXHI, the campaign on the stock doesn't seem to be over, as today online databases have registered another four paid newsletters sponsored by Cambridge Consulting Group and issued by Penny Stock Mobsters, Wall Street Surfers, Stock Runaway and Sizzling Stock Picks. The compensation for the new promotional session of EXHI is $20,000.
To support the buzz around EXHI, the company just issued a new press release, which announced EXHI's aspirations for international partnership with China based medical equipment manufacturers. However, since the recent performance of EXHI has most likely burnt a lot of unprepared penny stock investors, it is very likely that the market will become less and less prone to believe in the fairy dust sprinkled by promoters.