Top Promoted Stocks: ETEK, NAMG, OOIL
Yesterday the major US stock indexes finished lower, which can be explained with the fact that investors preferred to act reservedly and save their energy for what will follow tonight's speech of Ben Bernake before the American Congress.
However, unlike the major US benchmark indexes, the OTCM ADR Index registered another increase after climbing a modest 0.13% to 1,414.36. Yesterday, the OTC Markets were influenced by several big promotions which got into the focus of penny stock trader. Today, there is a notable lower promotional activity and yet there are a couple of campaigns that are worth examining:

Eco-Tek Group, Inc. (ETEK) – Yesterday, ETEK tanked under the burden of a heavy selling pressure following the second wave of its expensive promotional campaign. Thus, ETEK stock fell 6% to $0.35 per share on a volume of 2.1 million which is more than 20 times higher than the monthly average.
Despite the promotional fiasco, penny stock promoters haven't given up on the market awareness campaign on ETEK. So, today we witnessed another bunch of newsletters dedicated to the company. The new promotional wave is once again sponsored by The Stock Mister and, according to online promotional databases, third parties have poured $52,700 into today's campaign.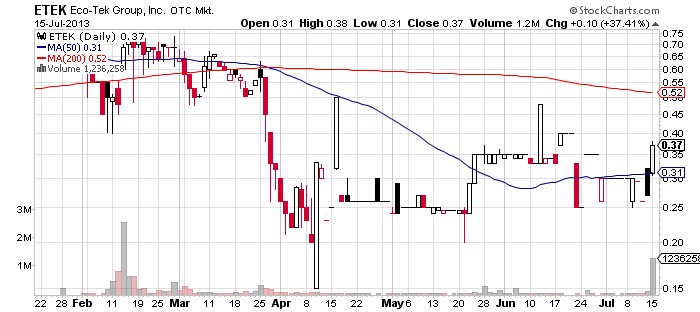 At the same time press releases kept coming out of the company and a couple of hours earlier through a press release published through the Market Wired System, ETEK announced the launch of the Eco-Tek ByPass 24 Program.
It is not clear yet how the market will react to this news as it appears that ETEK has not been able to generate sufficient revenues from its earlier products. Thus, the last 10-Q of ETEK show that as of March 2013 the company had:
$9,000 cash
$1.09 million working capital deficit and an accumulated deficit of $2.1 million.
$53 thousand revenue and $190 thousand net loss
So it is obvious that the company will need more financing in order to fulfill its business plan, which unfortunately is a fact which may mean more dilution to current shareholders.
North American Oil & Gas Corp. (NAMG) – NAMG has been promoted since the start of the week and during this time it has risen from $0.9 to $1.07. Apparently the promotion is working for now despite the considerable for a penny stock market cap of $64 million.
Today the promoting effort on NAMG continue as a new campaign, headed by the Penny Stock Prophet,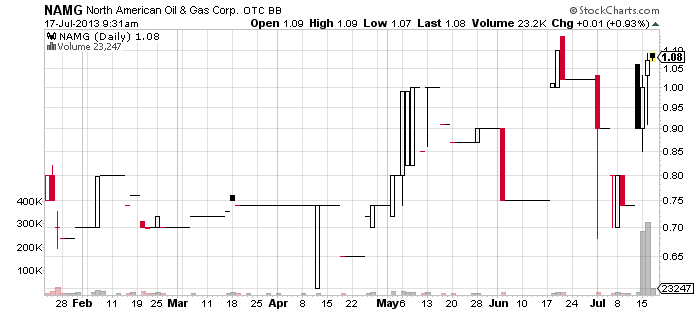 Buzz Socks , PST Alerts, was issued after the last closing bell. There are two third parties in this campaign, namely Lake Group Media and Galaxy LLC who had poured $37,000 into this campaign.
AT the same time the company keeps being shroud in informational darkness as there haven't been any news updates issued by the company. According the last quarterly report as of May 2013 the company disposed of the following financials
$246 thousand cash
#330 thousand working capital deficit and an accumulated deficit of $1.1 million
Zero revenue and $$717 thousand net loss

OriginOil, Inc. (OOIL) – OOIL is also in the focus of promotions as today the company is the object of a $25,000 campaign. The promotion includes many famous stock advertising websites such as Penny Stock Newsletters, Damn Good Penny Picks, Prepump Stocks. No information was provided about the third parties behind this campaign.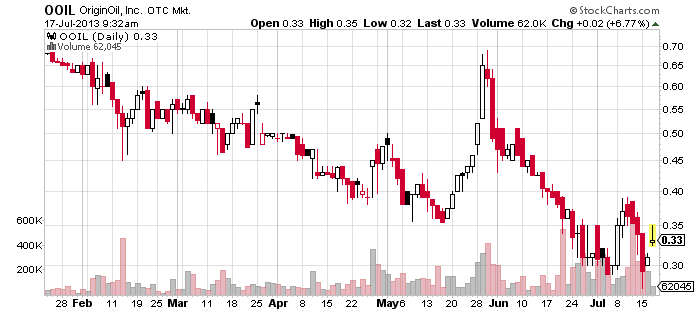 The company was also promoted on Jul 10, when the stock registered a decrease of 2% to $0.36 per share on a higher than average volume. Since then the stock had lost even more value at and as of the last trading session OOIL stock finished at $0.31 per share.
OOIL may jump again today as the company has maintained a relatively low market cap of $8 million and in addition several days ago it hit a new 52-week low at $0.27 per share and is currently playing the rebound game.