Penny Stock Genius presents its daily premarket summary of  the OTC and Pink Sheets markets. Here are today's major company updates and promotions:
Trulan Resources Inc. (TRLR) Speeds Up the PR Machine
TRLR is starting the week with another dose of paid newsletters which were complemented by a press release issued a couple of hours ago. These PR maneuvers may help the stock score some additional bullish episodes, at least until the parties behind the campaign start closing their positions in the company.
As we already predicted in a previous article, TRLR enjoyed an increased trading interest thanks to the same combination of paid newsletters and a press release issued at the beginning of last week.
On Tuesday TRLR generated a trading volume of 28 million shares which is seven times higher than the 3-month average. Throughout the whole week the stock kept finishing in green numbers. The highest jump of TRLR stock price was registered on Friday when it finished 21% higher at $0.0182 per share.
This is the starting point of TRLR stock for this week and whether it will finish higher depends largely on the ability of the PR machine to sustain the current hype around the stock. In this respect promoters have initiated a new large-scale campaign on the company.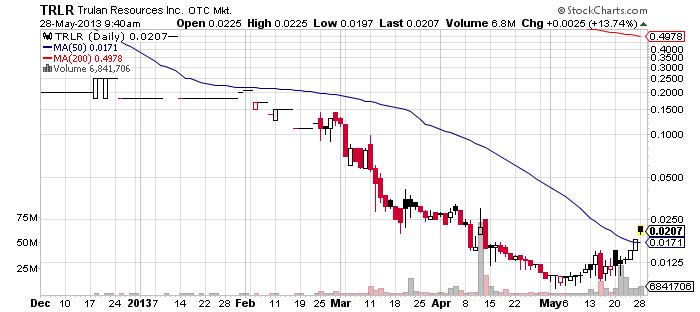 Online resources show that TRLR has been covered by fifteen promoting websites since yesterday. This time the compensation for the campaign is $40,000 which is almost two times higher than the previous one.
In addition TRLR announced today that the platinum resources contained in four ore bodies, which are part of the company's Iron-Gold-Platinum project in Chile, were valued at $2.6 billion. TRLR, however, is traded on the Pink Sheets market which means that investors will hardly see any official document testifying the claims of the company.
In other words TRLR stock is still much more suitable for speculation than  investment. Therefore risk-averse investors might think twice before approaching this stock.
News Release and Promotion for Mission Mining Co (MISM)
It seems that third parties are ready to go to great lengths to keep the trading interest in MISM, which is much higher than usual this month. The company was promoted several times in May:
On May 13rd – MISM finished 15% higher on a volume of 168 thousand shares.
On May 14th – MISM finished 5% higher on a volume of 98 thousand shares.
On May 15th – MISM finished 20% higher on a volume of 190 thousand shares.
On May 16th – MISM finished 52% higher on a volume of 628 thousand shares.
On May 22nd – MISM finished 13% higher on a volume of 133 thousand shares.
So today is the sixth promotion of the company for the month. The campaign is led by numerous stock promoters such as Penny Stocks VIP, Wall Street Report, Penny Stock Guru and so on. The total compensation for the campaign is $30,000. Unfortunately, the promoters did not disclose the name of the third party behind the campaign.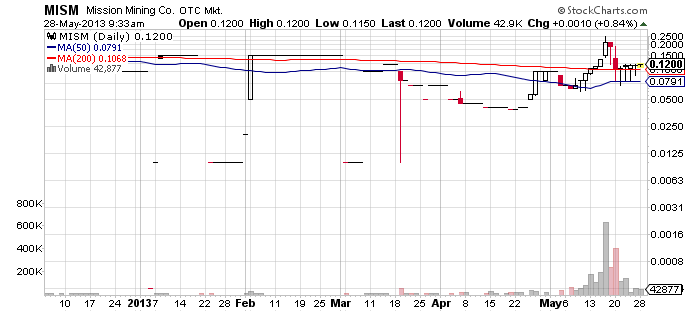 Today the buzz around the company will be accentuated not only by the promotion but also by the press release which was published a couple of hours ago. It stated that the company had executed an agreement with Colten Metals LLC to lease, mine and operate the El Dorado mine in California.
According to the leasing terms MISM will have to issue convertible preferred shares with a capped value of $5 million to Colten Metals LLC. The latter will also have a 9% royalty right over all salable metals and other products from the El Dorado mine.
Although MISM registered very good intraday performances on the days of its previous promotions, which were mentioned above, it did post two sharp declines in the middle of the month. Therefore, investors need to approach this stock cautiously as it is not known at which point the market will get tired of MISM's incessant promotional campaigns.

StreamTrack, Inc. (STTK) – STTK is yet another paid promotion for today. What is more important here, though, is the fact that this is the first time STTK gets promoted. The company has a market cap of only $8 million and an average volume of only 2,600 shares.
Promotions of companies with low market cap and low average volume have a higher chance to perform well. However, STTK currently trades at $0.5 per share which narrows the bracket for a high price surge.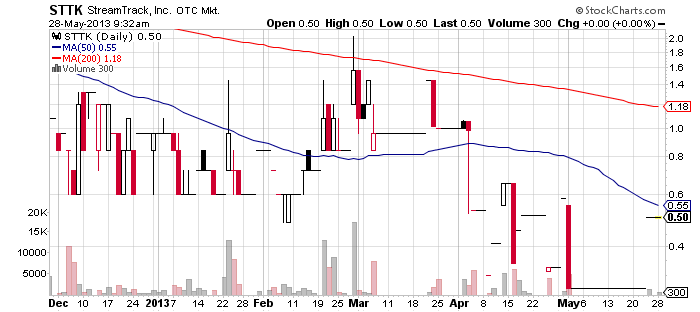 In addition the historic data about Quality Stocks, the promoter who leads the campaign on STTK, shows that he has only one successful promotion this year – the campaign on LWCTF on April 28. His rest promotions didn't produce any significant effect on the market.
In this respect it is not certain whether STTK will manage to attract more trading interest today; it is even less certain how the stock price will react to the promotion as it has clearly shown its highly volatile nature in the past.

West Canyon Energy Corp. (WCYN) – WCYN has not been promoted since November last year. The new promotion of the company is led by several stock promotion websites. According to the disclaimer provided by a promoter called Penny Stocks Profile the campaign had been sponsored by ODD Marketing LLC which had provided a compensation of $15,000.
However a red flag about this company is the fact that it is listed on the No Information segment of the Pink Sheets market. That is why it is not surprising to see that WCYN has not issued any news updates recently, which is not a factor that can boost investors' confidence in the company.

Nano Labs Corp. (CTLE) – CTLE has been featured in two promotional newsletters since yesterday. The promoters in this campaign are Haywire Viral Marketing and Stock Traders Academy. The former disclosed a compensation of $3,000 and the latter – $15,000. The name of the third party was not disclosed.
CTLE was last promoted on May 6th when it lost 3% of its value on a volume of 1 million shares which greatly exceeded the monthly average. The new promotion focuses on an agreement between CTLE and Saint Gobaint Ceramics & Plastics Inc. which was announced in an 8-k filing on May 23rd.
CTLE is a nanotechnology company founded in 2012 which is traded on the OTCQB market. It has a market cap of $36 million. CTLE stock has been in a down trend since mid-April this year and its shares are currently traded at $0.20.