Top Promoted Stocks: FITX, LUVE, BDGN
Yesterday, the major US stock indexes were influenced by an increased risk appetite and eventually finished higher than the previous close. The bullish mood could also be perceived on the OTCM ADR Index, which went up 0.81% to 1,340.92 points. Today, there are several penny stock promotions which are lining up on the OTC Markets before the market open: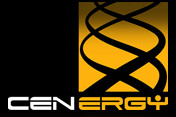 Creative Edge Nutrition, Inc. (FITX) – Today there is literally an onslaught of newsletters covering FITX. Nearly twenty promoters have been involved in the campaign and a couple of third parties, among which Bas1, Equity Capital, PST, Jason Thompson IR, Penny Stock Tweets, G6 Stock Promotions LLC and so on.
According to online promotional databases, third parties have spent more than $33 thousand on the current promotion of FITX. The last market awareness campaign on the company took place on June 5th when FITX stock lost 19% of its value at $0.0048 per share on a much higher than average volume of 109 million.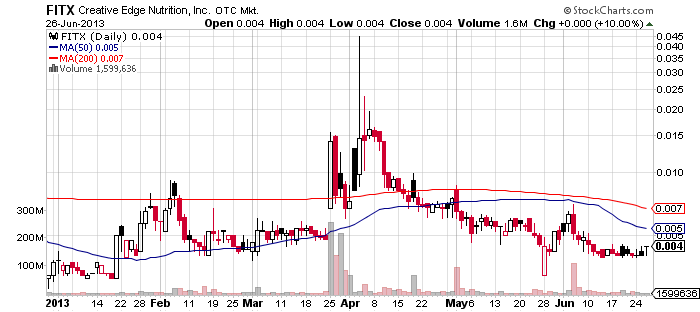 FITX kept sliding down after the promotion and is currently trading at $0.004 per share. In fact, the stock has been consolidating around this level since mid-June.
The company is very likely to issue a press release today to support the promotion, as it happened with the previous campaign when FITX announced two ground breaking products for the medical marijuana field – hemp tea and coffee additive.
FITX is a company, which is traded on the OTC Pink Current Information markets and operates in the field of sports nutrition. The company is currently valued at $7.8 million and has a 52-week range of 0.045 – 0.0016.

Prince Mexico S.A, Inc. (LUVE) – Penny stock traders went through a real nightmare last week when LUVE stock crashed dramatically in what appears to be a large scale pump and dump campaign. LUVE was actually covered by one of the most expensive promotions of last week, which managed to push the stock up from $0.20 to $0.44 per share, but subsequently, over the course of one single trading session, LUVE fell down 60% to $0.14 per share.
Since then the stock has been oscillating around $0.14, but as the company is once again getting a promotional coverage it may soon slip into another price channel. The campaign today has been sponsored by the well-known Cambridge Consultants and Galaxy LLC and includes numerous promoting websites, such as Buzz Stocks, PST Alerts, Penny Pick Finders, The Market Caliber Team, Penny Stock Prophet and so on. According to online promotional databases the current campaign on LUVE had cost $37,000.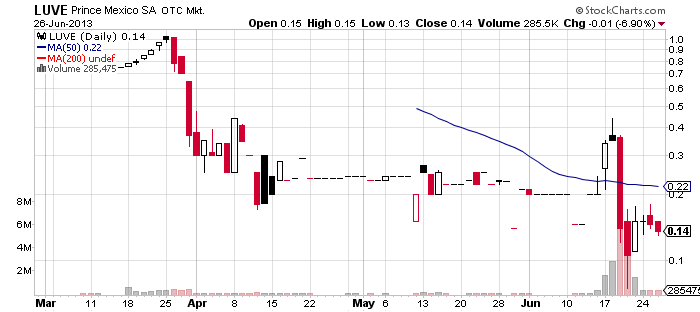 Today, the company also issued a press release to announce that it was going to pursue a distribution partnership with Walmart Mexico. Apparently the press release aims to support the promotion of the company but at this stage, after the last detrimental campaign on LUVE, penny stock traders would hardly provide any significant support for the stock.
LUVE is a sports distribution company delivering sport products to the Mexican markets. Its stock is traded on the OTC Pink Limited Information Market where is holds a market cap of $5.8 million and a 52-week range of 1.04-0.075.

Budget Center Inc. (BDGN) – Today's list with promoted pink sheets continues with BDGN, which was featured in three paid newsletters last night. The promoters who are leading the campaign are called PSC Editor, Penny Stock Crowd and Illuminati. Only Penny Stock Crowd disclosed its compensation source, which was Stock Shock LLC, while the other promoters did not reveal the name of their sponsors.
According to online promotional databases, the total amount of money invested in the market awareness camping on BDGN was $22,500.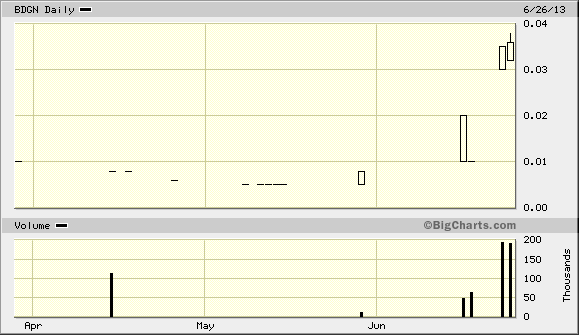 BDGN is a very irregularly traded stock but in the last couple of trading sessions it generated higher than usual investing activity, which looks suspicious given the lack of any corporate updates from the company. Thus, since the start of the month the stock soared from $0.008 to $0.036 per share over the course of only five active sessions.
This Tuesday BDGN rose 250% on a higher than average volume of 197 thousand without any obvious reason. BGDN has not been promoted since 2010 and has not issued any news updates recently.
BDGN is a development stage company in the business of developing and operating internet domain names in the "budget" travel and related categories. Its stock is traded on the OTC Pink Current Information Market, where it holds a market cap of $1 million and a 52-week range of 0.05 – 0.005.