Promoted Stocks: LUVE, AMPG, PVGI
Yesterday, the OTCM ADR Index registered an increase of 1.48% to 1,406.17 which was in tone with the positive mood that reigned on the major US stock markets yesterday. Today, it seems that market players on the OTC Markets will face less promoting activity than yesterday, yet penny stock promoters have not been completely dormant since the last closing bell:

Prince Mexico S.A, Inc. (LUVE) – As yesterday the most actively promoted stock today is again LUVE. The stock was pumped yesterday for the total amount of $135,000. Today, online databases show that the sum invested in the campaign on LUVE had bulged up to $350,000.
There are also a couple of new promoters that have joined the market awareness campaign on the company, namely Too Nice Stocks and Stock Market Quote. On the looks of it, yesterday's promotion was successful as LUVE stock managed to surge up 70% to $0.21 per share on a volume of 1.6 million.
The increased trading activity with LUVE stock on the last trading session was produced not only by the promotions, but also by a couple of press releases which were published via Comtex earlier today. In the first press release the company announced that it was working closely with DeJoya Griffit LLC to complete the company's first quarter audit.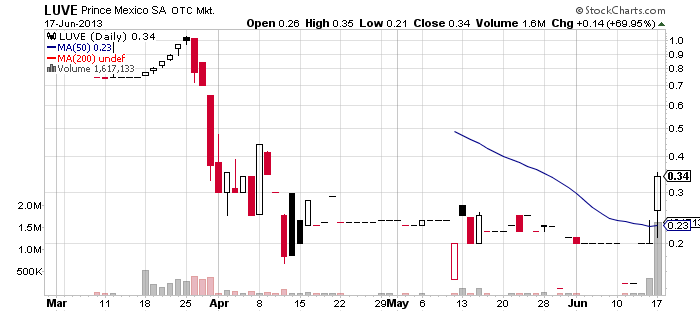 The second press release announced that LUVE was planning on increasing the number of brands for distribution and enhancing its relationship with Prince Sports. Today, the streak of news updates continued as the company announced that it was planning to pursue a strategy of growth with an emphasis on product placement in big box retailers such as El Puerto de Liverpool SAB de CV.
So it is obvious that the pumping effort on LUVE is going on full speed again. However, this time it is unlikely that the stock will reach much higher as it has already lost the confidence of many investors when it crashed down dramatically in the end of March.
The only thing that can support the stock for a while, is the fact that LUVE has been consolidating at its 52-week low for a while and has a relatively low market cap.

Amplitech Group Inc. (AMPG) – We have one peculiar promotional case today in the face of AMPG. Although this is not a limited information company traded on the Pink Sheets market, there is still a scarcity of information about it.
AMPG has a very short trading history as Quotemedia shows data for only two previous trading sessions for the stock. According to this data, on June 7th AMPG stock soared 400% to $0.25 per share on a volume of only 5,000.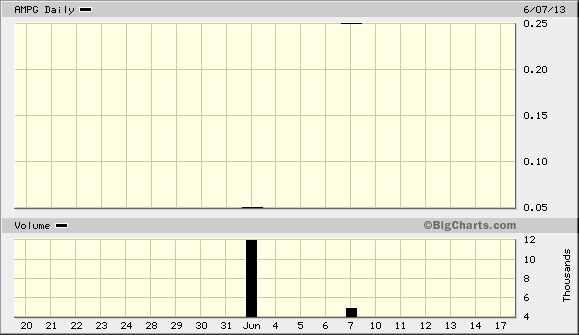 Another peculiar thing about AMPG, besides the informational darkness around this stock, is the fact that certain unknown third party had paid $30,000 for a promotion on the company. The campaign is led by a promoter called Trade These Pick who issued a paid newsletter dedicated on AMPG last night.
According to the last 10-Q report filed by the company, it had 19,994,863 shares issued and outstanding as of May 13, 2013, which means that the current market capitalization of the company is around $5 million. The same report shows that AMPG had a net income of $15 thousand for the first quarter of 2013.
AMPG is a company which designs, develops and manufactures custom and standard state of the art RF components for the International Commercial, SATCOM, Space and Military markets. AMPG received approval by FINRA for trading its common stock on the OTC Bulletin Board on Feb 20th, 2013 but since then the stock has received insignificant attention from market players.

Promithian Global Ventures, Inc. (PGVI) – Yesterday, PGVI stock jumped up 11% to $0.2 per share on a below average volume of 55 thousand. With this move PGVI added another brick to its support at $0.18.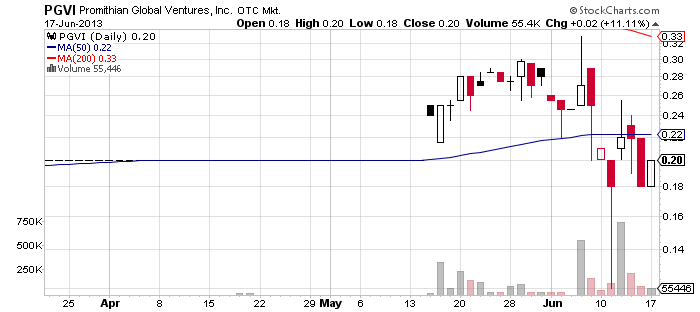 After PGVI closed on a positive ground yesterday, the market was flooded with paid newsletters touting the company's stock. According to online promotional databases, the campaign has involved more than 12 promoters and had cost $15,000. No information was provided about third parties who had provided the money for the promotion.
Today there haven't been any news issued by the company but it is still obvious that the pumping effort on PGVI stock continues. However, since the company's already has a market cap of $25 million, this will not make it easy for promoters to produce a significant up move in the stock.