After some dramatic events, which happened earlier this year, Affymax Inc. (AFFY) can be nominated for one of the most detrimental stock crashes of the year. For, in the course of five months AFFY stock went from $20 to below $1 per share and this may not be the end of the plunge.

Investors in AFFY have run amok trying to get rid of their holdings in the company after AFFY and its Japanese partner, Takeda Pharmaceutical Company Limited, announced they were pulling all lots of Omontys, a drug used in dialysis centers to treat anemia in patients with chronic kidney disease, after some patients died due to hypersensitivity reactions.
As Omontys was the only product of the company the announced recall of the drug raised serious concerns about the future of the company. As a result panic quickly took possession of AFFY shareholders and what supervened was a sale-out which wiped out a huge part of the company's market capitalization.
Eventually, at the end of May AFFY announced it had received a determination letter from the Nasdaq Stock Market LLC delisting the company's common stock from Nasdaq as of June 6th, 2013. Thus, last week AFFY stock started trading on the OTCQB market.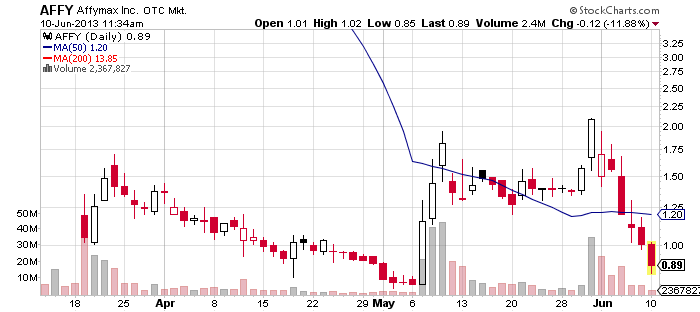 After five days of constant declines, AFFY closed last week at the critical $1 level. However, the stock broke below this level today and is currently trading at $0.89 per share while more than 2 million shares of AFFY stock have changed hands. The next critical level is at $0.8 where a month ago AFFY registered its 52-week low.
Thus, the company's market cap is now estimated at $33 million and the question is what value will investors find reasonable, now that AFFY is deprived of its main source of revenues. Certainly this question will give spark ?? serious speculations about the stock especially as regards the interest of short players.
According to short volume statistics provided by FINRA, last Friday 1.6 million shares of AFFY common stock were sold short which was 30% of the total volume generated throughout the day.
Presently, AFFY is undergoing some restructuring which includes a reduction of the company's workforce and an overhaul of the management officers. Furthermore, in April AFFY and its partner Takeda Pharmaceuticals made amends to their agreements, so now Takeda owns a worldwide, exclusive royalty-bearing license under AFFY's.
To cut a long story short, the keyword that hovers around AFFY at the moment is "uncertainty". The revision of Omontys will certainly take unspecified amount of time and money and we are yet to see if the restructuring measures taken by AFFY will alleviate the company's plight in the future.