Top Promoted Stocks: GBEN, TRTC, BISU
Last week, US stock markets got a breath of fresh air thanks to positive employment data, which turned out much better than expected. US markets were in high spirits on Friday when the major benchmark indexes registered considerable gains. The bullish spirit could also be felt on the OTC Markets, although at a much lesser scale as the OTCM ADR Index climbed only 0.08% to 1,356.49.
This week US markets expect the speech of Fed's Chairman, Ben Bernanke, which is likely to influence investors as they expect to see whether the Central Bank intends to cut the monetary easing program later this year due to the good economic data. OTC Markets will also feel this influence but this market is also affected by the promotional activity which takes place exclusively on this niche of the US stock exchange.
And with the advent of the new trading week, there are new waves of stock promotions, which we are going to examine below:

Global Resource Energy, Inc. (GBEN) – Investors who were monitoring the last trading session on Friday had likely noticed that the stock symbol of GBEN was alerted by two promoters called OTC Tip Reporter and Small Cap Investment 1. The campaign was initiated at the opening bell for a compensation of $28 thousand.
Thanks to the market awareness campaign GBEN attracted higher trading interest than usual and at the end of the day it had surged 32% to $0.02 per share on a ten times higher than average volume.
Apparently the promotion has been extend as newsletters featuring GBEN kept springing up during the weekend. This time the campaign is led by David Cohen who had been paid $40,000 for a one-day investors relations campaign by a third party called Classic Distribution Ltd.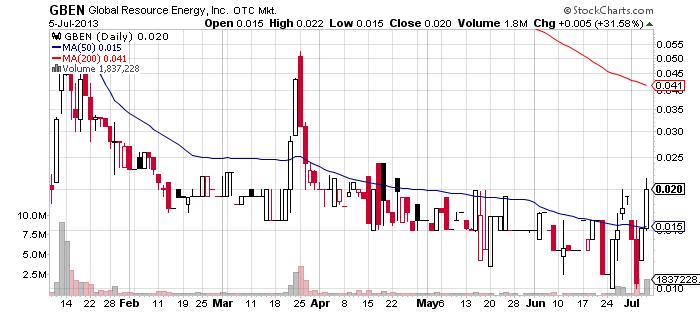 GBEN is not a limited information company, yet it hadn't issued any corporate news recently. This is a factor which has helped the stock sink further in its downtrend over the last couple of months. Since March this year, GBEN has been into a consolidation phase which has provided a technical base for a bounce-up. However, as the recent surge of the stock has been produced mostly by promotions, it cannot be expected to last very long.
Less than a month ago, GBEN filed its latest financial report in which it disclosed:
Zero cash
$300 thousand working capital deficit and $677 accumulated deficit
Zero revenues and $885 net loss
The company's inability to generate revenue has hurt its market valuation which is presently estimated at $1.5 million but last week it was two times lower, when the company hit a 52-week low at $0.01 per share. In fact, over the course of a year GBEN stock value has plummeted significantly which is reflected in its broad 52-week range of 0.53-0.01.
GBEN is a development stage clean technology company interested in the development and commercialization of new and innovative technologies aimed at creating a safer and cleaner environment while improving the health of domestic economy. Its stock is traded on the OTCQB markets and has 74 million shares issued and outstanding.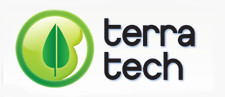 Terra Tech Corp. (TRTC) – TRTC has been struggling with a 52-week bottom for the last two months but at the end of last week it registered three consecutive gains, the biggest one of which was achieved on Friday when the stock jumped up 10% to $0.12 per share.
The bullish run of the stock happened after the company issued two press releases which attracted the attention of market players. The first press release announced that TRTC had signed a distribution contract with Florida based Palm Creek Produce, a hydroponic greenhouse grower of specialty plants. According to the company the contract could be worth close to $800 thousand per year in top line revenue.
The second announcement revealed that TRTC had begun construction on their new five-acre hydroponic facility in Belvedere, New Jersey. The two news updates helped TRTC generate a trading volume of 197 thousand on Friday, which is below the monthly average, but still buy orders on the stock were stronger. Thus, TRTC closed the session higher than the previous close and touched its 50-MA.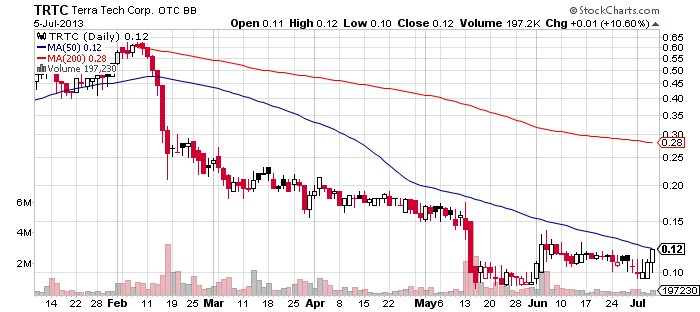 Today online promotional databases show that TRTC has been featured in a promotional campaign over the weekend. The campaign had cost $35 thousand and involved four different promoters, however at the moment there is no additional information about the forthcoming promotion of TRTC.
TRTC is a company which integrates natural world resources with technology to create sustainable renewable solutions for food production, indoor cultivation, and agricultural research and development. The company's stock is traded on the OTCQB Market where TRTC holds a market cap of $10.4 million and a 52-week range of 10.2 – 0.09.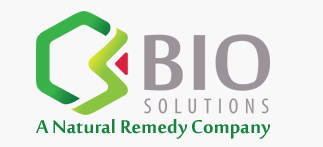 Bio-Solutions Corp. (BISU) – The widest spread promotion today is dedicated to BISU; in other words the stock is being covered by the highest number of newsletters. So far nearly fourteen promoters have issued trade alerts on BISU in what appears to be a large scale promotion ordered by two third parties, MHC Inc. and RTF Inc, for the total amount of $30,000.
BISU hasn't been promoted since August last year so this promotion can be considered fresh out of the oven but this doesn't guarantee it will be lucrative for common market players. The speculative air around the stock has also been incandesced by a press release published via Marketwired earlier today.
The press release announced that BISU had rolled out its flagship product Type2Defense on the Healthy Provisions Amazon store via its partnership agreement with Kee Holdings Inc.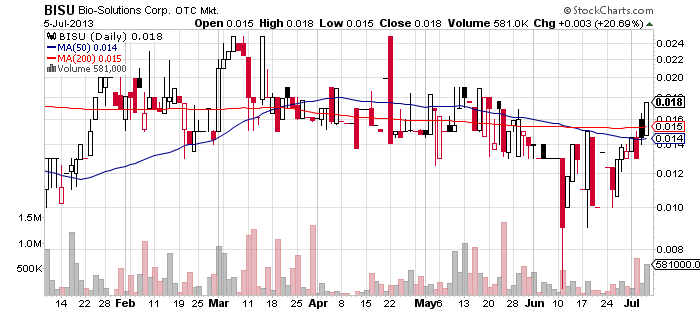 BISU is presently valued at $2.2 million and has a share price of $0.0175 as of last Friday. In fact it seems that certain market players have loaded early on the stock as BISU's stock value had risen during the last two trading sessions before the announcement and promotional campaign. Thus on Friday the stock climbed 21% on a volume of 580 thousand which is three times higher than the monthly average.
BISU is a company which markets its flagship product called Type2Defense, which is a glucose control dietary supplement powder formulated to support healthy glucose levels and healthy blood pressure. Its stock is traded on the OTCQB Market where it holds a public float of 15 million and a 52-week range of 0.032 – 0.0065.