There are a couple of hours before the first opening bell for the week signals the beginning of the financial race on all US stock exchanges. We would like to aid the runners who are preparing to take part in the marathon on the OTC Markets by presenting our daily psummary of the major events which are likely to influence the trade on the small cap segment:

Clean Coal Technologies, Inc. (CCTC) – CCTC is one of the most notable promotions for today. Newsletters touting CCTC as "mega-momentum alert" have been spreaded around by two groups of promoting websites.
On one hand we have Stock Mister, one of the biggest players among promoters, who is promoting CCTC by order of M & M Asset Management Group. The latter had commissioned a two-day marketing program regarding CCTC for the total amount of $90,000.
On the other hand we have a second group promoting CCTC which is sponsored MicroCap Consultants LLC. This group includes 1-2-3 Stock Alerts, Stock Market Quote, Penny Stock Players, Penny Stock Pros and The Stock Scout. They had received $35,000 for the service so the total sum spent on the campaign adds up to $125,000.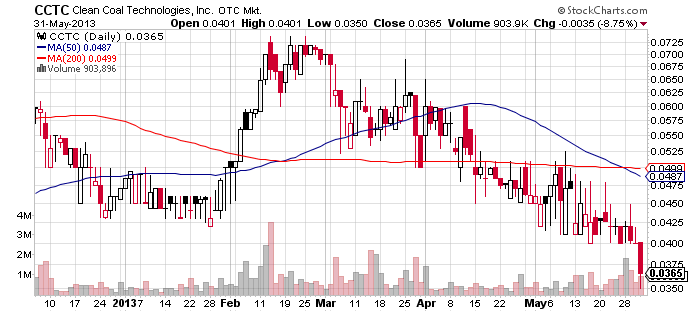 Given that the company has not been promoted for more than a year and that so much effort has been put into its current market awareness campaign, CCTC stock may face increased demand today. However, a short look into the history of the third parties shows that most of their previously promoted stocks have succumbed to a strong selling pressure after the pump.
In this respect CCTC may be suitable only for intraday speculation rather than a long term hold strategy.
Just a couple of minutes ago the company issued a press release via PRNewswire in which it announced that it had retained Carrier Vibrating Equipment Inc. to design and build a coal testing unit that would add capabilities to the pilot test plant which CCTC plans to commission later this year.
CCTC is an emerging cleaner energy company utilizing patented technology to convert raw coal into a cleaner burning and more efficient fuel. It is traded on the OTCQB market with a market valuation of $31 million as of May, 31.
Since February this year CCTC stock has been sliding in a steady downtrend and last Friday CCTC finished at $0.0365 per share after losing 8% of its value on a volume much higher than the 3-month average. This is exactly where the support line of the stock is and the way it performs at this point will represent an important technical signal for market speculators.

Aristocrat Group Corp (ASCC) – ASCC is another company which has been heavily advertised by promoters since yesterday. Online databases have registered more than thirteen promoters touting ASCC in their newsletters.
The aggregate amount of the compensation for this campaign is $110,000. Rebus Agency was disclosed as a third party in the fine print of a couple of newsletters but the majority of promoters in this campaign had decided not to reveal their sponsors.
Most of the promoters focus on the technical set up of ASCC stock with its increased trading volume and recent break out of the downtrend resistance. The bullish technical set-up, however, should not be taken for granted as one can never know what the intention of the third parties behind this campaign are.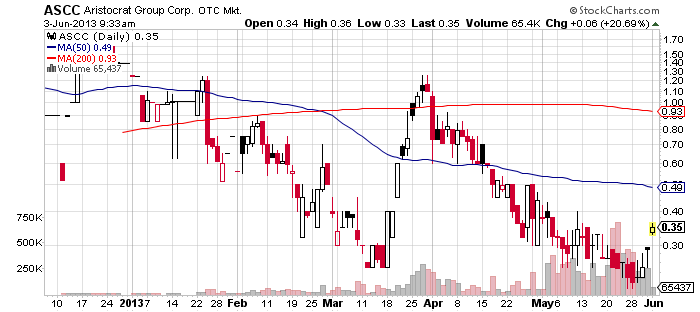 We can see that two months ago ASCC was also in a consolidation phase and after it was promoted on April 14 the stock declined sharply and broke below the 50-MA.
ASCC is a company which provides premier luxury goods, including top-shelf distilled spirits and is traded on the OTCQB market. Last Friday ASCC stock closed at $0.29 per share setting its market cap at $18 million.
Today the company declared in a press release that market conditions were ideal for the upcoming launch of its debut vodka. It is not clear whether this press release and the current promotion will convince market players that a company which, hasn't made any revenues for the last 12 months, is undervalued at $18 million. Nevertheless, there can still be some opportunities for short term speculation with ASCC stock as it has been attracting more and more trading interest in the last couple of weeks.

Novus Acquisition & Development Corp. (NDEV) – NDEV is one of the big promotions today which has involved seven promoting parties and has cost $107,500. The campaign is led by Premier Alerts, Penny Stock Pulse and MBSA.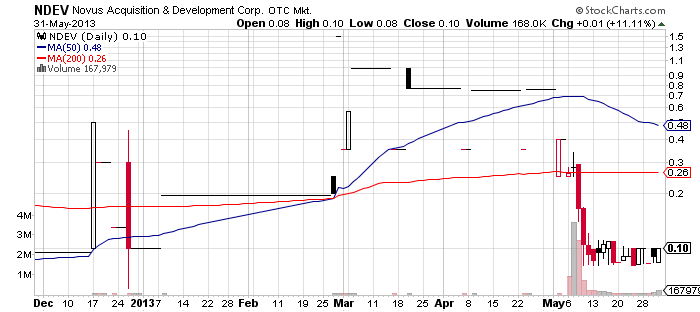 The company was previously promoted on May 07 when it generated a record high trading volume of 3.6 million shares and registered a 7% increase in its stock value. What followed the promotion though, was a devastating plunge which swept away a huge part of NDEV value.
After NDEV plummeted from $0.3 to $0.1 per share in three consecutive sessions, it started consolidating in a channel with $0.1 acting as a resistance.
After this terrible pump-and-dump scenario it will not be surprising if investors remain reserved about the stock regardless of the new promotional efforts and the 7% dividend which was announced by NDEV earlier today.
Dephasium Corp. (DPHS) – Since yesterday DPHS has been targeted by at least seventeen promoters. The sponsor of this campaign is Stock Mister who had spent $50,000 for the campaign.
DPHS is not a regularly traded stock and we can see that it has registered some activity since May 22 after months spent in oblivion.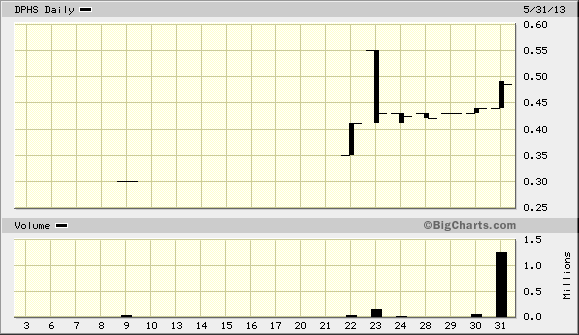 A couple of hours ago DPHS announced it had completed the acquisition of the Ancilia patent and trademark for the exchange of 70 million shares of the company's restricted common stock. DPHS also said it valued the acquisition at $1.2 million.
After this acquisition the company's operating focus has shifted towards providing protection against electromagnetic waves emitted by mobile phones. DHPS is traded on the OTCQB market where it holds a market cap of $55 million as of May 31, 2013.
Last Friday DHPS stock closed at $.485 per share after jumping up 10% on a volume of 1.2 million.