US indexes are falling at the beginning of the trading session, following the release of a lower than expected PPI. Yesterday, the trading session began in the same way but eventually the benchmark indexes finished higher.
The OTCM ADR Index is also colored in red at the moment but the decline here is on a much lesser scale. Currently the index is down 0.07% at 1,462.79, while today's market movers are heading in different directions:

ImageWare Systems, Inc. (IWSY) – IWSY stock value is currently flying up on a heavy trading volume. The stock has been supported by investors today after IWSY took part in an interview on SecuritySolutionsWatch.com.
At the moment shares of IWSY stock are trading 6% higher at $2.50 per share on a volume of 390 thousand which is close to the monthly average. The trade value achieved by IWSY stock at this point is $970 thousand, which makes the company one of the top market movers on the OTCQB Markets today.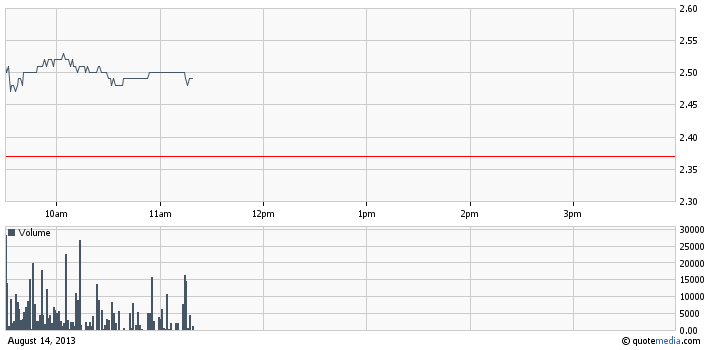 For the last month and a half IWSY has been consolidating within a price range between $2.20 and $2.40. Today, however, the demand for the stock is significant, which has helped IWSY stock push through the resistance and reach an intraday high at $2.55 per share.
Investors might find it curious that yesterday one of the company's beneficial owners, Gruber & McBaine Capital Management LLC, had sold 200,000 shares of IWSY common stock on the open market at $2.33 per share. Another look at IWSY's recent SEC filings reveals that the same beneficial owner had been systematically dumping shares of IWSY stock in the last couple of months.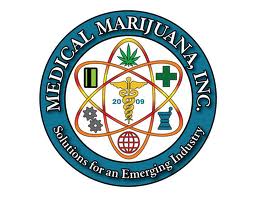 Medical Marijuana, Inc. (MJNA) – After getting battered by investors on the previous trading session, today MJNA is having a little breath of fresh air. Yesterday, the company released its second quarter 2013 financial results which were presented rather positively in a press release issued by MJNA.
In short the company announced a huge increase in the second quarter net profit which amounted to $6 million. However, when investors got the chance to scrutinize the very financial report, unaudited as it was, they got a much more sober view on the company's financial state.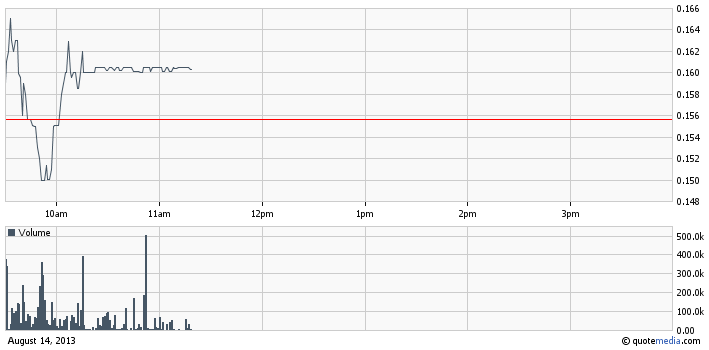 Actually, it turned out that the company had incurred an operating loss of $230 thousand for the second quarter 2013, whereas the positive bottom line was achieved thanks to an extraordinary income due to the sale of Phytosphere licensing and inventory.
Thus, yesterday investors punished MJNA stock which declined 33% to $0.1556 per share on a huge trading volume of 47.7 million. During the day there was an ominous downward spike that was most likely due to some reporting issue which brought the stock down to an intraday low at $0.016 per share.
Today MJNA is rallying after the deep plunge, with trading activity being considerably lower than the previous two days. At the moment shares of MJNA stock are trading 3% higher at $0.16 per share on a higher than average volume of 7 million.

Vapor Corp. (VPCO) – VPCO stock has shot up today after yesterday's 8-K form filed by the company. Investors are supporting the stock today which helped VPCO break above its 50-MA and test its other resistance at $1.20.
At the moment shares of VPCO stock are trading 15% higher at $1.10 per share on a two times higher than average volume of 834 thousand. VPCO has also generated a trade value of 918 thousand since the start of the trading session which has earned the company a place among the top market movers on the OTCQB Market.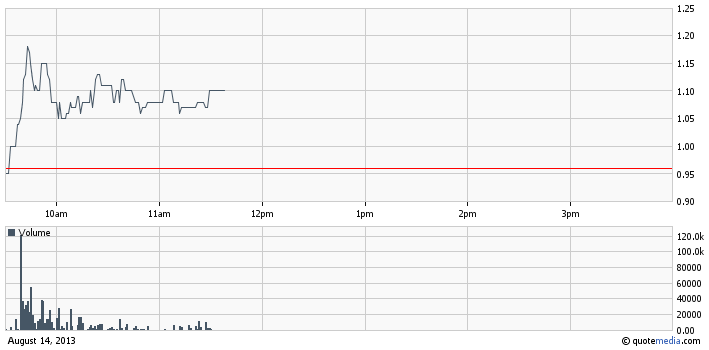 Trading with VPCO shares got intensified today after investors got a chance to digest yesterday's announcement which came in the form of an 8-K filing. The report disclosed that VPCO and its subsidiary, Smoke Anywhere USA Inc., had enetered into a spot accounts receivable factoring facility with Enterpreneur Growth Capital LLC pursuant to an Invoice Puchase and Sale Agreement from Aug 08.
The value of VPCO stock has been rising since the publishing of second quarter 2013 financial results. Since then, VPCO has jumped from $0.70 to today's intraday high at $1.20 per share, which is an overall increase of 70%.