Top Promoted Penny Stocks: BLFR, FCIC
Yesterday's trading session on the US stock markets began with sale outs but finished with investors taking profits from short positions, which eventually caused the benchmark indexes to rally after several consecutive negative sessions.
The OTC Markets copied the performance of the major US Indexes; however, the recovery here happened at a much higher degree. Thus, the OTCM ADR Index closed 0.76% up at 1,463.80.
In about one hour, numbers about Producer Price Index will be released which will affect the forthcoming session on the major US markets. Apart from that, the OTC Markets will also be affected by the several promotions which were initiated after the last closing bell. Therefore, below we are going to examine the most important market awareness campaigns for Wednesday, Aug 14, 2013:

BlueFire Equipment Corp. (BLFR) – Today's highest paid promotion is dedicated to BLFR, an OTCQB company which designs and manufactures a proprietary drill bit for use in the exploration and production of oil and gas.
The campaign was initiated by Hot Stock Ace Publisher, who issued trade alert on BLFR a couple of minutes after the last closing bell. The promoted disclosed that he had been compensated $10,000 by the well-known third party Stock Mister.
Later during the day and early this morning, Stock Mister itself issued two newsletters touting the company. The disclaimer of Stock Mister's newsletters revealed that the promoter had been compensated$50,000 cash via bank wire transfer by a third party, EAG LLC, for a one-day marketing program regarding BLFR.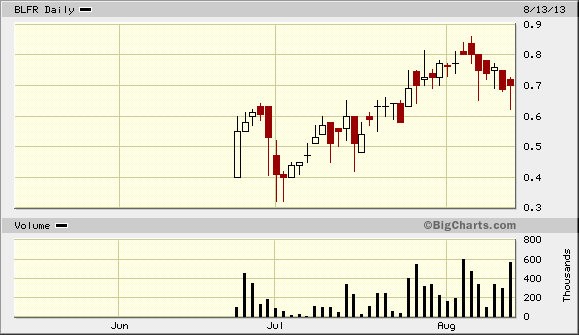 Additionally a couple of hours ago BLFR announced that it had established its new research lab in Huston Area. So, apparently, there have been significant endeavors for attracting more interest towards BLFR stock which may heat today's trading session as regards share volume.
Today, shareholders of BLFR were able to check the company's freshly issued financial report for the second quarter 2013. According to the 10-Q the company has improved its assets position as compared with the previous quarter. However, liabilities have also increased leaving the company with a negative net worth and working capital deficit of $130 thousand.
BLFR doesn't have a long history of trading as it made its first steps on the OTCQB market in June this year starting at $0.4 per share. Just one week ago BLFR stock hit a new high at $0.86 which is more than double than its starting value. However, since the new record value was achieved, BLFR has been correcting and on the last trading session the stock closed at $0.70 per share on a volume of 573 thousand.
At present the company has a market capitalization of $23.7 million, a value which has been fueled by speculations about BLFR's future business potential. This is why the company's valuation will be susceptible to any red flags about BLFR's actual aspirations. The current promotion of BLFR will be a significant trial for the company, because it would easily hurt shareholder's trust if it turns out that the campaign is serving the interest of third parties at the expense of common investors.
FCCC, Inc. (FCIC) – The next notable promotion for today is dedicated to FCIC. The campaign is led by four penny stock promoters, among which Micro Cap Digest, Penny Stock Parlay, Hole in One Stocks, and Phd Trading.
None of the promoters have disclosed their sponsors, yet online databases show that the market awareness campaign on FCIC had cost $15,000. Apparently this is the first time the company gets into the focus of penny stock promoters as online databases do not show any previous campaigns on FCIC.
In fact, not only has FCIC been out of promoters' focus, but it has also been out ot market players' focus as well because the stock has not been traded very regularly.
The only significant movement of FCIC stock this year was registered yesterday when it declined 17% to $0.15 per share on a volume of 11 thousand shares, which translates into a trade value of only $2.6 thousand.
Checking the company's records it also becomes visible that FCIC had not provided any fundamental support for its stock in the form of a news release. The simple reason for this relative inactivity of FCIC stock is that the company is actually a shell as indicated by the latest corporate filing.
This is most likely the reason why FCIC has a very low market capitalization of only $234 thousand. So this shell company is getting promoted today, with newsletters presetting FCIC as their "Newest Multi-Billion Mortgage Banking Alert". Therefore, penny stock speculators had better estimate carefully the risks which this promo play hides, before gambling with FCIC stock.