Top Promoted OTC Markets securities: TPNI, SIMH
Last week ended with a sharp correction episode for the US stock markets which was accompanied by a higher trading activity than usual. US stock markets were already going down due to profit taking impulses when the CEO of the Federal Reserve Bank of St. Louis, James Bullard, boosted the bearish mood of market speculators.
Mr Bullard said that Fed could still scale back its monetary easing program in October "should data point to a stronger economy". Thus, US stock markets fell sharply on Friday. The OTC Markets were also affected by the bearish mood of investors, so the last trading session finished with the OTCM ADR Index tanking down 0.68% to 1,518.27 points.
Today there are no significant economic news, so investors' mood in the short-term will keep being affected by renewed speculations about Fed's monetary easing policy. In addition, market speculators' attention is turning to the issue of the US debt ceiling which is expected to be hit next month.
Penny stock investors, who are trading on the OTC Markets will also have to watch the newly issued promotional campaigns, as they can sometimes produce a significant effect on the market. In this regard, we provide an overview of the most important market awareness campaigns which have been started over the weekend:

The Pulse Network, Inc. (TPNI) – TPNI is the highest paid promotion. The campaign is led by 007 Stock Chat, HSP Team, Penny Stock Spy, Penny Stock Parlay, Hole in One Stocks, Phd Trading and MicroCap Digest.
Out of these promoters only 007 Stock Chat disclosed its sponsor, who is called Small Cap Voice. Online databases show that the total compensation disclosed by the promoting websites adds up to $75,000.
The previous promotion of TPNI dates back to Aug 15. On that day the value of TPNI stock rose 7% on a volume of only 11 thousand shares. However, on the following day the stock fell victim to a heavy selling pressure which sent TPNI down 13% to $0.42 per share.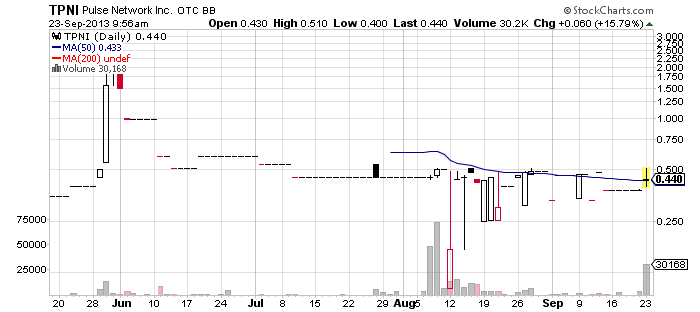 Overall, since the last promotion TPNI has been moving sideways without giving any signs of forming a trend. Another notable thing about TPNI is its unusually low average trading volume. Currently the stock quote of TPNI shows a 3-month average volume of only 4,700.
Apparently it has been difficult for the company to attract any significant trading interest towards its stock even after it previous promotion in August. Even the numerous press releases which the company has been regularly issuing in the last couple of days couldn't open investors' pockets for TPNI stock.
Today, the company provided a helping hand to the promotional efforts on the stock by spreading around a freshly issued press release. It announced that Digital Pulse, a new interactive event focused on helping leaders and practitioners navigate the transition from web content management to customer experience management, was set to sponsor and present the first annual Digital Pulse Summit.
If this time the combined efforts of the company and its promoters happens to bring more trading interest towards the stock, penny stock speculators may witness an increased buying pressure on the stock. However, if the anonymous third parties are planning to dump a lot of shares on the open market, this effect may be negated, and TNPI stock quote may turn red despite the enraptured claims of the company's promoters.

Sanomedics International Holdings Inc (SIMH) – SIMH is one of the most heavily promoted stocks for today. The company has been touted by Wall Street Buzz, PST Alerts, Buzz Stocks, Penny Stocks Prophet, Penny Pick Finders, The Market Caliber Team.
According to online databases the above mentioned promoters have received a cumulative compensation of $41,000, which had been provided by two third parties – Galaxy LLC and ODD Marketing.
The company is not a pioneer in the stock promotion world, as it has already been promoted a couple of times this month, the last time being Sep 16th. On that day, the promotion worked well for SIMH stock as it rose 24% to $0.31 per share on a higher than average volume of 700 thousand. On the following sessions, however, SIMH stock kept losing value and eventually closed the week at $0.26 per share.
Today SIMH stock is rising in the first couple of minutes of the trading session, but it is uncertain whether it will manage to keep the green quote till the closing bell. Currently, shares of SIMH stock are trading 4% higher at $0.27 per share on a higher than average volume of 160 thousand.