Top Promoted Stocks: SLTZ, PIEX, IDAD
This week's leitmotif on the US stock markets is going to be determined by Fed's decision regarding the monetary easing policy. The markets remain under pressure, as investors are focusing on the forthcoming two-day meeting of the Federal Open Markets Commission.
Last week, was markedly bullish for all US stock markets including the penny stock market. In fact, on Wednesday last week the OTCM ADR Index hit a new record hit at 1,478.25 points. A small correction followed on Thursday but on Friday the index gained ground, finishing 0.26% up at 1,475.10 points.
Today the markets will await the announcement of the Industrial Production Index for Aug. Additionally, the OTC Markets will feel the influence of the newly initiated promotional campaigns. Today, penny stock traders may be surprised to see that online databases have registered an exceptionally high promotional activity for the last three days. Below we are providing an overview of the biggest promotional campaigns for Sept 16:

Solar Thin Films, Inc. (SLTZ) – The focus of online promotional databases today is a microcap company called Solar Thin Films Inc. (SLTZ). SLTZ has been labeled as a "Monday Madness Alert" by a whole host of promoters. The more attentive penny stock traders might have spotted the name of Awesome Stock Pick among the numerous promoters touting the company.
Online records show that most of the third parties in this campaign had been kept in secret. The only third party disclosed in the newsletters disclaimers was RDI LLC. It also turn out that the total compensation invested in this campaign is $107,500.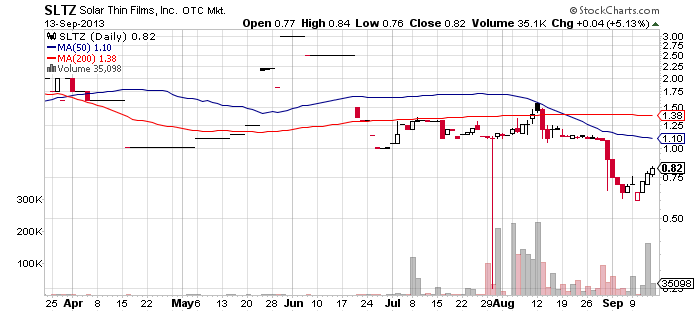 SLTZ set the base for the massive market awareness campaign on Saturday, when the company announced that it had signed a contract for the design, supply and construction of three photo-voltaic fields in West Virginia. On the following day, the announcement became the major leitmotif of the initiated promotional campaign.
This, however, is not the first time the company gets promoted. The previous campaign dedicated to SLTZ took place on Aug 21 but its effect was not very ostentatious, as on the same day the stock went up only 2% to $1.14 per share on a lower than average volume.
Shortly after the promotion, SLTZ started experiencing an overwhelming selling pressure. As a result the stock tanked down to $0.65 per share over the course two weeks . Last week, the stock gained ground finishing at $0.82 per share on Friday, mostly thanks to the strong rally of the OTCM ADR Index.
Pioneer Exploration, Inc. (PIEX) – PIEX is also stirring in the promotional frontlines today with a campaign backed up by Mic Innovations. According to online databases, PIEX is being touted by more than fourteen promoters today, which had received a total compensation of $31,000.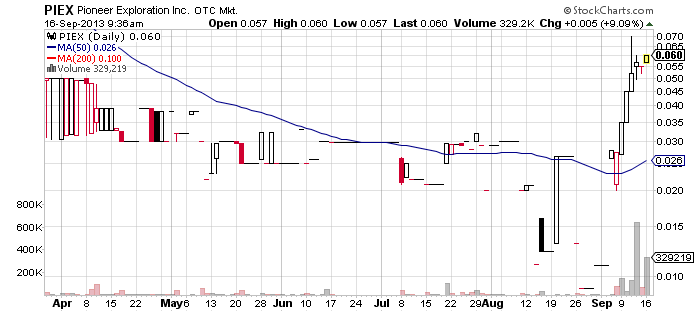 PIEX stock mysteriously soared last week without any corporate updates or SEC filings at hand. On Monday last week, PIEX opened the trading session at $0.027 per share and closed the session on Friday at $0.055 for a cumulative weekly gain of over 100%.
The lack of any recent official press releases however renders the sharp appreciation of PIEX stock a rather unstable one. Moreover the company's financials do not provide for much confidence on investors' part.
Thus, for the last quarter ended May 31, 2013, PIEX reported:
Zero assets and $1 million liabilities
Accumulated deficit of $1.6 million.
Net loss of $146 thousand.
With such financials at hand, it is obvious the company will have to find alternative ways to finance its activities. From a certain point of view, this may mean more dilution for current shareholders.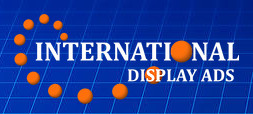 International Display Advertising, Inc. (IDAD) – Penny stock promoters are heavily touting IDAD today. Online records show that over the weekend IDAD was featured in more than eight newsletters, all of which had been backed up by a third party called Ray Elle Holroyd.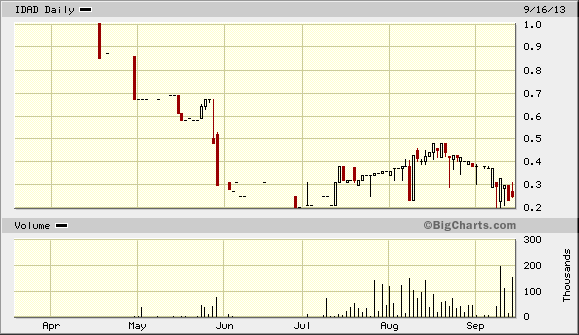 The latter had provided a compensation of $32,000 to a group of promoting websites, among which 1-2-3 Stock Alerts, Penny Stock Circle, Penny Stock Players and others.
The base of the market awareness campaign became a press release issued on Saturday, which announced that IDAD had delineated its 2014-2014 strategic sales and marketing plan directed at large restaurant and bar chains.
Last week IDAD stock had been consolidating after a couple of days of declines that sent the stock down from $0.50 to $0.30 per share. On the last trading session, IDAD tanked heavily, losing 23% of its stock value on a trading volume of only 16 thousand.