Top Promoted Penny Stocks: AMMX, RSII, WNTR
Major US Stock Indexes finished the last trading session on different grounds as market players preferred to make tentative moves after Bernanke's speech, which brought the indexes to new 52-week highs last week.
OTC Markets registered a neutral session on Friday, rising only 0.01% to 1,426.10. The forthcoming session, however, is likely to be much more galvanized, because with the dawning of the new trading week the OTC Markets will face a strong promotional pressure, which will decide the fate dozens of penny stocks and will place them in the  focus of penny stock traders:
AmeraMex International Inc. (AMMX) – With more than six promotional letters lining up before today's session, AMMX is forming as one of today's biggest promotions. In fact, the company was already promoted not long ago, on July 11th.
Unfortunately, it seems that the campaign dedicated to AMMX is nothing more than the next pump and dump scheme on the penny stock market. The dump started on the very day of AMMX's first promotion, when the company opened the session at $0.013 per share but eventually closed 38% lower at $0.008.
What is worse is that in the next couple of days the selling pressure continued and now the stock has plummeted at $0.0056 per share and the company's market cap has dwindled down to $2.1 million. The sharp depreciation of AMMX stock happened on heavy volume.
Thus, on July 11 more than 10 million shares of AMMX common stock changed hands and during the next promotional wave on Jul 15th almost 16 million shares of AMMX common stock changed hands. It was only yesterday that AMMX could take a small breath of fresh air when it rose 8% to$0.0056 per share on a below average volume of 1 million.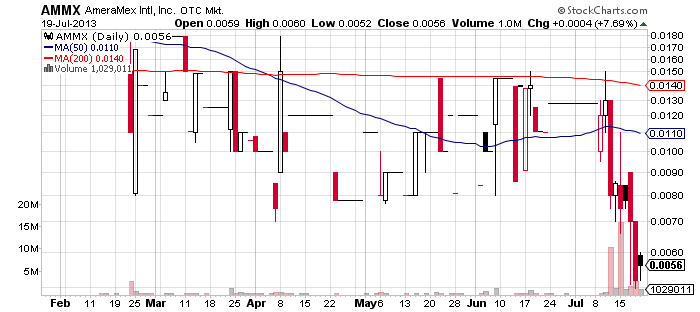 The fall of AMMX stock value could not be stopped by the announcement which was made on July 15 that the company had made "significant" progress to finalize a potential five-year contract valued at $500 million.
Penny stock traders also didn't catch the bite last Thursday when it was announced that AMMX had received an equipment order totaling $400 thousand for refurbished container handlers. On the same day AMMX shares lost 26% of their value on a higher than average volume of 2.7 million.
After all, AMMX is marked with a limited information sign on the OTC Pink Market which automatically displays its extremely risky nature. Still, this weekend penny stock promoters have poured more oil into the flame by initiating another promotional campaign on the company.
According to online databases, the campaign is backed up by the Stock Mister and OOD Marketing LLC who had provided $25,000 for the service of the following penny stock promoters: Penny Stock Pick Alert, We Pick Penny Stocks, Winning Penny Stock Picks, Super Nova Stock Picks, and Hot Stock Ace Publisher.
After the precipitous decline of AMMX stock, one can deceptively consider the stock as a bottom play. Yet, there is never a safe ground with such highly speculative stocks as the limited information AMMX, especially now that penny stock promoters have interfered with the stock's trajectory.

Rising India Inc. (RSII) – Last week was a very lucrative one for investors in RSII. Over the course of the last five trading sessions, RSII stock value rose almost 500% from Monday's open at $0.01 to Friday's close at $0.0498.
The most intensive trading with RSII stock took place on Thursday when more than 3.8 million shares of the company's common stock changed hands on the open market. The same day RSII climbed 58% after it was announced that the company had acquired Mayer Luce Investments, Inc., a developer of senior living communities.
Thus, at the last closing bell on Friday RSII had reached a market cap of $18.8 million. Looking up on the stock chart, investors can see two benchmark points, the first one is the recent peak at $0.09 which the stock registered at the beginning of July, and the other one is the 52-week high at $0.27.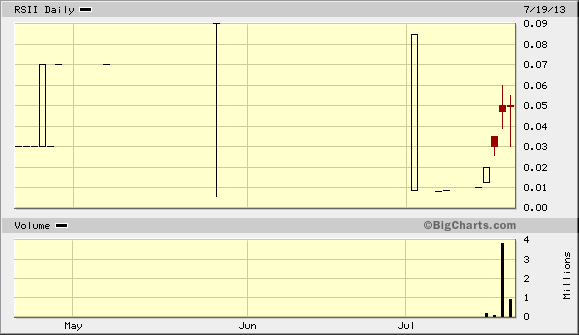 However, RSII is a pink sheets company which brings along more risk than usual, plus it is traded very irregularly which means investors may face problems trying to close their positions. Furthermore, investing in RSSI becomes even more speculative at this point when penny stock promoters have issued another wave of newsletters on the company.
According to online promotional databases, RSII has been featured in several newsletters over the weekend, which have disclosed a cumulative compensation of $25,000. However, no third party was disclosed which makes it more difficult to predict the results of the forthcoming campaign on RSII.

Worldwide Internet Inc. (WNTR) – It seems that today is the day of pink sheets companies as the next  stock ticker which has been featured in a large scale promotion this weekend is also traded on the Pink Sheets market, namely WNTR.
The company seems in a desperate need of a market awareness campaign as it has not been able to generate even a moderate trading interest towards its stock for the last month.
Even after the company announced on Jul 19 that it was going to diversify its business operations, the market remained frigid towards the stock which managed to generate a volume of only 68 thousand, while its price fell 8% to $0.175 per share.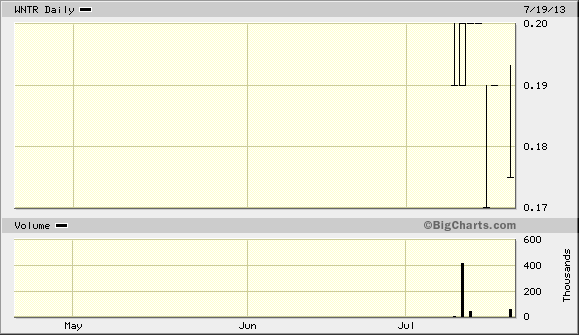 However, things may change after the forthcoming promotion on the company and WNTR may start seeing more trading volume after the promotion. The campaign has been backed up by a third party called Investor News Source which has provided $22,500 for the advertising efforts.
WNTR is a technology company focused on developing technology for internet datacenter services and emergency notifications to the public. Last week the company announced it was acquiring a diversified portfolio of $20 million in assets from telecommunications, internet security software, renewable energy and real estate.
The company is publicly traded on the OTC Pink Current Information Market, where it holds a market cap of $89 million and a 52-week range of 0.20 – 0.17.