Top Promoted Stocks: IALS, VIZS
Yesterday, sale-outs predominated on all US stock markets except Nasdaq. The indexes tanked under heavy selling pressure despite the good ISM Services data. Apparently yesterday investors were in a profit-taking mood after the US markets hit new record highs last week.
It is very likely that the markets continue consolidating at this point. Today, investors expect to see the official data about the US Trade Balance which will exert influence on the US benchmark indexes. As regards the OTC Markets, there is one more factor that can exert a significant influence on the penny stock equities traded there, which is called penny stock promotions.
In this respect, it can be said that penny stock promoters have not been very active since the last closing bell as there have been only a few promotions with a significant sponsorship and participation. Below, we are going to take a look at the most important promotional campaigns which are going to unfold after the start of today's trading session:

InterActive Leisure Systems, Inc. (IALS) – Today's highest paid promotion has been dedicated to IALS. The campaign is led by numerous penny stock promoters, such as Stock Mister, Super Hot Penny Stocks, Liquid Tycoon and many more.
Most of the promoters didn't reveal the sources of their compensation, except for Stock Mister who disclosed that he had been compensated by a third party called M and M Asset Management Group. According to online databases, the cumulative amount of money invested in the new market awareness campaign on IALS sums up to $65,000.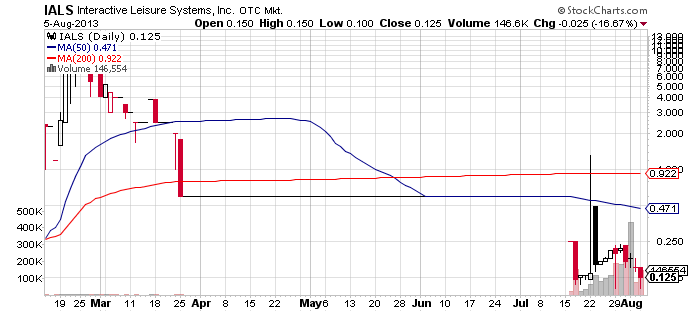 IALS has been featured regularly in stock promotions since Jul 08, this year, which is the reason why IALS has been registering interesting performances for the last couple of weeks. Just before the stock became an object of promotions, IALS traded at $0.125 per share. After the pump began, IALS dashed all the way up to $0.47 per share, but subsequently throttled down back to its pre-promotion levels.
On the last trading session investors punished IALS stock which tanked down 17% to $0.125 per share on a higher than average volume of 146 thousand. Thus, yesterday the stock found itself at the same level where it started before getting pumped for the first time.
Today, not only has the market awareness effort on the company intensified, both in terms of compensation and number of involved promoters, but the company has also tried to provide some fundamental support for the stock.
In other words, a press release came out earlier today announcing that IALS had entered into an agreement to acquire Travel Time Technologies Inc., a company operating in the field of private label travel technology.
On the whole, today's PR activity around IALS may activate the interest of more market players towards the stock. However, the end result may not be in favor of long investors as IALS seems already exhausted by the regular promotional coverage it has been receiving since mid-July.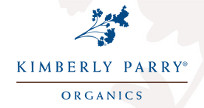 VizStar, Inc. (VIZS) – VIZS is another penny stock company which has been heavily promoted since the last closing bell. This campaign has involved six penny stock promoters, among which are Hot Stock Ace Publisher, Psycho Penny Stocks, Breaking Bulls and others.
According to disclaimers, Hot Stock Ace Published had been compensated by Stock Mister, while the rest of the promoters had been sponsored by Micro-Cap Consultants. The current campaign on VIZS had cost $25,000.
VIZS was lastly promoted on June 20 after which the value of the stock plummeted down to $0.0003 per share. In late July, though, VIZS stock bounced up and peaked at $0.019 per share, then a second plunge and another rally followed which brought the stock back to the resistance at $0.0015.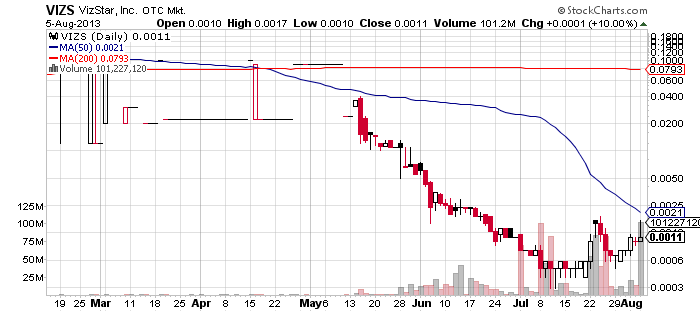 The current promotional efforts on VIZS have been backed up by the company, which issued a press release earlier today saying that Kimberly Parry, a subsidiary of VIZS, had retained the services of lawyer Brian Newman for the company's corporate counsel and contract review.
Although both the promotion and press release were initiated after the last closing bell, the last trading session was unusually active with a share turnover of more than 101 million, which is way above the monthly average. At the same time the stock value registered an increase of 10% at $0.011 per share.
As a final notice, since it is not clear what the intentions of the third parties behind the promotional campaign on VIZS are, trading with this stock in the forthcoming session may turn out to be riskier than usual.