Top Promoted Stocks: SING, CACL, WDAS
US stock markets kept climbing up yesterday after investors' risk appetite was rekindled by a positive consumer loans report. The situation on the OTC Markets was also bullish and eventually the OTCM ADR index finished the trading session 0.51% higher at 1,363.46.
The market which houses the majority of penny stocks was also under heavy promotional pressure yesterday after several expensive campaigns were unleashed on the trading field. Today, there is a lesser promotional activity before the opening bell, but there are a couple of newly promoted stocks which we are going to examine below: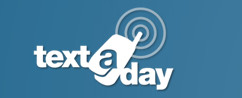 Singlepoint, Inc. (SING) – We are going to start with a pink sheet company, which is the most notable promotion today. The company is called Singlepoint Inc. and its stock symbol has been featured in three newsletters since the last closing bell.
The campaign is led by Momentum OTC, Research OTC, and Top Stock Tips who admitted to have received a compensation of $11,500 but didn't condescend to reveal the source of the money. The notable thing about this promotion is that this is the first time SING has been featured in any market awareness campaign as far as online promotional databases can be believed.
SING is a mobile technology company and full service mobile marketing agency. In May this year, the company announced it was going to change its name from Carbon Credits International to Single Point Inc in order to better reflect the company's current business. The change has apparently been enforced as the company is now listed with its new name and trades under its new symbol on the OTC Markets.
SING went down 1.25% to $0.0079 per share on the last trading session after more than 950 thousand shares of the company's common stock changed hands. The stock is currently sliding near its 52-week low and it has maintained a trading range within 0.01 and 0.03 for about a year now.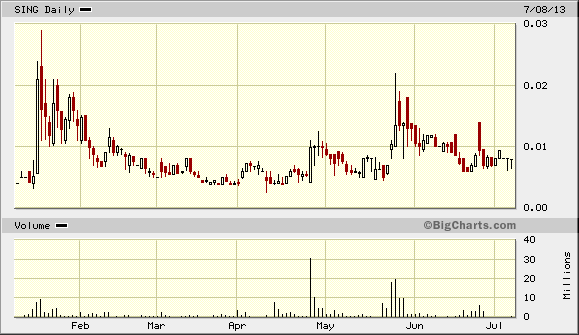 The company also holds a market cap of only $617 thousand and has a public float of 55.6 million. In addition, the promoters who are leading the current campaign on the company hint than "big news are expected to break early tomorrow".
These factors could help the stock rise today after the initiation of the market awareness campaign, however, if third parties are planning to dispose of considerable amount of shares, many penny stock traders could get burnt as well.
In addition the company is not in a good financial health to support a long term rally of its stock. As of the last reported quarter ended Oct 2012 the company held:
$1 thousand cash
$640 thousand working capital deficit and $1.8 million accumulated deficit
Zero revenue and $516 thousand net income
On this background, even if SING stock manages to surge for a while after the campaign, the stock would hardly maintain the higher stock value, unless it significantly improves its finances.

Crown Alliance Capital Limited (CACL) – CACL is also an object of a paid promotion today, according to online promotional databases. The company has been featured in a newsletter issued by OTC Magic who disclosed a compensation of $10,000 which was provided by a third party called One22 Media LLC.
The interesting thing here is that CACL was previously promoted on June 25th but the campaign didn't produce any effect on the market as the same day only 900 shares of CACL common stock were exchanged on the open market compared with a monthly average of 15 thousand while the share price remained unchanged at $0.70 per share.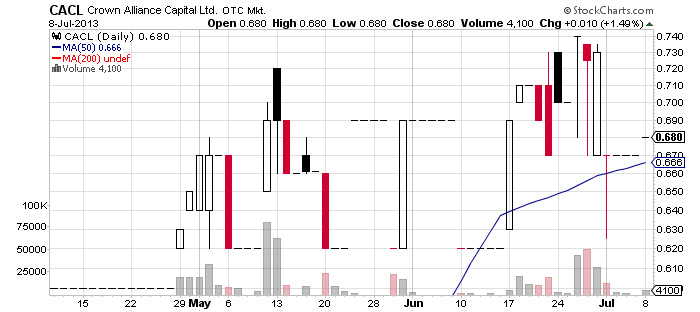 Since then not much has changed about CACL as the stock price is slightly down at $0.68 per share. In addition no news or filings were produced by the company for almost two months. In this regard, it is surprising to see that CACL has managed to keep its share price flat for the last two months given the informational darkness shrouding the company.
According to the last financial report of CACL covering the first quarter of 2013, the company could boast with:
$392 thousand cash
$350 thousand working capital surplus and an accumulated deficit of $365 thousand
$453 thousand revenue and $222 thousand net income
CACL is a publicly reporting Nevada Corporation formed in March 2010 which is in the business of targeting, acquiring and holding until maturity senior life settlement policies. Its stock is traded on the OTC QB Market where the company has a market cap of $143 million and a 52-week range of 1.00 – 0.20.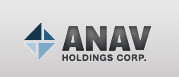 World Assurance Group, Inc. (WDAS) – WDAS, which was promoted two weeks ago, is once again in the focus of penny stock promoters. This time the campaign dedicated to the company is led by Wall Street Buzz, who disclosed a compensation of $10,000 provided by a third party called D. Lawless.
WDAS was previously promoted on Jun 28th but the campaign didn't achieve any significant effect on the stock as on that day the share price of WDAS stock remained unchanged while 1.2 million shares of the company's common stock changed hands which is below the monthly average.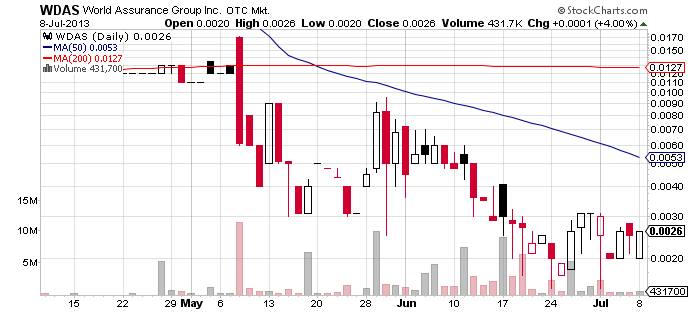 However, since the last promotion of the company its stock has fallen from $0.0031 to $0.0026 per share. Yesterday the stock price increased 4% on a below average volume of 430 thousand.
WDAS is currently valued at $695 thousand and has a public float of only 12 million which can dispose WDAS in favor of bulls, unless the current promotional campaign is not entangled into certain conflicts of interest.